AFC Leopards coach James Nandwa: We can manage the threat by Ethiopian Defence
BY RODGERS ESHITEMI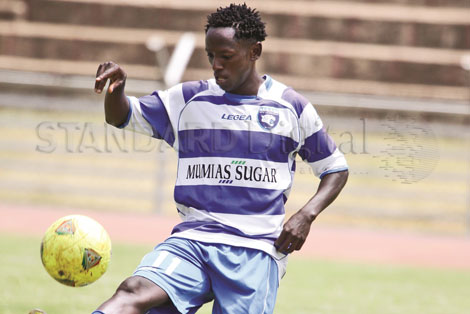 AFC Leopards' new signing, Jacob Keli. [PHOTO: DENNIS OKEYO/STANDARD]
AFC Leopards coach James Nandwa says the Kenyan Premier League giants are aware of the threat posed by Ethiopia's Defence Forces ahead of their CAF Confederations Cup preliminary round first-leg tie at Nyayo National Stadium, this afternoon.
It will be the second time in less than three years for the Gotv Shield champions to face an Ethiopian side after they were eliminated at the same stage by Banks SC in 2010 — the last time they featured in the continental competition.
Leopards were knocked out of last weekend's Kenya Power Charity Cup after losing to Mathare United (3-2 post-match penalties), but having spent heavily in the January transfer window, the Harambee Stars assistant coach urged the players to put the Charity Cup disappointment behind them.
"We know what lies ahead of us and we have to respond well against Defence. We have prepared well and the boys are in high spirits. I think losing to Mathare was a wake-up call for us and we've managed to correct our mistakes," said Nandwa.
"We must forget the Charity Cup defeat, remain focused and keep the basis of our game and score at least two goals. I am pleased with the way the new signings have gelled well with the rest of the team and our target is to go past the first round, but that will depend on today's performance. We have a good opportunity at home and it's important to win the first leg."
Despite the absence of his key players Allan Wanga, Noah Wafula, Michael Khamati, Antony Kimani (all injured) and Austine Uzoromeke (ITC delay), Nandwa is convinced the likes of Paul Were and Jacob Keli will do the job. He, however, cautioned the team against underestimating Defence.
"As a coach it's sad to miss your key players in such a crucial match, but I am sure their replacements will fill the voids. I've not watched Defence in action, but I've a strategy for that match and we will not underrate them," explained Nandwa.
Newly signed custodian Wycliffe Kasaya said the mood in the camp is upbeat with abundant hopes of positive results, but called on Ingwe fans to turn up in large numbers and support them.