Pay taxes, former stars say: Tanui and Ondieki want athletes to engage with KRA
BY JOSEPH NGURE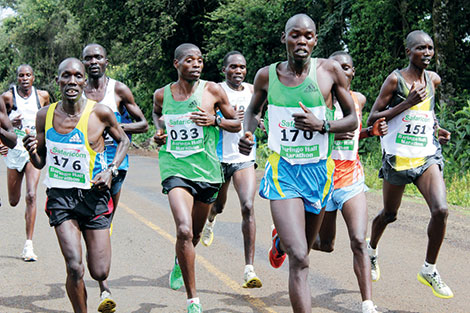 Former world half marathon champion, Wilson Kiprop (170), during the 2012 Baringo Half Marathon. [PHOTO: FILE / STANDARD]
The athletics fraternity appears divided over whether or not to pay taxes on earnings from athletics meets.
Two retired athletes with considerable influence among their peers and up and coming runners, added their voices to the raging debate that has put the Kenya Revenue Authority (KRA) and world-beating athletes on opposite sides.
They have told their successors to cooperate with the taxman.
The 1991 World 10,000m champion Moses Tanui and the man who won in the 5,000m at the same championship, Yobes Ondieki, said paying of the revenue was inevitable and all should comply.
The two told the runners to demand the improvement of the dilapidated sporting facilities in the country to justify the payment of the revenue.
"We all understand the important role that sport is playing to market the country. It is a noble duty and should be appreciated by all. But when we come to paying the tax, it is the responsibility of all of us," said Tanui, who has won the Boston marathon twice.
Speaking to FeverPitch in Eldoret, Tanui and Ondieki, who was a 10,000m world record holder, advised athletes currently earning prize money and bonuses from races abroad, to file returns to the taxman to prove their case and avoid being taxed twice.
"Our advice is athletes should ask their managers and agents to provide files and returns of taxation on the earnings from the source and the expenses incurred like paying for visas, air tickets, accommodation and others so that payment can be determined," added Tanui, who has shifted from athletics to golf.
Ondieki, the first man on earth to run the 10,000 metres in under 27 minutes, asked the athletes not to be cheated by politicians who are known for double speak.
"We acknowledge the input of politicians, especially the Cherang'any legislator, Wesley Korir, who is an athlete. But let us say the truth. Athletes should engage KRA positively to see whether the authority can resolve the issue soberly."
Last week, elite athletes from North Rift region sought audience with Kenya Revenue Authority officials, but the latter snubbed them, prompting the runners to issue a statement threatening to boycott the 2017 Olympics over taxation.
The winning sportsmen, led by Korir, the 2012 Boston Marathon champion, and marathon world record holder Wilson Kipsang, also threatened to defect to friendly nations for what they referred to as double taxation claiming their earnings are taxed from the source.
They vowed to form a union that would protect athletes from exploitation. "We would rather invest in countries that appreciate us and have us represent them, than in a country where earnings from our sweat are taxed," threatened the MP at the University of Eldoret sports grounds.
Positive start
Kenya got off to a flying start in the second leg of the IRB Sevens World Series by overcoming Portugal 10-7 and France 14-5 before going down to New Zealand 40-0 in their last group match.