Family ties and role models inspired good performance by national team and Kenya reached World Cup semis in 2003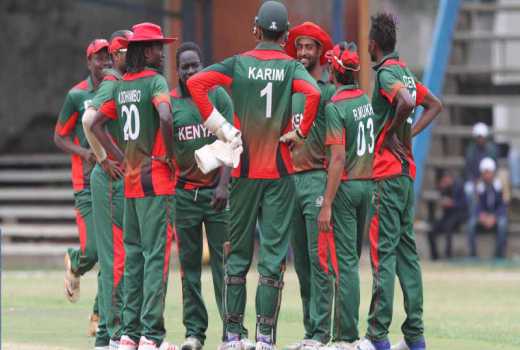 The story is told of Kenya, a promising East African nation that beat all odds to establish itself as a cricket powerhouse globally.
The 2003 International Cricket Council (ICC) World Cup is incomplete without the mention of Kenya's historic semi-final clash against India.
And what of the memorable 73-run win over West Indies in the 1996 ICC World Cup debut in Pune, India? Sadly that is just it, history!
After 2003 when the world thought that Kenya then a 'small child' had washed hands and was ready to dine with kings, the unexpected happened.
Kenya failed to capitalise on the World Cup success and rather than maintaining an upward trend, the standards took a nosedive. The country qualified for the following two World Cups in 2007 and 2011 but performed dismally and failed to go past the group stage.
Kenya's once desirable cricket eminence was slowly but surely diminishing. However, regardless of clear indicators that all was not well, the telltale signs did not prompt cricket managers to take quick action and salvage the situation.
Things moved from bad to worse and three years later Kenya failed to qualify for the 2015 ICC World Cup and it proved costly as the country lost the ODI status acquired after the 1996 World Cup.
The worst was yet to come, and for the country's cricket enthusiasts, February 2018 is a time they want to forget. Kenya sunk to its lowest in the nation's cricketing history. In less than three months, Kenya had crumbled from Division One and was fast and furiously descending to Division Three.
In December 2017, Kenya's hopes of qualifying for the 2019 World Cup qualifiers were crashed when they suffered 2-0 loss to Scotland in their last crucial must-win ICC World Cricket League Championship (WCLC) matches to finish fifth.
Lowest moment
The result meant they had a last chance to try and qualify in Division Two alongside hosts Namibia, United Arab Emirates (UAE) and Nepal who had finished below Kenya on the WCLC standings as well as Oman and Canada who had been promoted from Division Three.
Who would have thought a decade ago that countries like Oman, Namibia, Canada, Nepal and UAE would beat even a Kenya Select side let alone the national team? No one thought this was even possible in their wildest dreams. But yes it was happening.
Kenya was losing their ICC Division Two matches one after the other to the quintet in Windhoek, Namibia. Kenya was beaten hands down and lost six out of six to finish the competition at the bottom and without a point.
Kenya's pitiable show in ICC Division Two World Cricket League would be summed up in the now resigned national team coach Thomas Odoyo's words. "We played very bad cricket."
Odoyo stepped aside immediately after returning from the southern African nation terming his experience in the week-long event as the lowest moment of his cricket career. So did team captain Rakep Patel who Odoyo said was a very frustrated man in Namibia.
Shockingly, Kenya was not only losing wickets in Namibia but also, off the crease, back home at the Cricket Kenya (CK) Ruaraka offices. With each fall of a wicket, some CK Board members were drafting their resignation letters, a pointer that none of them wanted to be associated with failure.
But how did it get to this? According to former Kenya international Martin Suji, lack of proper player developmental structures is the main cause for Kenya's fall.
"In the past when we were playing and enjoying success internationally no one thought of tapping new talent, grooming or mentoring players who would later take up the mantle and carry on the top feat. We failed to enable a smooth transition and the outcome has been the declining standards and poor performance in competitive cricket," Martin said.
He added that cricketers of yester-years like Maurice Odumbe, David Tikolo and Steve Tikolo as well as David Obuya and Collins Obuya who scaled the heights and became successful cricketers had a senior brother who was their role model who mentored and inspired them.
"Cricket families played a big role in the past because younger ones wanted to be like their senior brothers, they wanted to perfectly fit in our shoes and it ensured that there was a smooth transition. After years of imitating what we were doing and even trying their best to perfect it, they replaced us hence the continuity. However, after our generation, everything changed."
Martin is the elder brother of Tony Suji and together they played for Kenya in the 1999 and 2003 World Cups. Maurice is the younger brother of Edward Odumbe, David and Steve Tikolo were inspired by Nairobi Provincial Cricket Association (NPCA) Chair Tom Tikolo while David and Collins Obuya were mentored by Kennedy Obuya.
Nothing to offer
"Having the sport in the family today might not be possible but that doesn't mean that all is lost and we can't nurture players and rise to the top again. It is time for former players to reunite, get their act together, start all over again and reclaim Kenya's rightful place in world cricket," Martin said.
However, he admitted that it is not going to be easy because cricket is a game of value and if Kenya has nothing to offer other nations, then no country will want to play them.
"We have to start winning because if we continue losing then no one will want to play us. We need tougher opponents in order to improve our game but we must have something to offer so we can attract them and make them believe that by playing us, they also stand to gain."
He remained optimistic saying that even though Kenya seems to have hit rock bottom, it is not doom and gloom because they have a starting point which is the senior and junior national team players who represented the country in Under-19 World Cup in New Zealand.
"It is irritating when senior players who should encourage our young boys choose to deliberately criticise them. New Zealand was praiseworthy, our players went through a successful process and we should get the most out of their gained international exposure.
"We should not let it go to waste, blending them with the senior players is where we can start and if we get it right we will be up their sooner," Martin said.
His sentiments were echoed by the Under-19 coach Jimmy Kamande who said that there no time to rest for Kenya but everyone should strive to keep the game alive.
"So much has happened in our cricket but our players need to keep batting and bowling. I believe both our senior and junior players together with others who are passionate about cricket have what it takes to start winning again. We just need to find a perfect combination that will work for us and we will be out of the lower division soon," Kamande said.
Additionally, Kamande said that the coaches need to start building a culture of self-belief at an early age because it has been evident that players lack the mental strength to push them in international games.
"We have very good and quality players but we need to instill in them confidence, we have been losing games even after starting well because our players panic. If we can inculcate in them the culture of self-belief in their early playing years, then we will not have problems at the international level."
With the NPCA league having been blamed for not being competitive enough to prepare players for advanced competitions, Martin said that the league is not the problem but needs added value which comes with international exposure.
"I find no fault in the NPCA league because we played the same. The difference between now and then is that we did not just rely on NPCA alone but we played in foreign leagues and competitions in South Africa, England and even West Indies.
We should get our players to play in those leagues so we can improve our standards."