Boxers battle in National Schools and Youth Championships in Nairobi
BOXING By Ben Ahenda | April 16th 2022 | 2 min read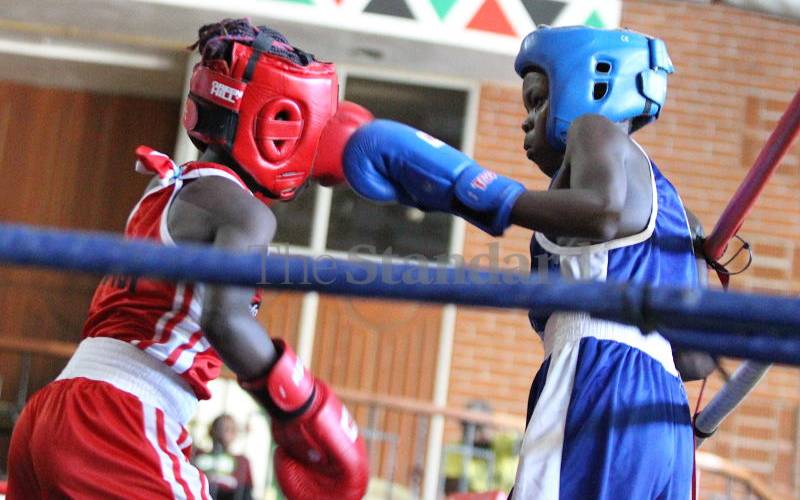 Boxers from the four Kenyan cities were taught boxing lessons in the first edition of the National Schools and Youth Boxing Championships at Charter Hall in Nairobi on Saturday.
As the grassroots came to terms with Ndondi Mashinani Initiative, boxers from upcountry were due to compete in the finals in most of the bouts that fell between light flyweight (49kg) to welterweight(65kgs).
The event attracted both male and female boxers.
In the 53kg match, Vincent Ouya of Vihiga defeated Amoid Aswani of Nairobi to cruise into the finals.
Eugene Isabwa of Murang'a received a walkover in the 79kg fight against Dennis Nyagah of Nairobi.
A total of 230 bouts were scheduled for the three-day tournament according to international referee cum judge Nelson Otieno.
"This is one of the biggest youth tournaments hosted in Kenya for the first time in the recent past. We are glad at how it has been graced by many boxers from all over the country," Otieno told Standard Sports.
Nakuru boxer Julius Gitahi received a rude shock when he was beaten by Emmanuel Okoth of Siaya in the 38kg category on points.
National League champions Kenya Police also had their boxers who produced a remarkable performance by cruising into the finals.
Wycliffe Jesere of Police earned a well-deserved victory against Michael Opati of Nairobi in the 56kg fight won on points.
David Mwangi of Meru was awarded a walkover against Denis Toni of Nairobi when the latter failed to turn up for the last four matches.
In the female championships, Josephine Adhiambo of Busia won the 44kg match against Shantel Nekesa of Nairobi.
Jane Wangare of Police picked a 3-0 victory against Gift Achieng of Nairobi in the 17-year-old 47kg bout.