Onyango vows to floor rival Nyakesha today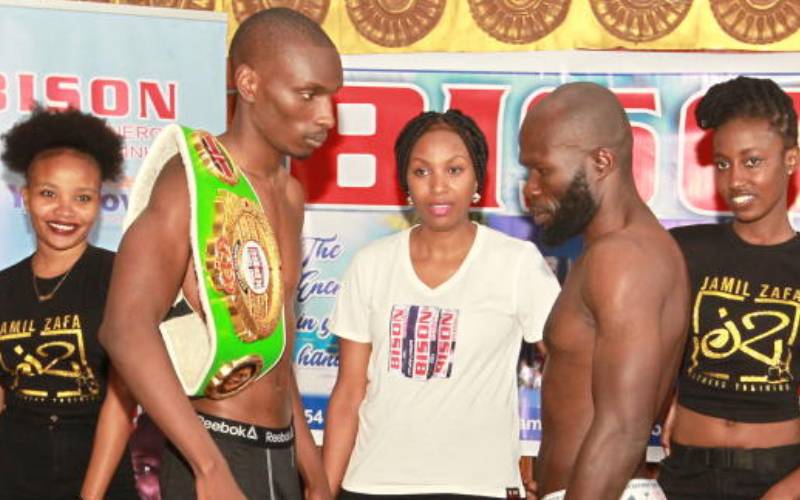 National light-welterweight champion George 'King' Onyango is set to defend his title in a ten-round bout today.
The Kenya Professional Boxing Commission sanctioned rematch against Fred 'Nekes' Nyakesha will be held at Charter Hall in Nairobi.
The soft-spoken Onyango has pledged fireworks in the ring.
"Nyakesha is a good boxer but I'm the better choice. I'm the real deal," Onyango told Standard Sports during the weigh-in yesterday. I'm ready for him. It will be a brutal bout. The ring is going to explode.
"There's a reason I'm called the pretty boy. I'm going to smash his face but he's not going to get me," said Onyango.
The lanky pugilist believes their duel will be the classic fight of the year owing to the level of preparation they've had.
Onyango has been training at the newly refurbished Umoja Boxing Club gymnasium for a month now.
"I have trimmed my weight. My strength and stamina is just amazing," he said. "I have improved on my speed, punching power and dodging skills."
Ahead of the title defence, Onyango is learning to be composed in the ring unlike his previous encounter with Nyakesha.
"I want to showcase a good fight, I want my victory to be a sure bet," he said.
Onyango's coach, Jeff Magina, says he's prepared the boxer well for the war ahead.
Onyango was born in Muthurwa but raised in Umoja estate. He boasts of six victories, two losses- all KOs and a draw.
The 24-year-old was inspired into the game by former women's middleweight champion Conjestina 'Hands of Stone' Achieng.
On his part Nyakesha believes the fight provides him with an opportunity to showcase Onyango what he's made of.
"I'm well prepared. I'm urging my fans to turn up in large numbers because this is going to be a clean, sweet victory for us.
"The last time we fought, it was a split decision that did not go my way. But this time our camp is hopeful, we are full of morale, we can't wait to collect the belt, " Nyakesha said.
Even though he's upbeat, the 40-year old said he was leaving nothing to chance stating: "I have a worthy opponent, I'm not underrating him."
The father of two has been training at the Kariobangi Social Hall for the last two years.
He says he feels fit which gives him hope of staging a mighty show that will grant him victory.
"I have improved my stamina, endurance and strength compared to the last time we fought. This is a national title, everyone wants to wear the belt, I'm dreaming to be the champion," he said.
Nyakesha has had a total of 11 bouts of which he has won seven including one KO. He has drawn once and has had three losses including two KOs.
Nyakesha's coach Alfred 'Priest' Analo reiterated that they will entertain their fans apart from their quest to win the title.
Bout promoter David Mugambi said they are committed to take the sport to the next level.