Achieng beats Basheel of Malawi to lift Female Commonwealth Superlight weight title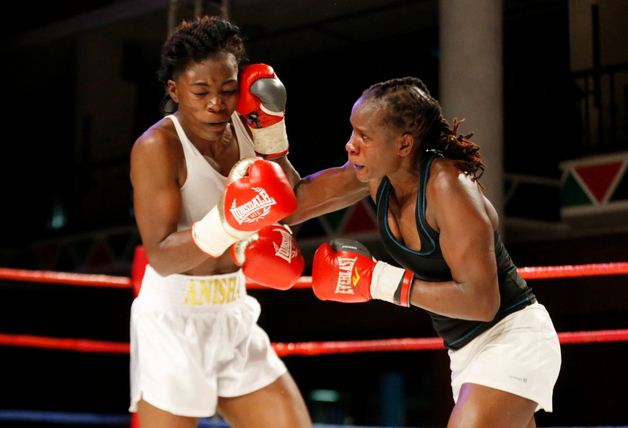 Sarah 'Angel of Death' Achieng is the new Female Commonwealth Superlight weight champion.
The reigning Universal Boxing Organization (UBO) InterContinental Female Lightweight titleholder defeated Anisha 'the Massacre' Basheel of Malawi 100-80, 98-92,100-90 in a 10 round title fight at Charter Hall in Nairobi, powered by 22Bet, on Wednesday to add another feather to her cup.
Superb Achieng dominated almost all the rounds.
None was settled in the opening round, but Achieng managed to land some clean punches on Basheel's temple.
Basheel guarded well in the second round, but Achieng broke her lock with ferocious uppercuts.
Buoyed by home support, Achieng had a field day in the third round, pounding the Malawian army officer like yam.
Basheel, who had resorted to leaning on the ropes, was saved by the bell in the round.
Achieng continued to breeze in her showpiece in the fourth round, she even shook her waist to the blaring music from the giant speakers in the hall.
There was no place for Basheel to hide in the fifth and sixth rounds as Achieng landed on her like a thud of brick, disfiguring her temple with superb hooks.
Both were abit exhausted in the seventh round, one of their uppercuts landed on their targets.
Basheel seemed to have resigned to fate in the eighth round, giving Achieng the leeway to continue pounding her mercilessly.
Achieng was abit exhausted in the ninth and tenth rounds, she contained her opponent by not lowering her guard till the period, which seemed like an eternity, was ended by the bell, declaring her the new Female Commonwealth Superlight weight titleholder.
At the same time, the East and Central Africa champion Victor 'Vikings' Wesonga endured 10 gruelling rounds to beat tough-talking Ali Bakari of Tanzania 97-93,100-90,99-91 for the vacant men's Pugilist of Tanzania (PST) belt.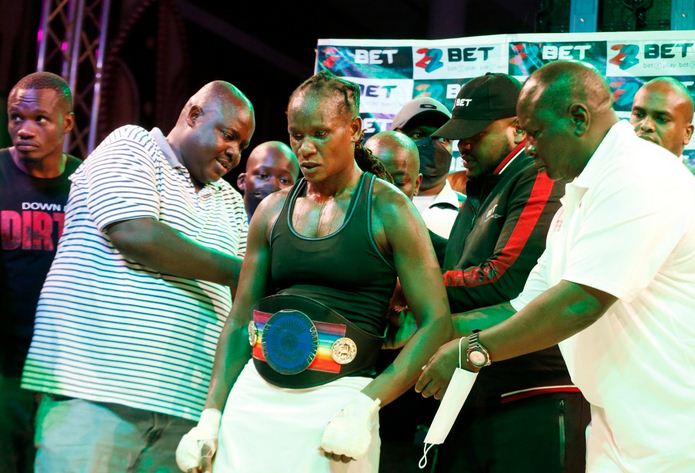 Bakari charged in the ring ferociously with threatening punches but Wesonga dodged them with Mohammed Ali's 'sting like-a-bee-dance-like-a butterfly' classic moves.
It was not until the sixth round that Wesonga contained the Tanzanian who boasts of three victories, all on Knock Out
(KOs), since turning pro in 2019.
"It's good I have sent him back home with some boxing lessons," Wesonga said.
The victory took Wesonga's tale of the tape to four wins including three KOs and a draw.
Opening the day was the men's Supermiddle weight four round non-fight pitting Kennedy Opiyo against Dan Oluoch.
Heavy punching Oluoch managed to carry the day after he carded 40-36, 39-37 and 40-36 against his never-say-die opponent.
Spirited James Mugeni had a walk in the park as he cleared Edwin Marshal via Technical Knockout (TKO) in men's Bantamweight duel.
Mugeni took just 1 minute 36 seconds to finish off Marshal who seemed to have lost his stability in the second round.
The three-bench-judge had to halt the one sided bout to save Marshal from further pounding.
Albert Kimaru floored Lameck Asenga at the bell in the first round to emerge winner of the men's Superbantam weight on TKO.
Women's six-round Superlight weight fight involving Joyce Awino against Nicoline Achieng was declared a unanimous draw by the judges.
Imposing Awino scored 57,57,55-59,57-57 against resilient Achieng.
Tactical Emmanuel Chivoli beat Augustine Wafula 59-54,60-53,60-53 in the men's six-round Lightweight duel.
Consolata Musanga and Jane Kavulani had an entertaining six-round bout in women's Superfeather weight which ended in another unanimous draw.
Richard Okoth found the going tough in the third round of men's Superlight weight which was won by hard punching George Onyango on TKO in 2 minutes 16 seconds.
Okoth threw in the towel after he could not contain Onyango's shoulder punch that landed well on his body.
Non-title fights
1.Men's Supermiddle weight 4 rounds: Dan Oluoch won 40-36,39-37,40-36 against Kennedy Opiyo.
2.Men's Bantam weight 4 rounds: James Mugeni won by TKO against Edwin Marshal.
3.Men's Superbantam weight 4 rounds: Albert Kimaru won by TKO against Lameck Asenga.
4.Women's Superlight weight 6 rounds: Joyce Awino unanimously drew (57,57,55-59,57-57) against Nicoline Achieng.
5.Men's Lightweight 6 rounds: Emmanuel Chivoli won 59-54,60-53,60-53 against Augustine Wafula.
6.Women Superfeather weight 6 rounds: Consolata Musanga unanimously drew 57-57, 57-57,60-54 against Jane Kavulani.
7.Men's Superlight weight 8 rounds: George Onyango won on TKO against Richard Okoth.
Title fights
8.Men's Feather weight, Vacant Pugilist Syndicate of Tanzania (PST) 10 rounds: Victor Wesonga won 97-93,100-90,99-91 against Ali Bakari of Tanzania.
9.Female Commonwealth Superlight weight 10 rounds: Sarah Achieng won 100-80, 98-92,100-90 against Anisha Basheel on Malawi.