Kenya's Nick Okoth steps up training on his speed as he eyes Olympic medal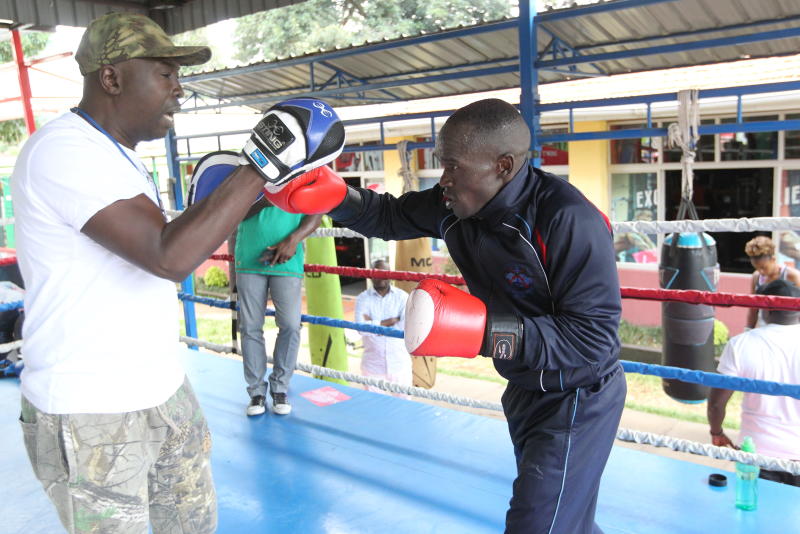 2015 Africa Boxing Championships lightweight gold medalist Nick Okoth is worried with his speed even as he hopes to reach the medal bracket at the Tokyo Olympics.
Although the coaches are satisfied with his speed, Okoth insists he needs to work on his speed if he wants to finally win a medal at the Olympics.
"I have tried very hard to improve on my speed in throwing jabs, but I'm yet to be convinced that I've reached my optimum," he told Standard Sports.
Okoth is among four Kenyan boxers who qualified for Olympics alongside Africa Zone Three Boxing Championships super heavyweight gold medalist Elly Ajowi, Commonwealth Games flyweight bronze medalist Christine Ongare and national welterweight champion Elizabeth Akinyi who are training under a panel of seven coaches and 12 sparring partners.
"Coaches say all what I have achieved so far in training sessions and in two international assignments are not bad but I think that is still below par," he added.
His sparring partners are flyweight (52kgs) David Karanja and Shaffi Bakari, featherweight (57kg) Martin Oduor and lightweight (60-63kg) Victor Odhiambo.
"The flyweight boxers are assisting me improve on my speed, the lightweight boxer to improve on my power and the featherweight boxer on body work," Okoth, who has won medals in six different international assignments said.
He said he hopes to win a medal on his second attempt at the Olympics having failed to go past the second round in 2008 Beijing Olympics in China.
"This time, I'm more focused to reach the medal bracket and it is the reason I'm still ambitious to improve on the workrate of throwing jabs in comparison to former world heavyweight champion Mike Tyson", he said.
In the two international assignments the team has so far featured in, Okoth won silver and bronze medals.
Meanwhile, Africa Zone Three Boxing Championships super heavyweight gold medalist Elly Ajowi is convinced they have so far undergone one of the best training sessions required for the games.
"Coaches have given us the best lessons so far that qualify us to make steady moves towards winning medals," he said.
Commonwealth Games flyweight bronze medalist Christine Ongare confirmed all was well in the camp and were now ready to show their skills in the games.
"We have been taken through so many drills and time is ripe to give our best in the ring," she said.
The team has been training under head coach Musa Benjamin, deputy coach David Munuhe and assistant coaches John Waweru, Julius Theuri, Ibrahim 'Surf' Bilali, Geoffrey Kimani and Lemmi Katibi.
Benjamin said the players are in a perfect condition and are ready to give their best in Japan.