BOXING: 16 players selected for six day showpiece as the World Olympic Qualifiers beckons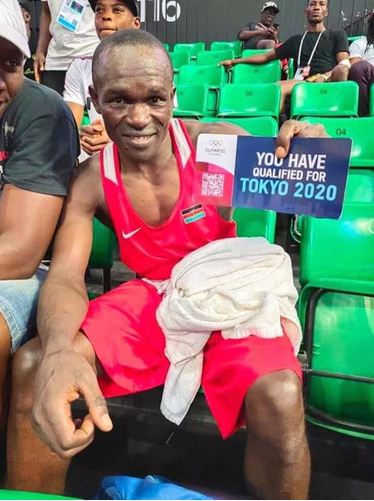 The National Boxing Team is confident of coming out with a formidable performance at the Africa Zone Three Boxing Championships that box-off in Kinshasa, Democratic Republic of Congo from March 20-26.
Head Coach Benjamin Musa said the team has what it takes to give their opponents a run for their money in the six-day tournament aimed at giving African countries exposure before they head to Paris for the World Olympic Qualifiers in June.
The tournament organised by the Confederation of African Boxing (CAB) is meant to African boxers the confidence required to participate in the Paris Championships ahead of the 2020 Tokyo Olympics after a dry spell of 12 months due to the Coronavirus pandemic.
"We are ready for the big names that goes with the magnitude of this tournament and players have promised to give their best before they head to Paris with a hope of securing more slots for the Tokyo Olympics," Musa told Standard Sports.
The team is expected to jet out to Kinshasa on Friday.
Musa said the 16 players in residential training will make the trip and are led by the 2015 Africa Boxing Championships gold medalist Nick 'Commander' Okoth who is the team captain.
Okoth will use the tournament to shape for Olympics after he qualified during Africa Olympic Qualifiers in Dakar, Senegal last year alongside national female flyweight champion Christine Ongare.
Kenya needs to win more Olympic slots hence the need to send a big squad to DRC ahead of global qualifiers in Paris with Musa explaining that their urge is to have three or more boxers qualify for the Olympics.
"Our participation in Zone Three Championship is meant to give us a chance to prepare well and give boxers confidence and exposure required to take part in the global qualifiers and the Olympics," Musa said.
Musa who is also a former Tanzania National tactician said this is a perfect tournament meant to gauge the effectiveness of his players.
Kenyan boxers are expected to face opponents who have already qualified for the Tokyo Olympics and some of the most experienced boxers in the continent.
A total of 13 countries are expected for the Kinshasa showpiece.
They are hosts DRC, Kenya, Uganda, Tanzania, Somalia, Rwanda, Burundi, Cameroon, Congo Brazzaville, Ethiopia, Central African Republic, Equatorial Guinea and Gabon.
A letter from the Confederation of African Boxing (CAB) has invited the 13 countries stating that the venue has been selected due to its central location and quality facilities.
"Kinshasa has been selected to host the men and Women Boxing Championships 2021 due to its central location in Africa and for its high quality facilities and services," read part of the letter signed by CAB Secretary General Kalong Andre Basile.
The squad of 16 boxers have been training at AV Fitness Gymnasium in Lavington, Nairobi.
The team include flyweight Shaffi Bakari(Police) and David Karanja(Nairobi), featherweight Nick Okoth(Kenya Defence Forces), lightweight Joseph Shigali (Police) and Victor Odhiambo(KDF), welterweight Boniface Mogunde (Police), middleweight George Cosby(Police), light heavyweight Edwin Okongo (KDF) and Hezron Maganga(KDF), heavyweight Joshua Wasike(Nairobi) and super heavyweight Elly Ajowi(Police).
The female players are flyweight Christine Ongare, welterweight Elizabeth Akinyi, lightweight Stacy Atoms and middleweight Elizabeth Andiego.
On Monday, Musa said the team was in high spirits and ready to conquer Africa on their way to the Olympics.
UTILITIES.
FULL SQUAD;-
Flyweight(49kg):- Shaffi Bakari, David Karanja and Christine Ongare.
Featherweight(57-58kg):- Nick Okoth.
Lightweight(60kg);-Joseph Shigali, Victor Odhiambo and Stacy Ayoma.
Welterweight(64kg);-Boniface Mogunde and Elizabeth Akinyi.
Middleweight(74kg);- George Cosby and Elizabeth Andiego.
Light heavyweight(81kg);- Edwin Okong'o and Hezron Maganga.
Heavyweight(91kg);- Joshua Wasike
Super heavyweight(Over 91kg);- Elly Ajowi.