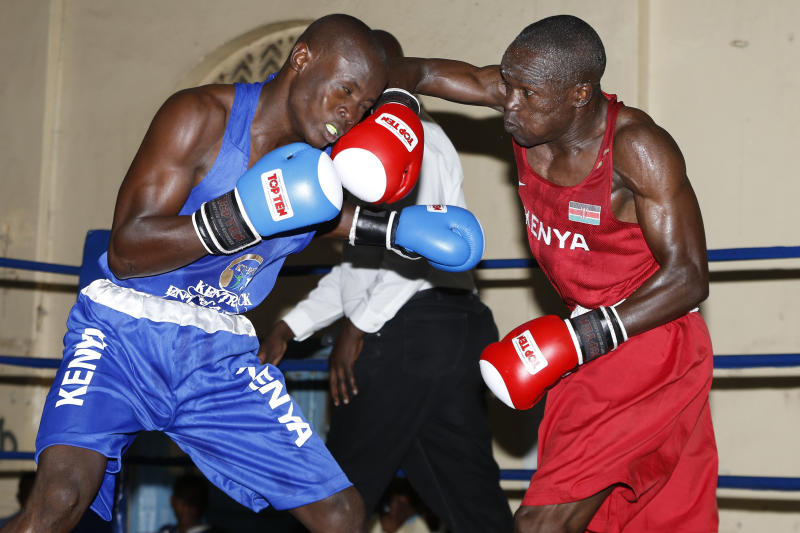 2015 African Boxing Championships gold medalist Nick Okoth is the first Kenyan boxer to qualify for the Tokyo Olympic Games set for July 24-August 9.
Okoth achieved the feat after beating Uganda's Isaac Masembe on unanimous points' decision in the featherweight (54-57kg) semi-final bout at the African Olympic qualifiers in Dakar, Senegal on Wednesday night.
SEE ALSO: Athletes find motivation as countdown to Tokyo Olympic games enters homestretch
The finalists at the qualifiers are assured of a ticket to the Olympics.
Okoth will now face Everisto Mulenga of Zambia in the finals tomorrow to decide who will be crowned the African champion.
SEE ALSO: With a year to go, support slides for pandemic-hit Tokyo Olympics
On his way to the final, Mulenga dispatched Samuel Takyi of Ghana on unanimous points' decision in another featherweight semi-final match.
Okoth said it will be total war in the finals. "I will give it my all in the final match as I'm determined to snatch the gold medal.
SEE ALSO: Local boxers urged to keep fit despite virus restrictions
"It will be total war from the first to the final round," Okoth told Standard Sports on phone from Dakar yesterday.
Okoth who is popularly known as Commander by his teammates said all the boxers he has faced so far in the qualifiers from the first round to the semis are all new to him.
"All these boxers are new opponents, but following advice from my coaches, I have taken each match with the seriousness it deserves and it will not be any different in the final match against Mulenga," said Okoth who features for Kenya Defence Forces in the National Boxing League.
Having earlier featured in the 2008 Beijing Olympics Games, it has taken Okoth exactly 12 years to bounce back to the big games although he has scooped a number of medals in different international championships.
Prior to the match, Okoth had warned the Ugandan that it would not be easy for him to come out victorious after his teammate and professional middleweight boxer Rayton Okwiri was deemed to have been 'robbed-off' his victory against another Ugandan David Ssemujji in a quarter-final middleweight clash.
"They robbed us in the middleweight bout where our comrade Okwiri beat their man (Sssemuji). If they are planning to do that to me, they'll be disappointed. He will know why they call me 'Commander'," Okoth said before the match on Wednesday.
Commonwealth Games flyweight bronze medalist Christine Ongare could be the second boxer to book an Olympic ticket if she wins her box-off flyweight contest against Uganda's Catherine Nanziri tomorrow.
In the semi-finals, Ongare lost to Rahab Cheddah of Morocco while Roumaysa Boualam of Algeria defeated Nanziri (Catherine) on unanimous points' decision.
Moroccan Cheddah (Rahab) will face Algerian Boualam (Roumaysa) in the flyweight finals tomorrow.
Out of the four Kenyan boxers who qualified for the semi-finals in different weight categories, it is only Okoth who made it to the medal bracket.
Those who fell by the wayside were Olympian and national heavyweight champion Elly Ajowi, national welterweight champion Elizabeth Akinyi and Ongare.
Ajowi was beaten by Moroccan Baalla Youness who will face Abdelahalid Benchabla of Algeria in the heavyweight finals.
And Akinyi was outclassed by Bel Ahbiib Oumayma of Morocco in the flyweight semi-finals.