Okwiri thirsts for title defence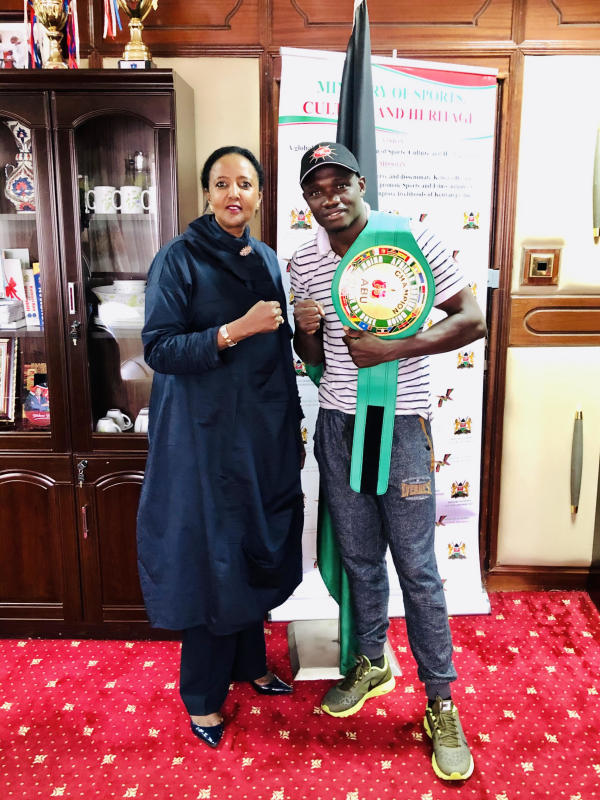 When Africa Boxing Union middleweight champion Rayton Okwiri steps onto the ring at City Hall in Nairobi at 10 pm tonight, the nation could get to a near standstill.
Okwiri, a prison warder, will battle Augustine Matata of the Democratic Republic of Congo in a bid to retain the continental title. "Such a fight is no easy. You need to be strong enough for the task," he said.
But Okwiri said they have devised a game plan that would slide him to victory after the 10 rounds, having studied video clips of the Congolese boxer.
"The technical bench has devised a game plan that will help me win. I hope it will work," he said.
Okwiri has been training for the last 12 weeks at Nairobi's Kaloleni Social Hall and Pumwani's Pal Pal Gymnasium under former international Daniel Shitsia, David Kiilu and Boniface Ndolo.
Matata, who arrived in the country yesterday morning, underwent weighing in and medical check-ups last evening. Officials handling the match arrived yesterday.
They are referee John Shipanuka of Zambia, judge Irene Semakula of Uganda, Lynette Onam of Kenya and John Chaggu of Tanzania, while Tanzanian Joe Anea is the match supervisor.
Okwiri, who boasts five wins and a draw from six fights, was oozing pure class yesterday: "I call on my fans to turn up in large numbers for the fight. I will not let them down."
Matata has won all his seven professional fights in what promises a mouthwatering clash.
"I will take on the boxer carefully. I am determined to retain the title," he said.
Kenya Professional Boxing Commission secretary-general Franklin Imbenzi said a win for Okwiri enhances his chances of fighting for a world title.
Imbenzi said there will be six curtain-raiser matches in nontitle fights lined up for tonight before the big clash.
The first fight will pit Morris Okola of Kenya against Limbani Lano of Malawi before Nick Mwangi of Kenya takes on Malawian Chikapa Limbani.
Kenyans Everlyn Odero and Joyce Awino will take the ring against each other in a lightweight battle.
National lightweight professional champion Sarah Achieng' takes on Joyce Nasimiyu in a lightweight non title fight.
Other matches are between Nick Otieno and Joshua Osotsi as well as Rebah Matanda, who will be up against Mary Nasimiyu.