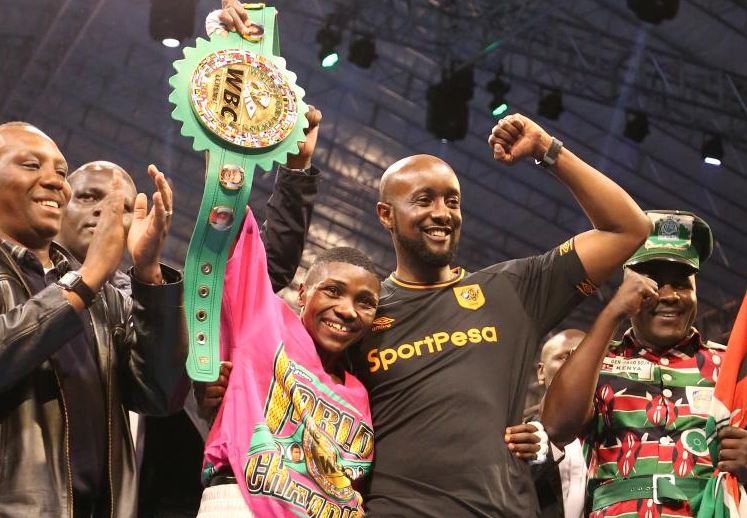 It will take something special to stop the dynamic boxer Fatuma 'Iron Fist' Zarika.
The 33-year-old's tiny but toned frame belies the agility and pace she boasts. She is fast. Her technique quite a marvel to behold. Her punches are well calculated and her reach is just impressive.
Going by the crowd at the 'Nairobi Fight Night' on Saturday, it's safe to say there is beauty in boxing and when it's done right, it becomes a constant reminder of good tidings.
Zarika had to dig deep to defend her World Boxing Council (WBC) World Super Bantamweight crown against Yemileth Mercado of Mexico.
Cheered by charged thousands of fans who filled up the arena at the Kenyatta International Convention Centre COMESA grounds on Saturday night, Zarika had to rely on split-point decision by the three judges.
Judge Eddie Papoe of Ghana gave Mercado 96-94, while Kenya's Bena Kaloki and Francis Chirwa from Malawi gave Zarika 97-93 and 99-91 respectively in the 10-round bout.
It was a tense encounter. Too close to call that even South African referee Simon Mukadi had to intervene on several occasions as the boxers pushed each other against the ropes.
Zarika's ruthless heavy punches failed to knockout the young Mercado, who was cheered on by a handful of Mexicans led by Ambassador Erasmo Martinez. Devastated by her loss, Mercado stormed out of the ring in protest and failed to attend the mandatory interview as required by World Boxing Council rules.
The bout was Zarika's 43rd, with her victory extending to 31. In those, she has lost 12 times and drawn twice.
She first won the World Boxing Council title last December after beating Zambian Catherine Phiri on unanimous decision.
"I have never played in front of many fans like tonight. The huge number of fans who turned up propelled me to victory. This is for you," said Zarika.
The night was attended by sports personalities and officials including Harambee Stars striker Michael Olunga, Musa Muhammed, former Marathon Tegla Loruope, Sports Cabinet Secretary Rashid Echesa and his Permanent Secretary Kirimi Kaberia.
Meanwhile, Olympian Rayton Okwiri knocked out Ugandan Patrick Amote in the second round in an earlier encounter at the same venue.
The speedy Okwiri dominated the non-title middleweight bout with heavy punches knocking down Amote in the first round.
In the second round, Okwiri picked from where he left as he rained Amote endless blows before referee Steven Okumo ended the eight-round fight.
"Immediately the fight started, I knew Amote's weaknesses and I capitalised on them," said Okwiri. "I was the faster boxer tonight," added Okwiri, who won his fourth successive professional fight.
Meanwhile, in a non-title lightweight fight, George Onyango defeated Fred Nekesa by split decision.
The first judge ruled 57-60 in favour of Onyango, the second judge scored 58-57 for Nekesa, while the third judge scored 56-58 in favour of Onyango.