Ulinzi Warriors ready to shoot down stubborn KPA in Nairobi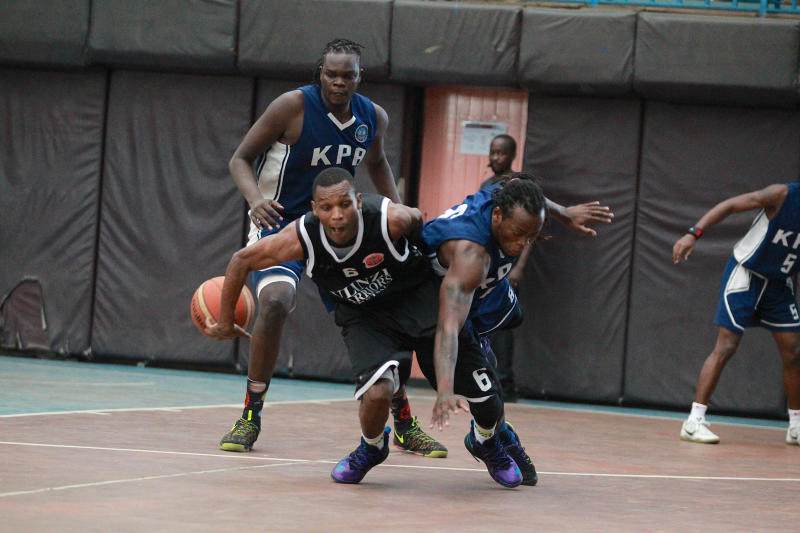 Ulinzi Warriors are confident of retaining the Kenya Basketball Federation (KBF) Premier League title despite Kenya Ports Authority (KPA) clawing their way back to tie the 2021-2022 finals playoff series 1-1 on Sunday.
The defending champions on Saturday humiliated the hosts in their own backyard after winning Game One of the best of five series 68-66 to take a huge step towards retaining the title.
However, KPA fought back in Game Two to win 69-58 and stay alive in the finals as they tied the series at 1-1.
Speaking after Game Two, Warriors head coach William Balozi said they have picked positives in their win and defeat and are looking forward to an explosive game in Nairobi on Saturday.
"KPA are a good team. That was pretty clear on Sunday and we do not need to be reminded of their threat. After two games, we clearly know their strengths and weaknesses which we will be looking to exploit at home as we work on rectifying our mistakes too," he said.
Balozi said they achieved one of their targets which was to either win one or both games and they can't wait to finish off the series at home.
"We are going home heads high because we played well. Despite missing out on a 2-0 series lead which would have tilted the championship towards us, we can't say we did not hurt them.
"Now we will be at home and we will make it count. The objective is to end the series in four matches," Balozi said.
In Game One, Victor Bosire converted a game high seven three-pointers out of 14 attempts to finish with 36 points, four assists, six rebounds and seven steals to lead Ulinzi Warriors to 68-66 victory in front of the home fans.
The Kenya Morans guard was followed by David Ouma who dropped 12 points and six rebounds as James Mwangi finished with eight points and game high 13 rebounds.
KPA's Ken Wachira on the other hand dropped six three pointers to lead the hosts in scoring with 22 points and eight rebounds followed by Lennox Wange and John Wijass with 17 and 14 points.
In a show of might, both sides settled for a 15-15 stalemate in the opening quarter, with the hosts, KPA, establishing a slender 33-28 into the break.
The Dockers carried on with their impressive display in the second quarter to lead the tie 54-52 into the fourth quarter, but Ulinzi staged a series of clutch moves inspired by man-of-the-match Bosire to win the tie by a basket thanks to a narrow 68-66 score line.
In Game Two, Ken Wachira finished with a double-double of 19 points and 11 rebounds to guide KPA to victory as John Wijass followed with 12 points and seven rebounds as Job Byron contributed 10 points.
Sammy Kiki's side led 21-12 in the first quarter but narrowly missed the second quarter 14-15 while holding a 35-27 advantage into the breather.
They carried on with their sparkling form, winning the penultimate quarter 15-11 before closing out the tussle 69-58 at the final buzzer. KPA tactician Sammy Kiki praised his charges for not giving up despite losing Game One.
"We did not give up after Game One set back and we managed to contain them. We will travel to Nairobi confident about our prospects."
Related Topics