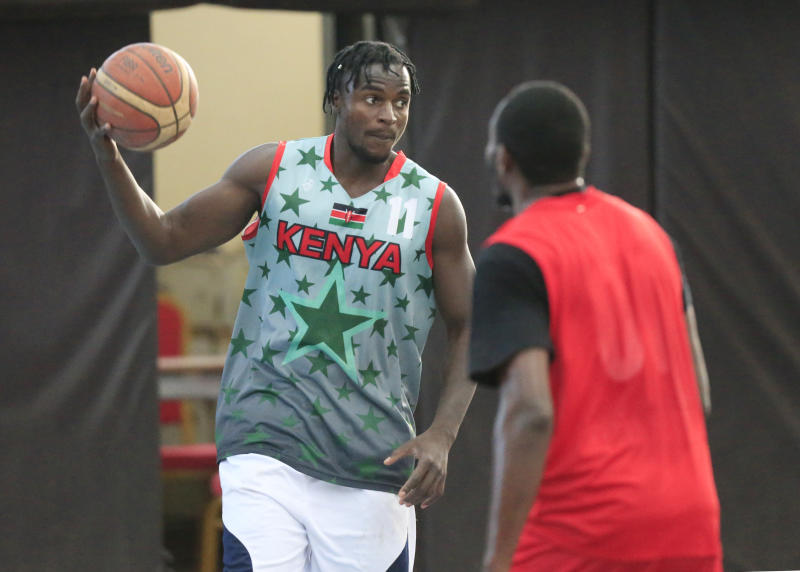 Kenyan are hoping to make history in Rwanda after 27-year wait.
With less than two weeks before first round of the 2021 AfroBasket Qualifiers, Kenya Morans are leaving nothing to chance as they prepare for the Group B showdown in Kigali, Rwanda, later this month.
The Kenyan boys have their work cut out as they seek to return to the continental championship and end the 27-year wait.
History is what the likes of Erick Mutoro, Tylor Ongwae, Ronnie Gundo and Valentine Nyakinda will be looking to write as they were barely toddlers when Kenya last featured in Africa's top men's competition in 1993.
Going up against top ranked nations Angola, Senegal and Mozambique, Morans must shove one opponent out of their way and finish among the top three to seal their slot.
Morans captain Griffin Ligare said they are focused on improving themselves rather than worrying about their opponents.
"We are working on ourselves to improve our game as individuals and as a team and I believe that is more important than worrying about our opponents," Ligare said.
Ligare will be looking forward to yet another successful outing having led Morans to the FIBA Zone Five title last year on his first assignment as captain in Kampala, Uganda.
He later led them to a second place finish in the inaugural AfroCan basketball championship in Bamako, Mali.
Morans camp was boosted by the arrival of small forward Preston Bungei who will be making his international debut for Kenya.
Bungei, who plies his trade in Bosnia for Division One side HKK Capljina, brings to the side a wealth of experience drawn from many years of playing basketball in the US.
Coach Cliff Owuor is expecting Denmark-based Tylor Ongwae who was instrumental in Kenya's exploits in Kampala and Bamako to join the team as well as Tom 'Bush' Wamukota who plays for Rwandan champions Patriots.
Former Strathmore Blades star Ronnie Gundo from the US, Desmond Owili from Australia and debutant Joel Awich from France are expected to spice up the squad. Ongwae and Gundo missed January pre-qualifiers held at Nyayo.
Team Manager Mercine Milimu said they are ensuring they follow the guidelines given by FIBA ahead of the championships.
"We were given guidelines that we must strictly adhere to so as to be part of the competition. They include two Covid-19 negative test reports one of which should be done 72 hours before travel. We must also travel early because we have to be tested on arrival, be in isolation for not less than 24 hours before we can enter the bubble," Milimu said.
Milimu added that top on her priority list is ensuring the players remain safe and are not exposed.
"We are not taking any chances with the their safety, How well we keep them safe will make or break or chances and so the remaining days until we have travelled played and returned home their safety is very crucial."
Meanwhile, management consultant Eliud Owalo on Thursday evening paid a courtesy call on Morans. Owalo, a former basketball player who has extended kind gestures to Morans and their female counterparts Lionesses, donated two sets of playing kits.
"I have a sentimental attachment to basketball and I'm readily available to support it more so Morans and Lionesses," Owalo said.