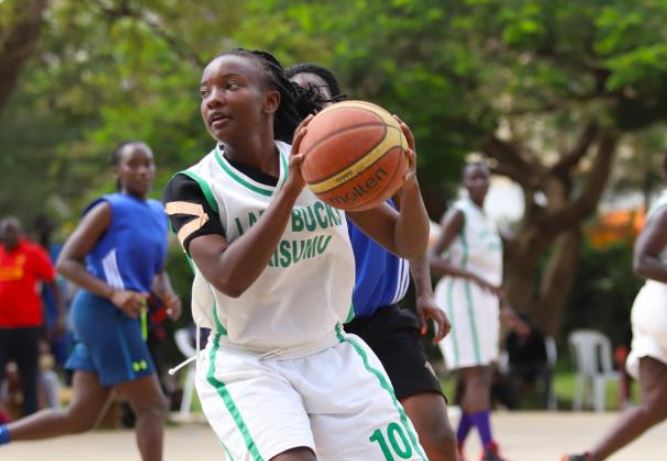 Lady Bucks Kisumu are the 2019 Kenya Basketball Federation (KBF) Division One Women's champions.
The Nyanza based outfit was crowned the champions by the federation after Riara University was sanctioned for fielding an ineligible player in the finals contested in the best-of-five format.
SEE ALSO: Kadoka: From drug addict to a star footballer
According to KBF, Riara University was found culpable of fielding Chantelle Kyobe who was still registered under Safe Pacers team of the NBA League in Nairobi, a lower-tier league under KBF, and therefore she was not eligible to play for Riara.
Lady Bucks had outclassed Riara University 59-38 and 70-46 in Game One and Two respectively in the finals staged at the Jomo Kenyatta Sportsground in Kisumu last week and were declared champions with a score of 3-0 after the disqualification of Riara.
SEE ALSO: Athletics: Doha Diamond League meeting brought forward
In an interview with the Standard Sports, Lady Bucks head coach Dave Michael was full of praise for his charges, attributing their continuous success to their youthful and vibrant players who sacrificed themselves for their passion in basketball.
He lauded them for their sacrifice and determination despite their financial challenges.
SEE ALSO: How Shujaa skipper Amonde got into rugby by default
"The team played well from the start of the season to the end where we have seen the fruits of our hard work by winning the title. Congratulations to every member of the team and thanks to all that supported us in time of need," he said.
"It was not easy playing with challenges but I am glad we have made it this far. Our focus now shifts to next season where we are looking forward to another good campaign in the premier league."
Lady Bucks captain Dranny Futo congratulated her teammates and told their supporters to celebrate their success ahead of their premier league return next year.
"This is a season to remember for us. The team played well both home and away and to end the season as champions is a morale booster ahead of the tough premier league season next year. We celebrate now but return to training later ahead of next year" she said.
Lady Bucks and Riara University have both qualified for the 2020 KBF Women's Premier League after both qualified for the finals.
Riara University knocked out Strathmore in the semifinal playoffs to glide into the finals as Lady Bucks saw off KPA Youth.