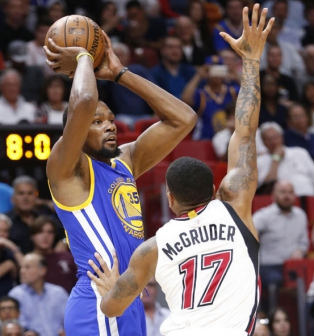 The Golden State Warriors bounced back in a big way Wednesday, romping to a wire-to-wire 123-92 NBA victory over the under-manned Chicago Bulls in Oakland.
Klay Thompson celebrated his 27th birthday by sinking six three-pointers en route to a game-high 28 points for the Warriors, who were shocked by the Kings in Sacramento on Saturday.
The Warriors haven't lost back-to-back games since April of 2015.
Kevin Durant scored 22 points, pulled down 10 rebounds and handed out seven assists and Draymond Green added 19 points as the Warriors improved their league-leading record to 44-8.
Stephen Curry had a quiet night, scoring 13 points to see his streak of consecutive games of 20 or more end at 16.
That didn't matter against a Bulls team missing All-Star forward Jimmy Butler because of a bruised heel and veteran guard Dwyane Wade, who stayed at the team hotel because of an upper respiratory illness.
The San Antonio Spurs, second in the West and behind the Warriors, didn't live up to coach Gregg Popovich's high standards but still pulled off a 111-103 victory over the 76ers in Philadelphia.
"We didn't play a good 48 minutes," Popovich said. "We played good the last three, four, five. We didn't move that well. We didn't get that many assists. We held the ball. We turned it over. It was very disappointing."
Nevertheless, the Spurs never trailed, shooting 52.7 percent from the field and making 11 of their 22 three-point attempts as they improved to 40-12.
All-Star forward Kawhi Leonard scored 32 points for the Spurs.