Jepchirchir and Jepkosgei eyeing glory in Boston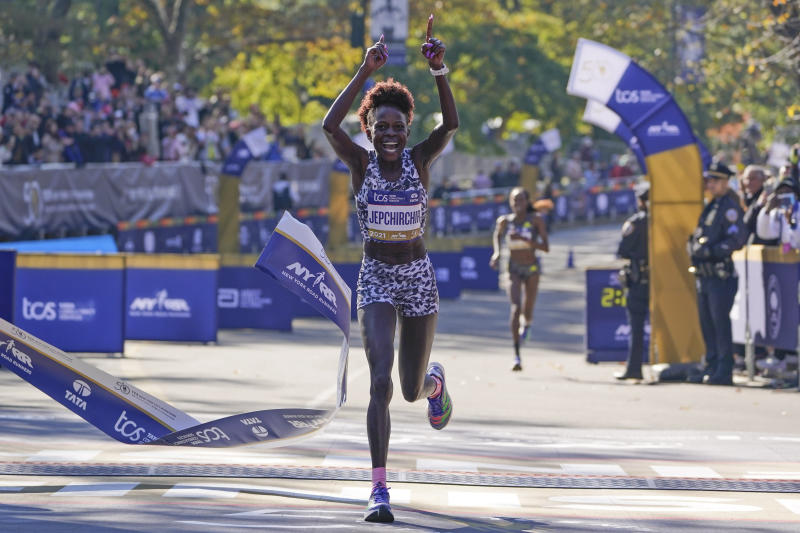 Olympic champion Peres Jepchirchir, London Marathon winner Joyciline Jepkosgei and New York City 42km runner-up Viola Cheptoo are among Kenyan big shots to watch at the 126th edition of Boston Marathon tomorrow.
Diana Kipyokei surprisingly won last year's edition of the Boston Marathon, but is not defending the title this year.
Two-time world champion Edna Kiplagat, who is aged 42 years, is competing in Boston where she clinched the title in 2017.
Last year, an indefatigable Kiplagat placed second in Boston and is keen on triumphing tomorrow.
Peres Jepchirchir and Joyciline Jepkosgei are among the top ten fastest women marathoners in the world, and they take to Boston with impressive CVs in the race.
The duo will be running their debuts in Boston. They expressed confidence of a good show during the pre-race press conference.
Jepchirchir, for example, clinched the World Half Marathon title as well as winning the Valencia Marathon in 2:17:16 in a successful 2021 season.
"I feel honored to be in Boston for the first time. It will be a great race. It is good to have strong women in the race," Jepchirchir told reporters in Boston on Friday.
The 42km queen was the first woman in history to win an Olympic marathon and a world marathon major in the same year.
Jepkosgei on the other hand has produced historic wins. She was so close to breaking the New York City Marathon 2:22:31 course record in 2019 where she won in 2:22:38. The course record was set by Margaret Okayo in 2003.
She has previously competed with Peres Jepchirchir in international races. The duo competed in the Ras Al Khaimah half marathon in 2017. She finished third in 66:08.
Jepchirchir won the Ras Al Khaimah race in a world record and Jepkosgei ran the fastest time ever for her placing, as did runner-up Mary Keitany. The race propelled Jepkosgei to the top ranks in long distance running.
Jepkosgei, 29, is the first Kenyan to break six world records in six months in 2017. She smashed world records in 10km, 20km and half marathon.
"My preparations have been good. For the last three three months I have been focused on my training and I am ready. The course is hilly and the race tough but I am prepared. The field is also strong," Jepkosgei said during the race's press conference.
She added: "It is my first time in Boston and I am ready to enjoy the course. I am not worried about the field because I have the attitude to run well and lower my personal best. I am confident in my training."
Edna Kiplagat has demonstrated that she is a force in World Marathon Majors after placing second in Boston for the second time last year. She was also second in 2019.
Her personal best is 2:19:50 – a time she recorded while finishing second in London in 2012. She also triumphed at the 2011 and 2013 World Championships and was second in 2017.
The Ethiopian brigade will be led by Degitu Azimeraw. The 23-year-old athlete has recently recorded considerable success in long distance running.
She obliterated the Amsterdam Marathon course record in her 42km debut, clocking a historic 2:19:26, which became the second fastest for a woman running a marathon for the first time. She was only 20 years old then.
Last year, Azimeraw placed second at the London Marathon in 2:17:58 behind Jepkosgei and the duo are facing off again tomorrow.
Related Topics