Hellen Obiri appointed African Youth Games Chef de Mission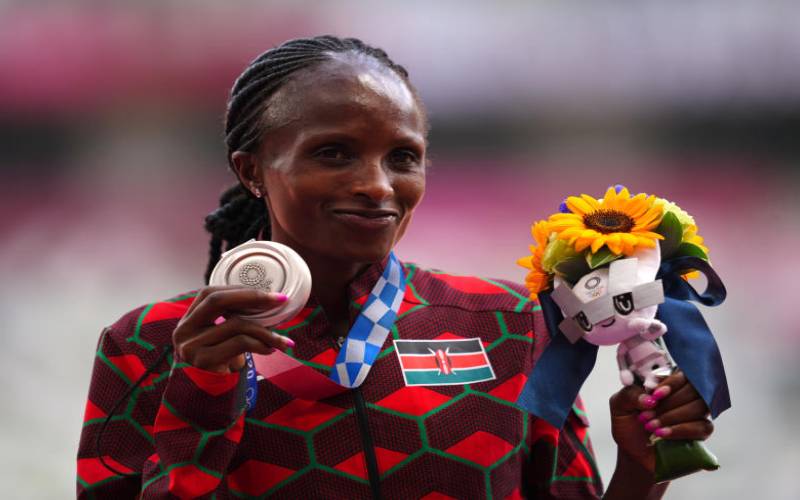 Two-time world 5,000m champion, Hellen Obiri and John Ogolla have been appointed the Youth Africa Game (YAG) and Commonwealth Games Chef De Mission.
Obiri was recently elected as the National Olympic Committee of Kenya (NOC-K) athlete representative.
Obiri, a two-time Olympic silver medalist, in Rio Brazil and Tokyo, is still an active athlete and is tipped to be among the players to be named in the Team Kenyan squad for the 2022 Commonwealth Games.
Commonwealth Games are due in Birmingham between July 28 and August 8.
In a busy season that also has the World Athletics Championships, in Oregon, between July 15–24, Obiri's selection, to such a critical position, by NOC-K honchos, now raises eyebrows.
Besides the Commonwealth, Obiri also has the Africa and World Championships to worry about before she heads to the youth games due in Egypt between August and September.
This means that Obiri might be required in between the games should she make it to the Commonwealth, World and Africa Championships.
"Hellen Obiri has been appointed to lead the Youth Games Team as the Chef-De-Mission (CDM)," NOC-K Secretary GEnral Francis Mutuku said in a statement.
Obiri, the 2014 World Indoor champion recently disclosed that she has plans of relocating to the US later in the year.
She will be deputised by Paurvi Rawal the current elected Women Representative of NOC-K and Richard Ombeba.
Susan Adhiambo, a former Kenya Lawn Tennis employee who is currently attached to NOC-K, and former Kenya 7s player Humphrey Kayange have been appointed as the Chief Executive Officer and Secretary for YAG and Commonwealth Games respectively.
The General Team Manager is Kenya 7s Women's Team – Kenya Lionesses long-serving team manager Camilyne Oyuayo. Festus Muturi who is the Director of Education in charge of sports, David Ngugi and Margaret Gati will serve as Deputy GTMs.
"The technical team will be announced soon and will comprise sports science specialists; including medical doctors, psychologists, nutritionists, physiotherapists, strength and conditioning coaches among others. Nominations for these roles have already been received from National Federations.
Nock appointments are part of its strategy to have a mix of seasoned and upcoming sports administrators while maintaining a gender balance.
YAG Steering and Central Management Committee
Chef De Mission - Hellen Obiri
Deputy Chef-De-Mission 1 - Paurvi Rawal
Deputy Chef-De-Mission 2 - Richard Ombeba
Chief Executive & Secretary - Susan Adhiambo
Finance Officer - Samson Ongalo
General Team Manager - Camilyne Oyuayo
Deputy General Team Manager 1 - Festus Muturi
Deputy General Team Manager 2 - David Ngugi
Deputy General Team Manager 3 - Margaret Gati
Media Liaison - Wanjiku Mwenda
Anti-Doping Coordinator - Agnes Mandu
Commonwealth Games Steering and Central Management Committee
Chef De Mission - John Ogolla
Deputy Chef-De-Mission 1 - Shoaib Vayani
Deputy Chef-De-Mission 2 - Walter Ongeti (Dr.)
Chief Executive & Secretary - Humphrey Kayange
Treasurer - Eliud A. Kariuki
Finance Officer - Samuel Mugambi
General Team Manager - Evans Bosire
Deputy General Team Manager 1 - Winnie Kamau
Deputy General Team Manager 2 - Caroline Kariuki
Deputy General Team Manager 3 Para-Sports - Mathews Mugenya
Media Liaison - Mary Wavinya
Anti-Doping Coordinator - Penina Wahome
Related Topics