Sneak peek at the course that will host World Cross Country Tour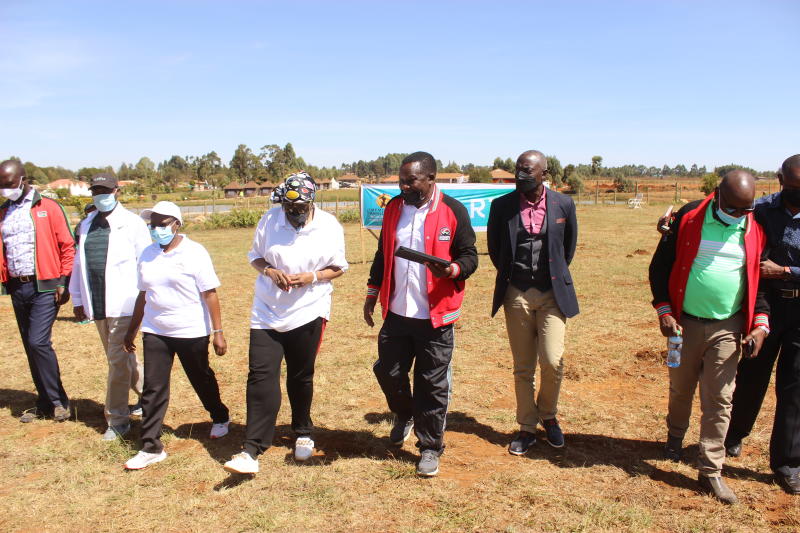 Next month, tens of athletes from across the world will be heading to the North Rift town of Eldoret for the Memorial Agnes Tirop World Cross Country Tour.
The lush course at the Lobo village, about 8km from Eldoret town, is a sight to behold. It is between Eldoret town Central Business District and Eldoret International Airport.
By Tuesday when the inaugural cross country which is scheduled for February 12 was launched, the course was ready to host a world class event, according to the Course Director Ibrahim Hussein – a three-time Boston marathon winner.
A stage was being set for a thriller, with the start, the finish and the meandering 2km lap clearly marked. There are six loops in the flat course.
A large water pan that was created from a swamp has been spruced up to enhance its magnificence.
The obstacles that are; hill barriers, mud, log and hay jumps have been clearly marked.
And to have a feeling of a farm in the outskirts of town, athletes will make a turn near a silage heap before encountering another loop near a greenhouse as they head towards the mud obstacle near the scenic water pan.
"We will be having some two nice hills to make it interesting. We will also have logs on the course and we have some hay because we are farmers and plenty of hay around here," Hussein explained during a tour of the course.
He continued: "To make it even more unique, there will be an area where there is a shower."
Hussein says an area inside the course which had been reserved for a large group of entertainers, mainly traditional dancers to cheer athletes will instead be reserved for a small number of drum beaters who entertain athletes and guests throughout the event.
He said the number of entertainers was reduced after advice by authorities, to reduce crowding in the course.
A few metres from the start and the finish lines will have temporary VIP terraces.
After the first log obstacle, Hussein explains, cross country runners will enter a depression, making it impossible for spectators at the VIP terraces to watch them running for about 36 seconds.
"During the 36 seconds that athletes will be disappearing, the fans will have the privilege of following the action on a big screen," he told guests comprising Sports Cabinet Secretary Amina Mohamed, Athletics Kenya President Jack Tuwei and Uasin Governor Jackson Mandago.
Uasin Gishu County chapter Kenya National Chamber of Commerce and Industry (KNCCI) chairman Willy Kenei said the course will offer corporates a platform to market their products and services.
Governor Mandago said: "We are privileged to host this event as a region. It was possible to host it in Nairobi and elsewhere but we thank the organisers for choosing to have it here in Eldoret. We are going to make sure that we have a successful event that will give birth to other international events."