Clashes that thrilled Kenya and Ethiopia athletics fans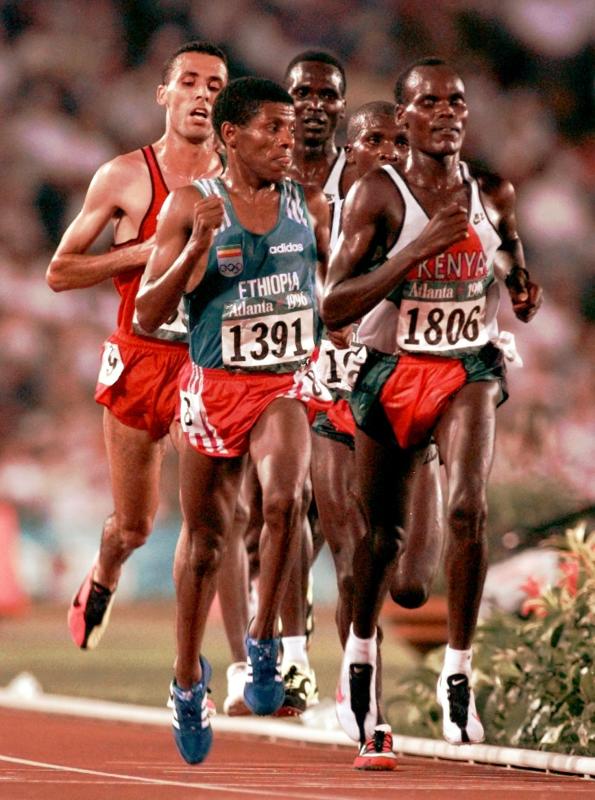 In a battlefield, it's the power of ammunition and fighting strategy that counts.
There have been some mouth-watering clashes between Kenyan and Ethiopian athletes at the World Championships, Olympic Games and the World Marathon Major series.
The showdown between Ethiopian legend Haile Gebrselassie and athletics maestro Paul Tergat at the 2000 Olympic Games 10,000m final in Sydney, Australia, is a memorable one.
Then the hair raising clash between Ethiopia's Lamecha Girma and two-time world champion Conseslus Kipruto at the 2019 World Championships 3,000m steeplechase final in Doha, Qatar –the global athletics remain dazed.
Kenya and Ethiopia track rivalry always acts as showstoppers in major competitions. Their athletes share a cocktail of similarities as they all reside within the Great Rift Valley belt.
Such a rivalry turned into a physical fight when Joseph Machuka unleashed a blow on the back of Gebrselassie's head at the 1992 World Junior Championships 10,000m final in Seoul, South Korea. At the competition, Machuka led on the homestretch before the Ethiopian sped past him to win the race.
The two nations seem to borrow wise counsel from Dwight Eisenhower, the 34th President of the United States of America, who once said: "In preparing for battle, I have always found that plans are useless, but planning is indispensable."
Their encounters remain a perfect definition of races where speed meets endurance and where the stiff battles are planned with military precision.
Interestingly, a majority of these stars are managed by Dutchman Jos Hermens of Global Sports Communications.
Vivian Cheruiyot, another star to have staged spectacular shows against Ethiopians, is managed by Ricky Simms of Pace Sports Management based in Teddington, United Kingdom
Here, Standard Sports shares some of the biggest Kenyan and Ethiopian clashes since the last century.
Machuka vs Gebrselassie
Joseph Machuka punched Gebrselassie at the 1992 World Junior Athletics Championships in Seoul, Korea, 10,000m final.
At the competition, Machuka led in the men's 10,000m final before the Ethiopian produced a killer sprint to win the race. Whether it was deliberate or an act of reflex action, Machuka unleashed a blow on the back of the Ethiopian's head, who wobbled to victory.
You might be tempted to think Johann Wolfgang von Goethe, the German writer and statesman, had this scenario of sheer ignorance in mind when he wrote: "Nothing is more terrible than to see ignorance in action."
Tergat vs Gebrselassie
The sprint for the line in the Sydney Olympics 10,000m in 2000 was the defining moment of one of sport's greatest rivalries.
It stands out as the closest and finest race in Olympic history. During the race, Tergat was still only the second best long-distance track athlete of his generation. Gebrselassie won his second Olympic gold medal in a time of 27 minutes 18.20 seconds. Tergat won his second silver in 27:18.29.
Tergat won two Olympic 10,000m silver medals – finishing behind Haile Gebrselassie at Atlanta 1996 and Sydney 2000 – and two world championship silvers over the same distance in Athens in 1997 and Seville in 1999.
The Sydney 2000 Olympic Games was Tergat's last appearance in 10,000m, which remains a memorable occasion in many ways: "That was one race I will never forget. It was going to be my last 10,000m competition of any kind on the track. I was going to try the best I can to make sure that I win the event."
Kipchoge vs Gebrselassie
As Ethiopia's Gebrselassie battled for victory at the 2003 World Championships 5,000m final in Paris, then 18-year-old Eliud Kipchoge charged past the star-studded field in the final stretch to wear the crown.
In Paris, the gold bids of Ethiopians Gebrselassie, Kenenisa Bekele and Morocco's world 1500m record holder Hicham El Guerrouj commanded attention.
Vivian vs Defar, Dibaba
Ethiopia's Olympic champion Meseret Defar beat track queen Vivian Cheruiyot to win 5000m gold at the 2007 World Athletics Championships in Osaka, Japan. She sprinted 200 metres to win in 14 minutes 57.91 seconds ahead of Vivian (14:58.50).
Vivian retaliated at the 2010 Africa Championships as she beat Tirunesh Dibaba, another Ethiopian track assassin, in 5000m. But Dibaba avenged as she beat Sally Kipyego and Vivian to silver and bronze at the 2012 London Olympic 10,000m final.
Kipchoge vs Bekele
The top two world's fastest marathoners in Eliud Kipchoge and Kenenisa Bekele have waged some epic battles on the track during their storied careers. At the 2003 World Championships in Paris, the then 18-year-old Kipchoge won one of the great races of all time, defeating Bekele and Gebrselassie. Bekele turned the tables by producing arguably the finest 5,000 metres performance in history to defeat Kipchoge in tight races for World and Olympic titles in Osaka and Beijing respectively.
In their four marathon head-to-head encounters, Kipchoge has come out on top comfortably each time in what has been billed as test of brain and brawn.
The two have met 20 times across all surfaces and distances. Bekele claimed notable wins over his rival in the Beijing 2008 5,000m final and at the World Championships the following year in Berlin. In total, Bekele has come out on top in 11 of their 14 track meetings. Kipchoge has won all four of their marathon meetings.
Conseslus vs Girma
Just one one-hundredth of a second separated Conseslus Kipruto from Ethiopia's Lamecha Girma in the 3,000m steeplechase final at the 2019 World Athletics Championships in Doha.
Girma led as he hurdled the last barrier in the home stretch. But Conseslus, who appeared to stumble as he landed, managed to catch up in a sprint finish to win the race and retain his world title. After a 30-second wait, the scoreboard confirmed Conseslus' victory –he won by the thickness of his vest.
Conseslus had to dig deeper to defend his 3,000m steeplechase world title at the World Championships in Doha, Qatar inside Khalifa International Stadium.
Conseslus, who was on the comeback trail from injury then, beat Girma in a tight photo finish. He won in 8:01.35 as Girma settled for silver in 8:01.36.
Kipyegon vs Genzebe
At the 2019 World Championships in Doha, Qatar, Faith Chepng'etich Kipyegon and Ethiopia's Genzebe Dibaba went neck and neck only for the Ethiopian to outsprint her in the final stretch.