Why Faith Chepngetich deserves to be named 2021 Athlete of the Year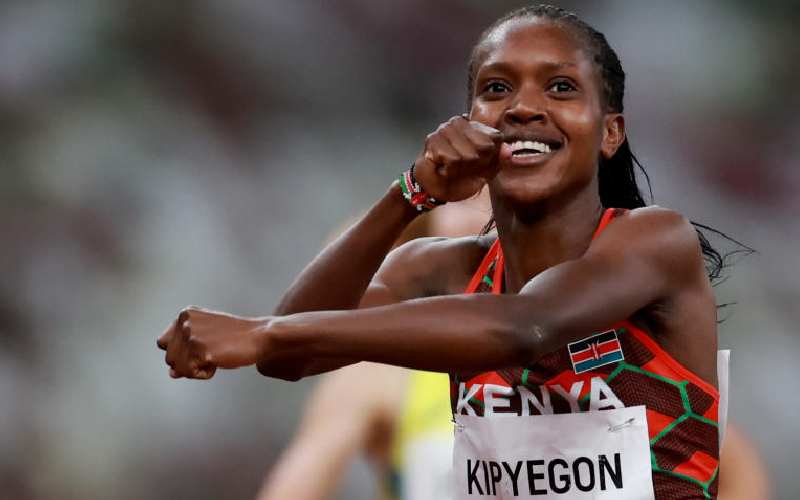 Even by the lofty standards that any defending Olympic champion would set for themselves, Faith Chepngetich exceeded all expectations in 2021.
The Kenyan middle-distance runner retained her Olympic 1500m crown in a Games record, set a world-leading time over 1500m, and won nine of her 10 races throughout the year, producing some of the fastest times in history.
She stepped down in distance to the 800m when she opened her season at the Diamond League meeting in Doha at the end of May, comfortably beating a field of two-lap specialists to win in 1:58.26.
Two weeks later, she contested her first 1500m of the season at the Diamond League meeting in Florence.
In another epic clash with arch rival Sifan Hassan, Chepngetich finished a close second in 3:53.91, breaking her own Kenyan record in the process. That was to be the last and only one of her races of 2021 in which she was beaten.
One month later, and having had a few races under her belt, Chepngetich gained revenge on Hassan at the Diamond League meeting in Monaco.
She kicked hard as she came off the final bend, opening up a huge gap on Hassan to win by more than two seconds in 3:51.07, the fourth-fastest time in history and just one second shy of the world record.
It was the perfect confidence booster ahead of the Olympic Games in Tokyo – not that Chepngetich has ever been lacking in self-belief. Even when Hassan announced that she'd be attempting an ambitious triple at the Games, Chepngetich remained quietly confident.
She advanced through the rounds with ease, winning her heat in 4:01.40 and her semifinal in 3:56.80. But Hassan – the only woman to have beaten Chepngetich over 1500m since the start of 2017 – was on a roll, having won gold over 5000m just four days before the 1500m final, and looked invincible every time she set foot on Tokyo's track.
The Olympic final played out in similar fashion to the World Championships final from 2019 with Hassan and Chepngetich dictating the pace, keeping the likes of Laura Muir and Gabriela Debues-Stafford at bay.
The first 1000m was covered in 2:38.4 and the pace gradually increased as the race went on until Chepngetich made her decisive move with half a lap left.
Kicking hard on the final bend, Chepngetich managed to shake off a fading Hassan as she sprinted to victory, eventually crossing the line in 3:53.11 to break an Olympic record that had stood for 33 years. Muir came through to take silver ahead of Hassan.
"Once I crossed the finish line, it was a very emotional moment for me," said Chepngetich after becoming just the second woman in Olympic history to win back-to-back 1500m titles. "I thought about my daughter (Alyn) who I left behind at home. She wanted me to bring home a gold medal, and I am so happy and excited I did that."
Having achieved her fifth consecutive top-two finish at a global championships, Kipyegon didn't take her foot off the gas.
She went on to win at the Diamond League meeting in Eugene, setting a US all-comer's record of 3:53.23, and then won the Diamond Trophy in Zurich in 3:58.33, once again beating Hassan to the title. Fittingly, she capped her season on home soil with a victory at the Continental Tour Gold meeting in Nairobi.
By the time she wound down her season in mid-September, Chepngetich had become the first woman in history to break 3:54 four times in one year. She is better known for being a championship performer than a time-trial runner.