Kiprop and Kipketer notch up StanChart pay out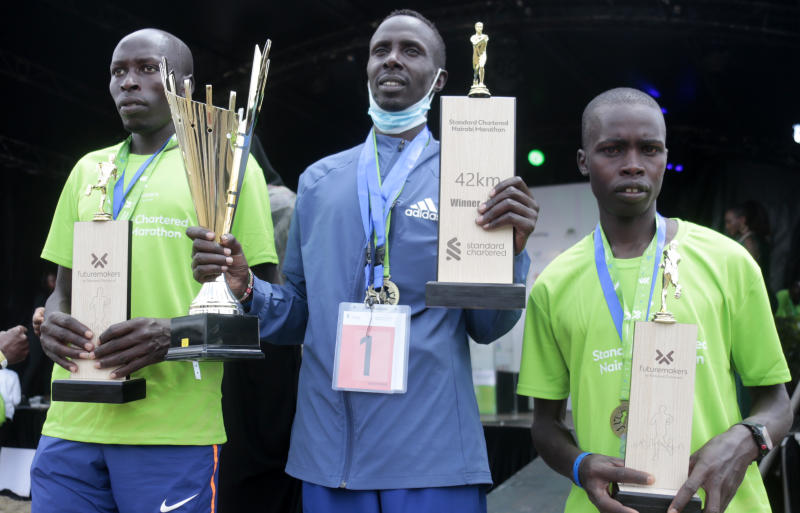 The 18th Standard Chartered Marathon showdown run ended with some talking points for athletics enthusiasts.
Former Los Angeles Marathon winner Elisha Kiprop, the men's winner, won his second title while women's winner Valentine Kipketer, the former Mumbai and Amsterdam marathons champion, posted her maiden local marathon win.
Kipketer, who finished 18th at the Eldoret City Marathon in May, won the women's race without much fuss. She stopped the timer at 2:30.01 ahead of Naomi Maiyo (2:32.22), Beatrice Cheptoo (2:32.33), Rebecca Cheptegei (2:32.36), Shelmith Muriuki (2:33.34) and former world cross country runner Lilian Chemweno (2:34.13).
Kipketer, the younger sister of former Amsterdam Marathon champion Gideon Kipketer, said the win would atone for the poor showing at the Eldoret City Marathon.
"I am grateful for the victory. The strategy worked well for me. The weather too, was favourable and the course was not tough," said Kipketer, who trains under Dutchman Jos Hermens of Global Sports Communications.
Kipketer produced a superlative showing to wow the huge crowds –among them Sports Cabinet Secretary Amina Mohamed, Standard Chartered CEO Peter Githau and several corporates –at the Carnivore along Lang'ata Road, Nairobi.
The diminutive athlete produced a sudden burst of speed that reduced the field to shreds on the final two kilometres as the huge crowds cheered her on.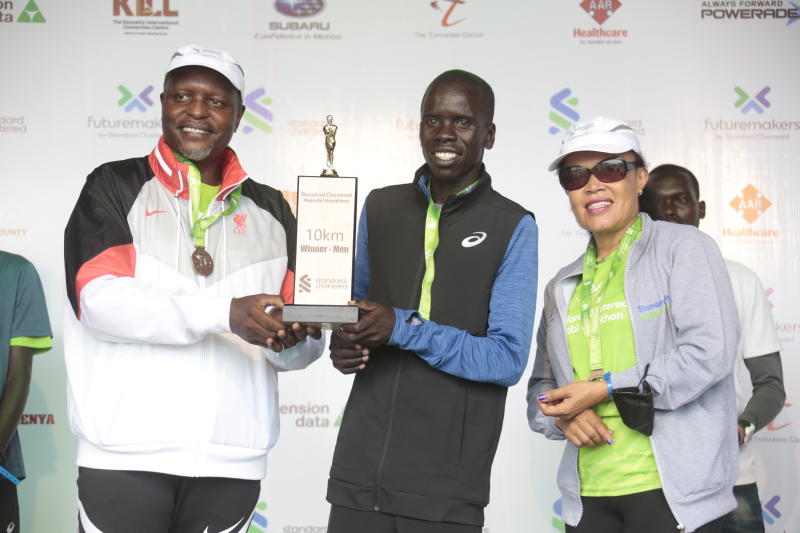 Perin Nengambi shook off a knee injury to wear the women's 21km crown in 72.59, beating Abigael Jelimo (73.41), Lilian Jebii (74.32) and Agnes Mumbua (75.34).
Nengambi, who made her 21km debut, said the course was 'too easy'. "It's flat with some hilly sections that makes it exciting. I hope to get invited to more half marathon races from now," said Nengambi.
Faith Chepkoech won women's 10km in 33:15.0 ahead of Dorothy Kipkilach (33:30.7) and Sharon Jemutai (33:31.5).
In the men's front, Kiprop stood out as the day's showstopper as he obliterated a classy line up to win 42km race in 2:11.07 upstaging Joshua Kogo (2:11.11), Alfonce Kigen (2:11.14), Kenneth Cheserek (2:11.30), Stephen Mungathi (2:11.39) and Samuel Komon (2:11.42).
Kiprop, who finished second in 2014 and sixth in 2012, now harbours lofty dreams.
"It was a really tough race because there were so many strong competitors who were also eyeing the top prize. The pace was fast and everyone had to be on top form to win," Kiprop said.
The tough duel in men's 42km showdown was replicated in the 21km race as Vincent Ng'etich, who trains at Keringet camp in Nakuru, won in a brilliant 61.44 ahead of Rhonzas Kilimo (1:01:56) and Peter Kipsirat (1:01:59).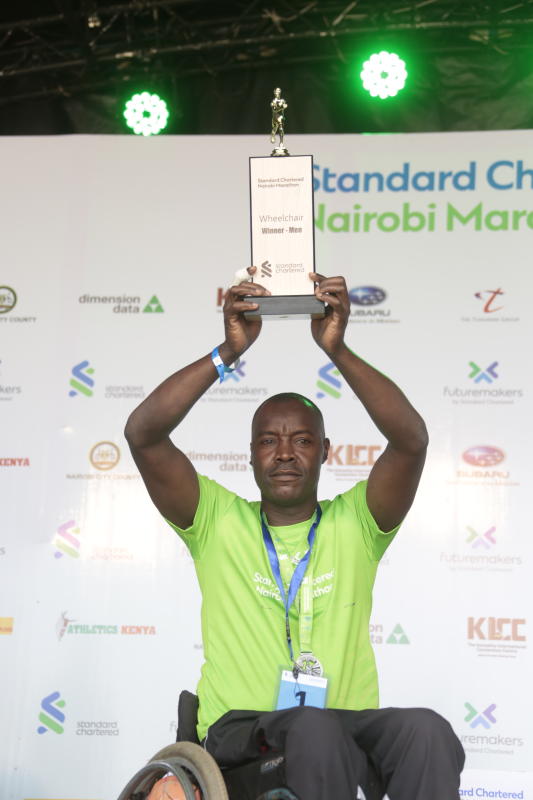 It was a reprieve for Ng'etich, who has been nursing an injury to win his maiden 21km race.
"I normally compete in 10km races, but I decided to step up to half marathon at the Standard Chartered Marathon though I have been battling an injury. I am surprised to win," said Ng'etich.
Geoffrey Kipchumba won the men's 10km in 28:27.2 ahead of Raymond Kipkorir (28:38.8) and Patrick Mosin (28:59.4).