How Elisha Rotich rose from being a caretaker to rule Paris marathon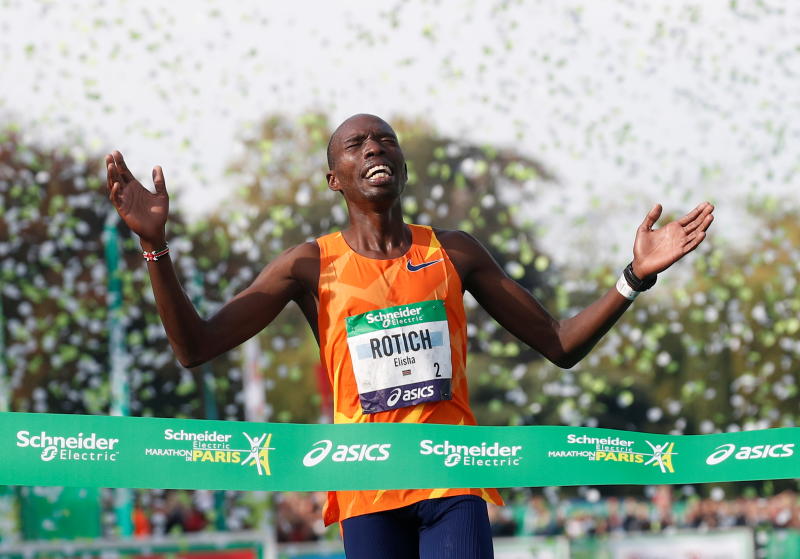 Little was known of Elisha Rotich, until this month when he won the Paris Marathon in a course record set by Ethiopia's Kenenisa Bekele seven years ago.
The Ethiopian, who is the second-fastest man in the marathon after world record holder Eliud Kipchoge, set the 2:05:04 mark in 2014, and Rotich, 31, lowered it to 2:04:18.
The Paris Marathon, competed on October 17, marked Rotich's first win in 42km as he triumphed in a historic course record.
His victory brightened a dark moment, following the death of two-time world bronze medallist and Olympian Agnes Tirop, who was found dead in Iten four days before his (Rotich's) Paris victory.
When Standard Sport met Rotich at his home in Marura, on the outskirts of Eldoret town, he was reminiscent of an athletics dream that started in Kapsang Primary School in Kabenes, Uasin Gishu County.
The father of two – a boy and a girl, had run quality races before, but victory was constantly elusive. In May this year, he finished a disappointing 10th at the Milan Marathon and was nowhere near the pre-race favourites ahead of the Paris Marathon.
An unassuming Rotich speaks about a career that, despite being derailed by obstacles, is characterised by consistency in performance.
From a humble background in Kabenes, to being a caretaker in residential houses in Eldoret, Rotich remained focused, persistent and hard-working.
His uncle, the legendary 3,000m steeplechase athlete John Kosgei (1998 Commonwealth Games champion), was a dominant figure in Rotich's life.
"I have started from far. I must admit that it takes many years to know victory in marathon," he said.
"I was attracted to athletics when I was in primary school in 2007. I saw my uncle running every morning and I borrowed his shoes."
Rotich says after he completed primary school in 2007, he faced a challenge; his parents were unable to raise fees to take him to secondary school.
In 2010, Kosgei took him to Kiplombe in Eldoret, where he started training under the watch of the retired athlete. He later stepped out of his uncle's shadows.
"Between late 2010 and 2013, my athletics career was still dormant. In a bid to fend for myself, I moved to Action Estate near (Eldoret) town, where I was a caretaker. I still maintained my training programme. After returning from my training sessions, I could wash the entire compound and address tenants issues.
"I ran some road races in Germany before switching to the marathon in 2013 and relocated to Kaptagat, where I trained under coach Nicholas Koech," he said.
Rotich added that while in Kaptagat, he was not immediately entered into the elite unit because of his inexperience.
He said he was monitored for about one year because coaches could not believe he could produce good results in a marathon.
"After the monitoring, a race was organised but I performed poorly, recording 2:13 in the debut. One year later, I ran 2:10 and was allowed to join the elite group," Rotich remembered.
He said he started preparing for Paris marathon soon after the unsatisfactory performance in Milan in May.
He still can't believe he shattered a course record set by Bekele.
"My coach (Koech) pushes me to the limit and I thank him for the excellent work. He encouraged me when I had no confidence in winning," he said.
"I have a dream of running a world marathon major next year. Given the chance, I would like to compete in the Tokyo Marathon, because it is a flat course."
In 2017, Rotich finished second at the Seoul Marathon in 2:06:12. The race was won by Thomas Kiplagat Rono. It was a massive improvement on his previous best of 2:07:32, he set when winning the Eindhoven Marathon last October.
Two years later, in 2019, he launched a brave attack in his attempt to prove a point at the Amsterdam Marathon as he competed with compatriot Vincent Kipchumba and Ethiopian Solomon Deksisa. He finished third in 2:05:18 behind Deksisa and Kipchumba, who won the race.
His wife Irene Rotich said Rotich could at times come home stressed as he struggled to build his career.
"When he won, I was in church. I chose to go to church to pray for him, and when the sermon was over, I was told he had won," Irene said.