Why Kenya's Kamar Etyang is hopeful representing Kenya in the Olympics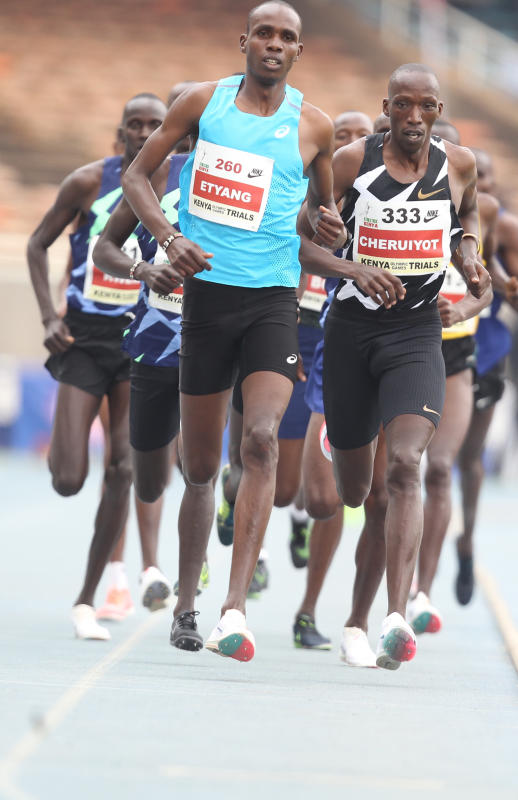 If there is a moment that 1500m athlete Kamar Etyang, 19, should pray for luck, it is this time.
The uncertainty on his onus to represent Kenya at the Tokyo Olympic Games is slowly thrusting the young athlete into anxiety as his fate remains in the hands of World Anti-doping Agency (WADA) and the Athletics Integrity Unit (AIU).
It is historic in the career of a 19-year-old athlete like Etyang to race with experienced world beaters at a global show like the Olympics.
Etyang was expected to have undergone three mandatory anti-doping tests as required by AIU and World Athletics, ahead of the national trials. But that never happened.
On Monday, Etyang said he had been made aware of the WADA/AIU requirements, noting it was not his fault.
"I know and have been made aware of the prevailing WADA/AIU requirements and even though it wasn't my fault, there should be ways of implementing the rules without causing the athletes to suffer like previously Michael Kibet and Daniel Simiu (5000m) and now myself. I strongly believe that I will be able to compete in Tokyo and win a medal for Kenya," Etyang said on Monday evening.
Etyang thanked the Ministry of Sports and Kenyans for supporting him as he awaits fate on whether he will be locked out of team Kenya or not.
"I'm a believer of clean sport and I fully support ADAK/WADA/AIU in their endeavor to deliver on their objectives and it's my humble request that they find a way Kenyan athletes can meet the standard without curtailing their dreams. Let the upcoming athletes have faith that if they make it, they are surely in the team," said Etyang.
"I also want to thank the Olympics trials organising committee for giving me an opportunity to compete in the trials even though I didn't have an Olympics qualification mark back then."
A sports expert however warned that a delay in the verdict, will plunge the young athlete into a mental anguish and may likely affect his training, and his performance in Tokyo, in case Athletics Kenya succeeds in defending him.
Sports lecturer Byron Kipchumba said the uncertainty may diminish motivation in his training.
"His case will depend on how AK will defend him. It will also depend on whether there are similar cases in other countries and how AIU has ruled in such cases," Kipchumba said.
He continued: "Etyang is suffering because he is a budding athlete who was not in the WADA testing pool. There should have been awareness among upcoming athletes, way ahead of the trials."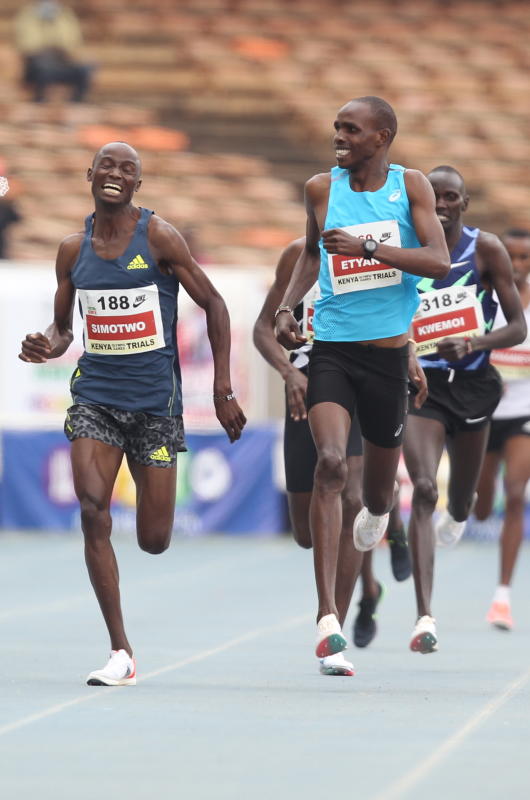 In February, Etyang was selected to the Kenyan Under-20 8km race at the postponed African Cross Country Championships in Togo.
On April 24, he finished second at the Mandela National Stadium, Kampala in a time of 3:36.80 in the 1500m.
Etiang came second at the national Olympics trials on June 19, sealing his place in Team Kenya to Tokyo.
He beat big shots such as reigning World Champion Timothy Cheruiyot, George Manangoi, Ronald Kwemoi and Bethwell Birgen among others to post his 1500m personal best of 3:33:12. He is ranked 12th in the world.
Team Kenya General Manager Barnaba Korir yesterday said Etyang was still at the Kasarani pre-departure camp and has not been released pending a determination by WADA and AIU.
"The matter has been taken up by higher authorities. As a management, we have no objection to the outcome by higher authorities (WADA and AIU)," Korir said.
On the team Kenya captaincy, following the resignation of Olympic javelin silver medallist Julius Yego on Monday, Korir said former world 800m champion Eunice Sum has been elevated to the prestigious position.
"There is no cause for alarm. The team is in good hands. Eunice Sum is a good and an experienced athlete and will take care of the team," he said. (Additional reporting by Denis Okeyo)