Kiprono ready to conquer Stanchart race on return from maternity leave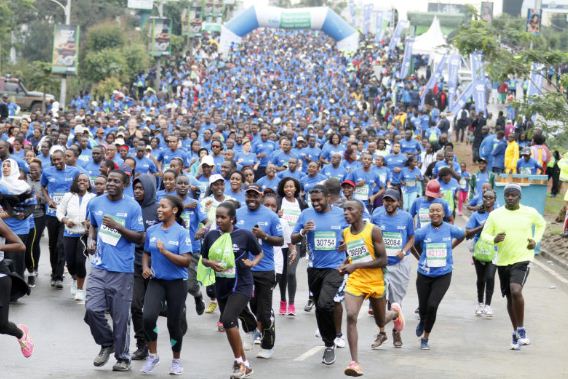 Mossel Bay Marathon (2012) champion Peris Jepkorir Kiprono is among elite entrants in the 18th edition of the Standard Chartered Nairobi Marathon to be held in Nairobi tomorrow.
The Iten-based athlete has one mission in the race; to improve on her personal best time, which, coincidentally, was recorded in the event in 2017.
"I first took part in the race in 2009 and I finished ninth, I came back four years ago and I was third," Kiprono told Standard Sports.
"I'm not focused on winning the race on Sunday because this will give me unnecessary pressure.
"My objective is to lower my personal best that currently stands at 2:35:00.
"I know if I do 2:30:00 and below, then there is a high chance I'll be on the podium," she said.
While Kiprono will aiming to win the women's title, former 10,000m World U20 champion Rhonex Kipruto and Daniel Simiyu have confirmed their withdrawal from the race to focus on upcoming international competition.
"I trained well, been taking time to prepare for the Standard Chartered Nairobi Marathon unfortunately I will not be a participant as my manager has confirmed that I will have a race outside the country this month," said Simiyu.
Their coach Elkana Ruto also confirmed the same. Kiprono, 29-year old mother of one, missed the Nairobi premier race competition in 2018 after getting several invites to take part in races in Denmark and India. She again missed the event a year later due to maternity leave.
Kirprono returned to training last year, after a long maternity break, and due to the Covid-19 pandemic, she was unable to secure meaningful competitions.
"It's now over two years since I raced, Standard Chartered Nairobi Marathon will be my first after the maternity break," said Kiprono.
"I will use it gauge my body, even though I feel I'm already back in shape for major championships.
"I intend to go for contests outside the country from next year, so Standard Chartered Marathon will act as the stepping stone."
Kiprono used the whole of 2020 to do slow-paced exercises to lose weight and return her body back to shape after delivery.
"I joined the regular marathon training program in January this year, in have been engaging in long runs, hill climb and speed work at my base in Iten where I train individually," she said.
Apart from long distance races, Kiprono also competes in 5km, 10km and the cross country, but mostly abroad.
She is yet to secure a place in Team Kenya to represent the country in major championships like the Olympics, the World Championships and the Commonwealth Games.
Kiprono is set to travel to Nairobi today ahead of tomorrow's race.
This year's edition of Standard Chartered Nairobi Marathon is a hybrid event meaning it is done in two phases, the Virtual Run and the Physical Run.
The Virtual Run started on Monday and will end tomorrow while the Physical Run is slated for the Southern Bypass route on Sunday- starting and ending at the Carnivore Grounds.
The virtual race athletes are using Strava app to track their speed and timings which they then upload in the official marathon portal.