Kenyan female athletes conquer the world but suffer at home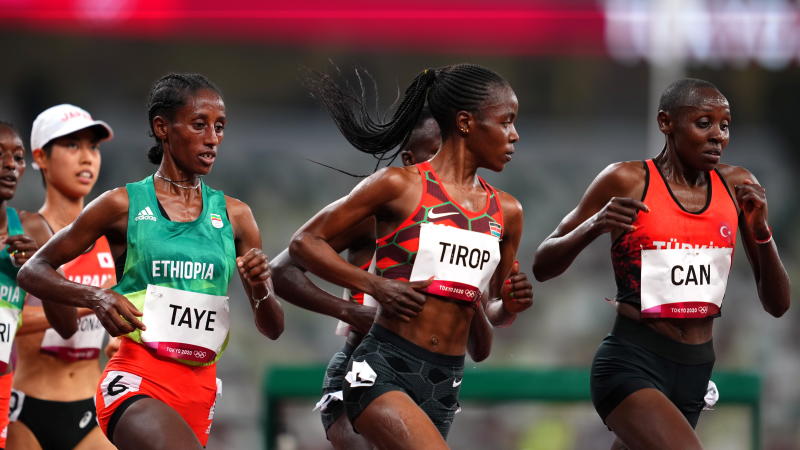 When the country's women world beaters conquer the tracks and the roads, break world records and win millions in prize money, Kenya celebrates.
On many occasions, the Kenyan national anthem is sung when they win races and a sense of pride permeates a jubilant country.
Hours later when they jet back to the country after their exploits, heroic songs rent the air at the airports.
Their winning prizes have fueled the construction of major hotels and commercial buildings in a number of towns in areas that have produced the top athletes.
From Eldoret to Kapsabet, from Iten to Kabarnet and Nakuru to Kericho, earnings from athletics have caused transformation.
But behind the jaw-dropping performances, the wins, the fame and the hefty prize money, is a relationship crisis and troubled marriages that have left young athletics stars, devastated and heartbroken.
The brutal killing of two-time world bronze medalist and Olympian Agnes Tirop two days ago, opened the lid on troubled marriages and intimate relationships, threatening to crush successful athletics careers of young women.
Tirop's lover Ibrahim Rotich is being sought to help police with investigation.
Close friends and relatives describe the union between the two to have been a stormy relationship for over six years.
"There were indications that all was not good in Agnes' relationship. They had separated for two months before reuniting recently.
"Days after the reunion, the sad news of Agnes' death broke," Boniface Kimutai who has been pacesetting Tirop said about an athlete who broke a 10km world record last month.
Hers is among cases where female athletes have been betrayed by bosom male partners who married them at a young age.
Six years ago, a former Olympic champion shocked the world when she accused her then husband of taking advantage of her young age to mismanage her hard-earned wealth.
The athlete, who was 17 years old when she sprinted to fame and fortune, accused the husband of taking advantage of her innocence and limelight at the time to position himself as her husband.
"We stayed together with him for about four years and he did not propose to me for all that time. He wasted my time and subjected me to untold psychological problems," she revealed, bitterly.
The husband said in response: "Suddenly, we had too many friends and advisers, most of whom we had not associated with at all before the money and fame. My wife, one I had lived with in times of poverty and need, could not trust me with anything."
Earlier this year, a famous female athlete who dominated the track showed up at a police station in Eldoret to report a protracted family feud.
The athlete has been in a bitter dispute with her husband who was also her coach over several issues comprising relationship and property ownership.
Another famous female athlete shockingly made a report in a police station in the North Rift days after racing in one of the big city marathons.
Former world 800m champion Janeth Jepkosgei advises female athletes to marry and have children in their final years of their careers.
"We advise young female athletes to speak up. I urge them to focus on their careers first and get married when they are mature," she said.
The marathoner accused her husband of bringing in another woman to their matrimonial house while she was in London. She claimed that the husband became abusive when asked to explain.
Top athletics legends blame failure by athletes to speak up and seek help on rocky relationships.
Former 3000m steeplechase world record holder Moses Kiptanui asked athletes and coaches to break the silence on marriage crisis.
"Remember we have a lot happening out there, but no one is talking about it. Please, athletes and coaches walk the talk. Don't be silent you might die.
"We think with money and being known locally and internationally, we can say anything, we can solve any problem, we can buy anything, we can have any man and woman, we can treat anyone the way we want, God help us," Kiptanui said.
Athletics Kenya (AK) women committee member Elizabeth Keitany said: "Every time we hear they are quarreling with their spouses. We have been trying to guide them. The big problem is that they don't open up at all."
She said women in AK leadership have been planning a women-only seminar to train young women athletes on how to handle their social lives.
"They fall in love without knowing what they are doing," Keitany said.