Patrick Sang: The man behind Eliud Kipchoge's success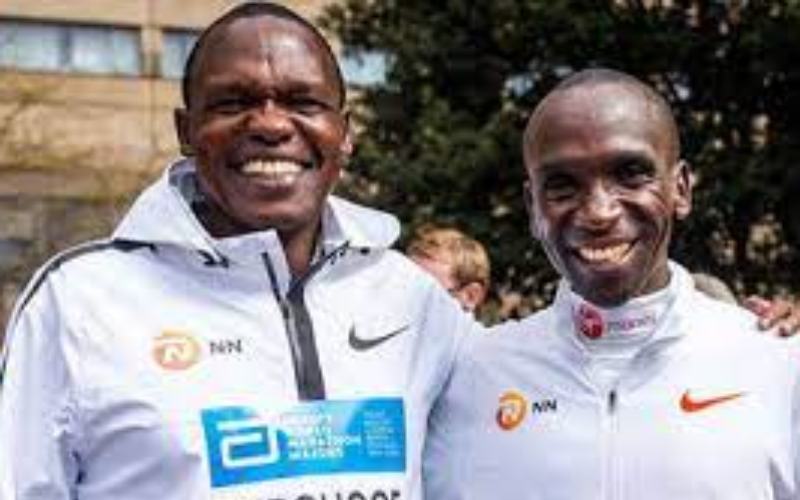 Legendary Kenyan marathoner Eliud Kipchoge credits his success to his coach, Patrick Sang.
In an interview on Jeff Koinange Live on Citizen Television on September 29, Kipchoge said he did not have enough vocabulary to describe Sang, a man he has worked with for nearly 20 years.
"When you ask me to describe Patrick Sang, then I think I will have to enrol for English classes in a university so that I can get a word to best describe him. I don't have an English word to describe him," Kipchoge told the host, Jeff Koinange.
According to the 36-year-old, Sang "knows how to make an athlete a normal human being and a star at the same time".
"He is a sport, social and life coach, combined. Getting a person matching his calibre is very hard," Kipchoge said in the September 29 TV interview.
Who is Sang?
He is a retired 3,000m steeplechase athlete, who won Kenya a silver medal in the 1992 Barcelona Olympic Games. He also holds two World Championships silver medals; one won in 1991 and another in 1993.
The 57-year-old was born and raised in Kapsisiywa Village in Nandi Central Sub-County, the same ancestral land as that of Eliud Kipchoge.
He attended Kapsisiywa Primary School, Kaptel Boys' High School and later Lelmokwo Boys' High School for his A-Level.
For his tertiary education, he attended Texas University and the University of Iowa, both in the United States of America, for his Bachelor's and Master's Degrees respectively. His education was on City Planning.
After his return to Kenya in the late 80s, he embarked on his passion – athletics, representing Kenya in the 1992 Olympic Games in Barcelona, Spain.
After successful spells in 3,000m steeplechase in the early '90s, he went into coaching in 1995.
In an interview with The Standard, Sang said he first met Eliud Kipchoge in 2001, several years after he started coaching.
"Our meeting was unplanned," he said.
"I was going about my track and field coaching tasks in Nandi, when this 16-year-old boy approached me, requesting a training guide. I didn't know who he was, and why he wanted the guide," said Sang, admitting to giving Kipchoge little or no attention.
"He'd persistently ask for the training programme, prompting me to ask him who he was," said Sang.
Kipchoge introduced himself as a blooming athlete, who was interested in working with Sang.
"I gave him the two-week training programme, and off he went."
Occasional meetings at the dusty field in Nandi would birth an athlete-coach relationship between Kipchoge and Sang a year later – 2002.
That year, Kipchoge won a gold medal in the 5,000m World Championships.
Since then, the two have won it all together, including guiding Kipchoge to run a marathon in less than two hours in October 12, 2019, Ineos 1:59 Challenge. Kipchoge has two Olympic Games gold medals; one silver and one bronze. He is also a one-time World Championships gold medalist, among many other honours.
The secret for working long and healthily with Kipchoge, Sang says, has been due to the trust and understanding they've built over the years.
"Work with a common objective then success would come automatically," he said.
Besides Kipchoge, other athletes who have received Sang's training services are Faith Kipyegon (1500m Olympic record holder), Geoffrey Kamworor (World Cross-Country record holder), Rodgers Kwemoi, Wycliffe Kimanyal, Bernad Barmasai, Richard Limo, Ruben Kosgei, Hyvin Kiyeng, Brimin Kipruto, among others.