Rio scandal: I lived in hell for four years-FK Paul speaks after acquittal as Wario awaits sentencing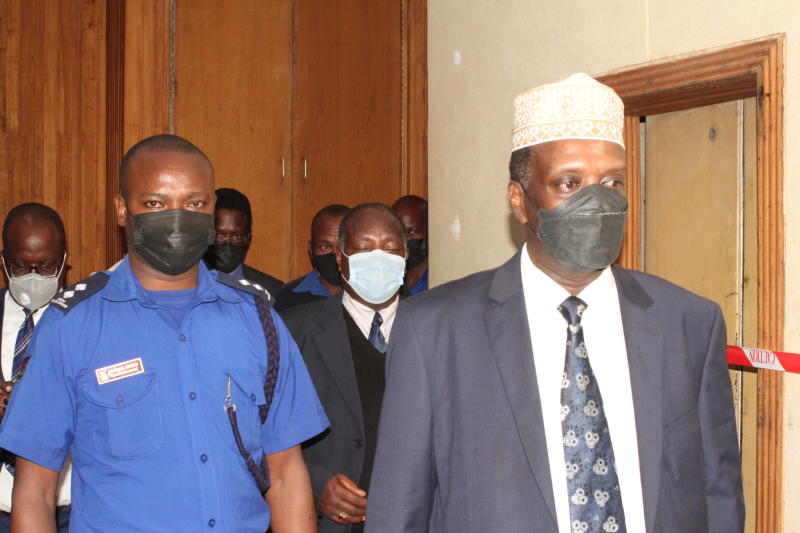 A guilty verdict handed to former Sports Cabinet Secretary Hassan Wario by a Magistrate Court on Wednesday could have a significant impact on the National Olympic Committee of Kenya (NOC-K) election slated for later this year.
Wario and Stephen Soi were found guilty of abuse of office in graft charges relating to the 2016 Olympic Games.
The case, famously known as the Rio Scandal, took more than four years to be dispensed with.

Soi was the Rio Olympics Chief de Mission and was accused of among other charges, leasing a Yacht for President Uhuru Kenyatta.
The Yacht was never used by the president or any member of his delegation.

Four other co-accused-Richard Ekai, the then Principal Secretary who served under Wario, Haron Komen, Francis Kinyili Paul (FK Paul) and Patrick Nkabu Kimani were all acquitted.

But it is the acquisition of Paul, the NOCK SS that will now send the delegates back into the drawing board ahead of the delayed polls.

Francis Mutuku, the current NOCK deputy SG has been acting ever since FK Paul took leave to clear his name.

Though NOC's first term is almost ending, FK Paul says that he will now go back to the delegates and ask for another term.

"I will first have to consult with my colleagues (delegates) and see whether they will allow me to stand," said the long-serving president of the Kenya Handball Federation.

The charges included making unauthorized payments, over-payment of allowances and purchasing tickets worth Sh22million.

Though the 'Rio-Six' were accused of embezzling part of the Sh88.6 million meant for the purchase of air tickets, the courts established that the ministry of sports could not account for Sh54 million.

The shambolic Rio Games also saw athletes like javelin thrower and former world champion Julius Yego purchase his own air ticket with NOC officials being accused of giving 'joyriders' the priority.

Paul recounted the "four years in hell", an ordeal he passed through as he fought to clear his name.

"Freedom is a good thing. I sprinted out of the courtroom the moment I got the acquittal," he said.

"As you know the legal process takes time in this country. Those were four years of hell. Friends ran away from me. I had nothing to do for four years- waking each morning but with nowhere to go.

"Courts can be emotionally draining. I didn't know what was going to happen. Whether I was going to be acquitted or not. Some didn't even want to spend a minute with me. No one even wanted to invite me for sports functions anymore because nobody wants to associate with a suspect."

Wario and Soi will be sentenced today.