Paralympics: Nancy Koech qualifies for 1500m T11 finals as Mary Njoroge bows out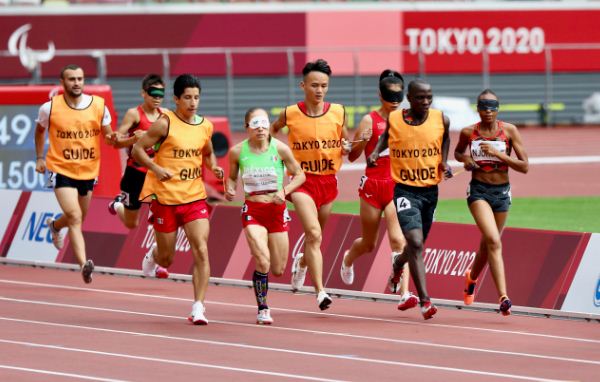 Nancy Koech held her nerve in 1500m T11 Heat 2 amid what she described as 'suffocating conditions' to finish strongly and qualify for the 1500m T11 finals to be staged Monday.
Although Koech finished fourth in heat 2, her time of 4:51.68 was good enough thanks to the last 100m scrap orchestrated by Susan Rodriquez (4:51.38) and Joanna Mazur of Poland (4:51.67).
The last minute dash meant that Mary Njoroge who finished third in Heat 1 was locked out from the finals despite clocking a personal best of 4:52.54.
"This was tough one," Nancy Koech said.
"After 800m I was gasping for breath and almost gave up. The humidity made it difficult for me, but my brother urged me to fight saying 'you are going to make it," Koech said, referring to her elder brother and guide Geoffrey Malel.
"At least I am in the finals and therefore we will have time to plan for a strategy," Koech said.
Mexico's Olivia Rodriguez was the fastest in the heats after topping Heat 1 in 4:47.27 while South Africa's Louzanne Coetzee won Heat 2 in 4:49.24 placing both of them as favourites for medals on Monday.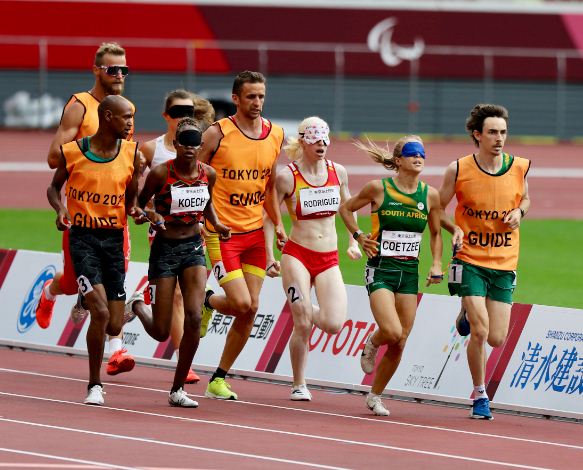 Kenya's Mary Njoroge said she will soldier on despite not making the finals. "I am happy to have competed here and it has taught me that there are endless possibilities in sports. Challenges will always be there, but I urge everyone living with disability to come forward and take up sports," Njoroge said.
She added: "They should now worry of what will happen next because the effort itself is the beginning of searching for excellence."
Team Kenya Paralympics coach Henry Kirwa said the Tokyo Paralympic Games had thrown a lot of technical challenges at them.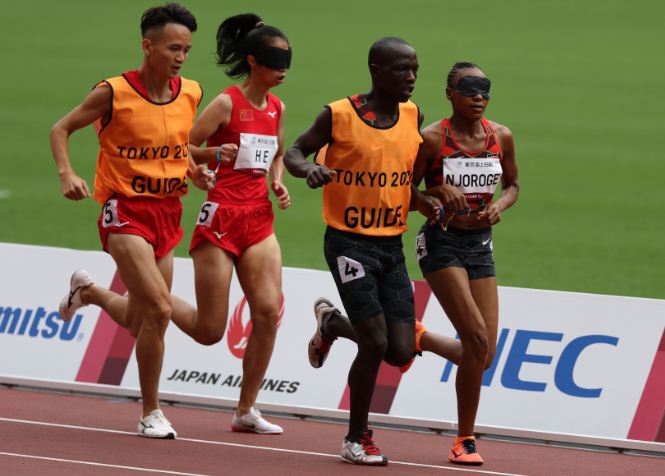 "I am proud of these athletes for the effort they have put in. The Covid-19 posed challenges we had never anticipated. Then we arrive in Tokyo and the weather conditions threw another type of challenge. "I just hope as coaches and sports federations, including the National Paralympic Committee, that we come up with strategies backed up with scientific knowledge," Kirwa said.
Women's 1500m - T11 Results
Rank Name Result
1 MEX RODRIGUEZ SAAVEDRA Monica Olivia 4:47.27 AR Q
Guides: AGUILAR PEREZ Kevin Teodoro
2 CHN HE Shanshan 4:52.40 PB Q
Guides: HUANG Ziqin
3 KEN NJOROGE Mary Waithera 4:52.54 PB
Guides: KORIR Benard
4 TUR ELMALI Havva 5:38.98
Guides: KURKCU Umut
5 CHI FAUNDEZ Margarita 5:46.50 SB
Guides: SEGOVIA Francisco
HEAT 2
Rank Name Result
1 RSA COETZEE Louzanne 4:49.24 PB Q
Guides: BADENHORST Erasmus
2 ESP RODRIGUEZ Susana 4:51.38 PB Q
Guides: COMESANA PEREIRA Celso
3 POL MAZUR Joanna 4:51.67 SB
Guides: STAWICKI Michal
4 KEN KOECH Nancy Chelangat 4:51.68 SB q
Guides: ROTICH Geoffrey Kiplangat
5 MEX CORAZA CASTANEDA Diana Laura 5:38.83
Guides: GASPAR CERNA Jorge
NCA HIDALGO Arlen Yellow Card DNS WPA 6.15.4
Guides: TREMINIO Santos