Kenya's Paralympians head to Tokyo with a rich history to defend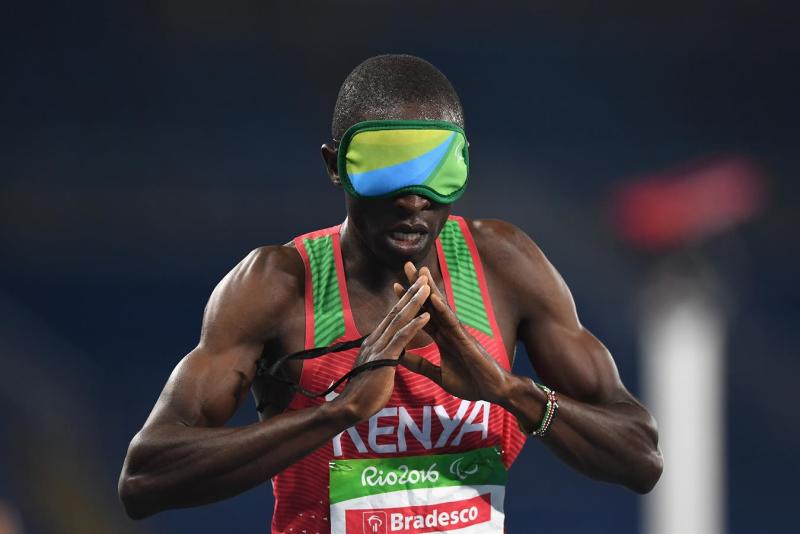 Team Kenya Paralympics head to Tokyo, Japan hoping to cement its status as a sporting power what with Paralympics records it holds.
Henry Wanyoike, Samwel Mushai, Henry Kirwa and Abraham Tarbei have their names in the Paralympics history books.
Wanyoike's 5000m T11 and 10,000m T11 records are unbroken since he set at the Athens 2004. The visually impaired Wanyokie scorched the tartan track in Athens clocking 15:11.07 in 5000m T11 category.
He also ran a jaw-dropping 31:37.25 in 10,000m T11 category.
Abraham Tarbei holds the 5,000m T46 record after stopping the clock at 14:20.88 in Beijing Paralympics in 2008.
Henry Kirwa in 10,000m T12 category, also for the visually impaired athletes, brought home gold and the Paralympics record when he timed 31:42.97, also in Beijing 2008.
Samwel Mushai holds the 1500m T11 record when he ran 3:58.37 at the 2012 Paralympics in London.
Kenya therefore heads to Tokyo for the 16th Summer Paralympic Games hoping to improve on the three gold medals won at Rio 2016.
With nine days to go until the Tokyo 2020 Paralympic Games, check out what you might have (and not have) known:
1. An important rule in sitting volleyball is that players must be sitting and their torso — between buttocks and shoulders — must maintain contact with the floor when playing the ball.
2. Rwanda sent the first women's sitting volleyball team to represent Africa at the Rio 2016 Paralympic Games. After winning the 2019 African Championships, they also booked their place at Tokyo 2020.
3. After becoming the first amputee swimmer to qualify for the Olympic Games at Beijing 2008, Natalie du Toit competed at her second Paralympics in China taking five gold medals in five events. The South African star retired after London 2012 with 13 Paralympic golds.
4.Sareh Javanmardi made history by becoming Iran's first ever female gold medallist in shooting Para sport at Rio 2016, winning the P2 (women's 10m air pistol SH1), swiftly followed by P4 (mixed 50m pistol SH1).
5. Tandem bikes are used in para cycling for athletes with a vision impairment, with the front rider called a pilot guiding the way.
6. One significant difference between Paralympic and Olympic judo is in the Paralympics, judoka must grip their opponent's sleeve and lapel and hold still before a match can start.
7. Dutch wheelchair tennis player Esther Vergeer retired after London 2012 with a remarkable 470-match winning streak stretching back more than 10 years and seven Paralympic golds.