Olympics: 5,000m runner Kimeli sails through to final, believes 2021 could be his year to deliver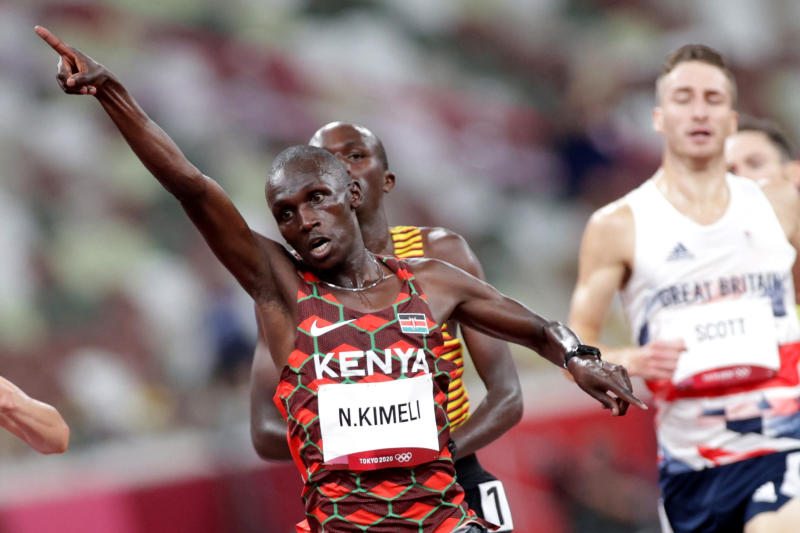 5,000m runner Nicholas Kimeli might be Kenya's long ranger in the final set for Friday, but he is breathing fire as he believes this could be his year to shine at the global stage.
Kimeli won his heat on Tuesday in 13:38.87 while his compatriot Daniel Simiu failed to recover from a fall with six laps remaining only managing to finish in 10th place in 13:41.64, which was not enough to take him to the final as one of the fastest five losers across the two heats.
The other Kenyan, Samwel Chebole however did not start in heat two with reports from Team Kenya camp saying he was injured ahead of the race.
"This could be my year. I don't know about God's plan but I believe I could be in for something big here in Tokyo," Kimeli said after the race.
He said he tried to control the race and was also happy to have avoided the crowding in the early stages of the race which saw his teammate Simiu take a fall after he was clipped from behind.
It was a sad ending for Simiu in Tokyo as he was hoping to make a mark in Tokyo.
"The fall at the course of the race affected me and I was not able to recover and finish among the top five which would have assured me of a place in the finals.
"I have learned from my mistakes and will make sure I rectify them before the next Olympics," Simiu said.
He said he was going back to the drawing board and promised Kenyans that he will deliver a medal in the next Olympic Games in 2024 in Paris.
Chebole's Olympics on the other hand though ended before he could even take to the track.
It was a surprise to many when they could not see him as the runners lined up in heat two.
His teammate however confirmed that his mate had picked up an injury and could not race on the night.