Meet Kenya's women and men who broke virgin ground in athletics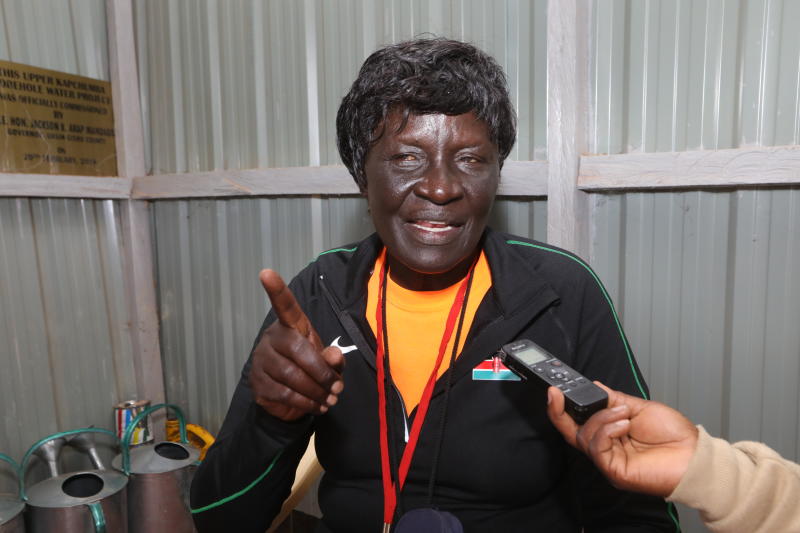 Like Roger Bannister, the first man in history to run a mile in under four minutes in 1954, Kenyans, too, bask in a fair share of their athletics firsts.
They defied the perception of their illiteracy, travelled miles away to foreign land searching for fame and fortune at the height of colonial days.
Then they saw, conquered and went against all odds even while competing barefoot thanks to the former colonial master.
You might be tempted to think that their athletics scripts descended from heaven.
But it all started on the wrong footing, quite literally. Reason? The late Nyantika Maiyoro, who was the first Kenyan to compete abroad at the 1954 Commonwealth Games in Vancouver in Canada, competed barefoot.
Nyantika was not well educated. He never understood English and reacted late to the starter after his competitors had taken off. Although he never won any title in his career, Maiyoro laid the marker for Kenya's firsts in athletics.
He led the national team that had 4x440 relay greats in the late Bartojo Rotich, Wanyoike Kamau, Musembi Mbathi alongside Silas Kibet Boit and Kiptalam Keter in 800 yards.
It was until 1958 Commonwealth Games in Cardiff, Wales, that Kenyans started shipping home the bullion from foreign lands.
Youngsters in the late Arere Anentia (10,000m) and the late Bartonjo Rotich (440 yards) won bronze medals in Commonwealth Games in Cardiff in 1958 to become the first Kenyans to win medals in an international competition.
Suter Chemweno, who lined up in 800m at the Cardiff Commonwealth Games, retired as an Agricultural Extension Officer and now lives in Kapkoi in Elgeyo Marakwet.
He said: "I am happy to have been in the team that won the first medals for Kenya. Initially, I participated in discus. It is sad the current generation of athletes have resorted to using drugs. I am asking them to desist from such bad habits."
The 1960 Olympic team comprised then new talents in Paul Odhiambo, Kiptergech Kesio, Seraphino Antao and Lazaro Chepkwony.
It was also a bad moment for Kenya in 1960 Olympic Games in Rome, Italy, where no athlete ascended to the podium. Seraphino Antao (140 yards and 220 yards) and Nyantika Maiyoro (3 miles) were in the squad.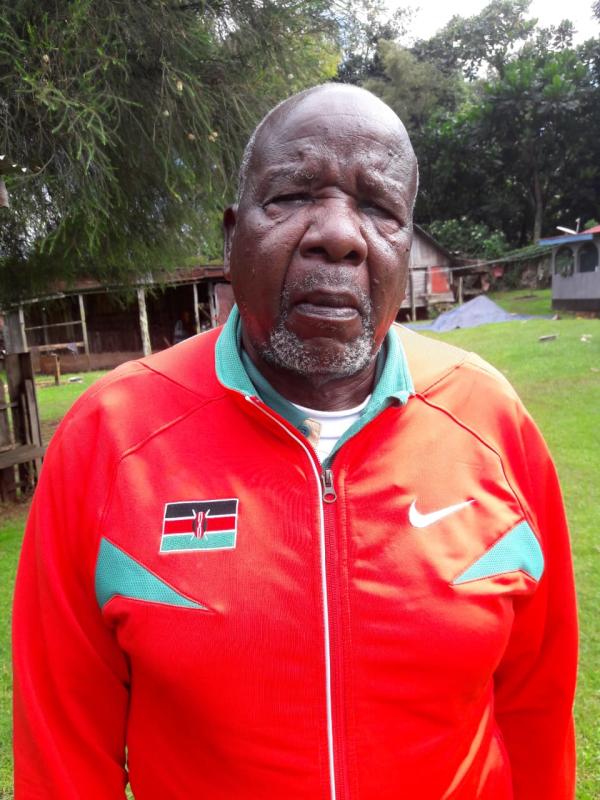 Wilson Kiprugut Chumo struck Kenya's first Olympic medal when he won 800m bronze at the 1964 Tokyo Olympics.
Paul Cherop, the first national cross country champion in 1967, retired as a primary school teacher and lives in Kapteren village in Elgeyo Marakwet.
Tegla Sang was the first Kenyan woman to compete at the 1968 Olympics in 1968.
Tegla, who was married to the late athlete Julius Sang, worked as an instructor at Moi University under sports management course. She now runs Chemabwai-Sang Educational Centre near Eldoret.
Tegla inspired Sabina Chebichii, who was Kenya's first woman to win a medal at the Commonwealth Games in Christchurch, New Zealand in 1974.
Chebichii, better known as the 'bet-coat' in athletic circles, did not betray her Kalenjin surname Chebichii, which means 'a tough one' as she settled for bronze in 800m. The absence of Kenya in the 1976 and 1980 Olympic Games was compensated by two five world records of Samson Kimombwa (10,000m) in 1977 and legendary Henry Rono, the first man to break four distance world records in a space of 81 days in 1978 (the 3,000m flat, 3,000m steeplechase, 5,000m and 10,000m).
The late Some Muge – who was father of world cross country runners Mathew Kisorio and Peter Kimeli as well as former Africa cross country junior champion Nicholas Togom –was the first Kenyan to win a world cross country medal. He won bronze in the championships' inaugural event in 1983.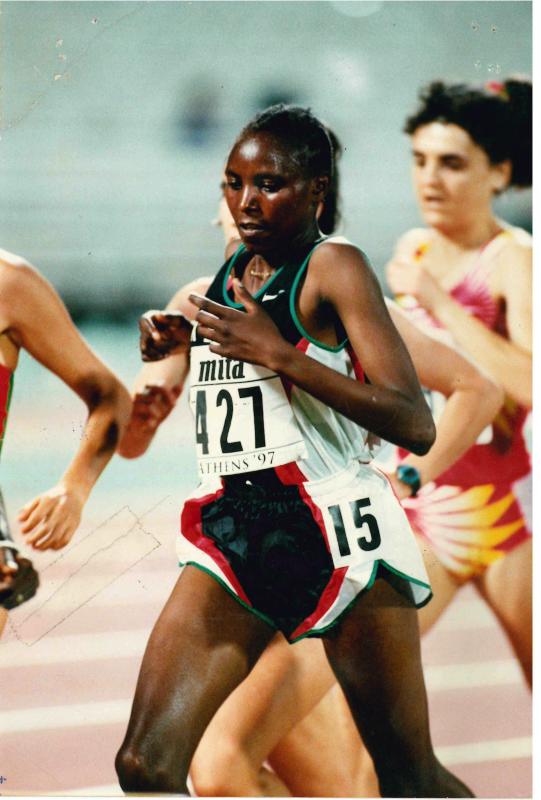 Ruth Waithera became the first Kenyan woman to reach the Olympics Games semi final in 400m in 1984. Mary Wagaki was 69th in the marathon.
It was another 12 years before Pauline Konga became the first Kenyan woman Olympic medallist after winning silver in 5,000m in Atlanta in 1996.
But there is Douglas Wakiihuri, who was the first Kenyan man to win World Championships marathon title (1987); the first man to win Commonwealth Games marathon crown (1989); the first Kenyan to win London Marathon (1989) and the Kenyan first medalist (silver) at the Olympic Games marathon in 1988.
Ibrahim Kipkemboi Hussein, who emerged as the first African to win New York City Marathon in 1987, spices up the long list of Kenyan firsts in the 1980's.
In 1991, then 14-year-old Lydia Cheromei stole the limelight when she became Kenya's first woman to win world cross country gold medal in Antwerp, Belgium, before Susan Sirma emerged the first black Africa woman to win track and field medal in World Championships and Olympics in Tokyo, Japan, that year.
Two-time Boston Marathon winner Moses Tanui stunned global athletics world when he became the first athlete in the world to run half marathon under one hour (59.47) in Milan on April 3, 1993.
His feat must have inspired three-time world 3,000m steeplechase champion Moses Kiptanui, who became the first man in the world to dip under eight minutes (7:59.18) in the water and barriers race in 1995.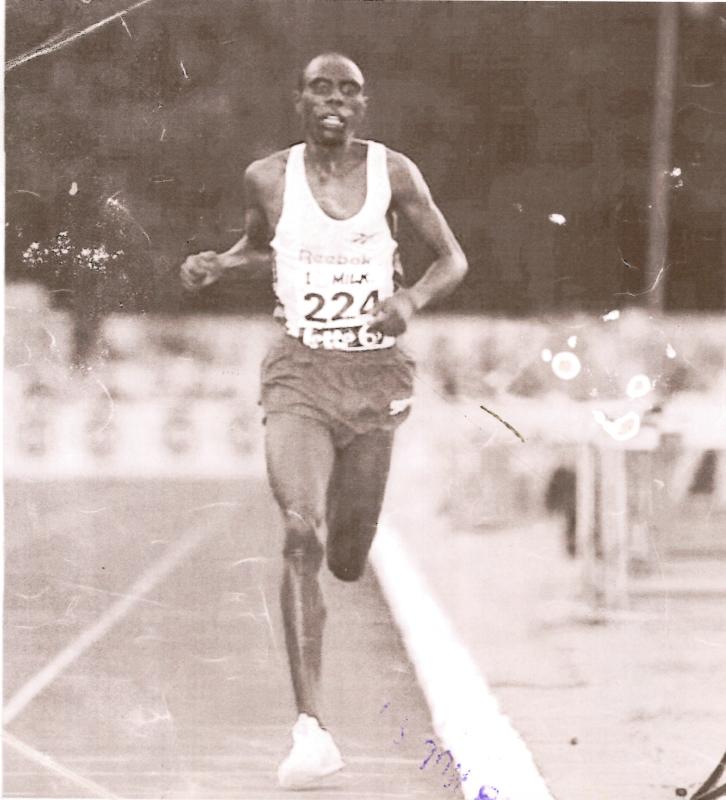 Daniel Kipng'etich Komen has three world records –3,000m (indoor), 3,000m (outdoor) and two miles –under his belt.
Komen, a glowing alumnus of Biwott Secondary School in Keiyo South, is the only man alive to run two miles under eight minutes where he set the world record mark of 7:58 in Hechtel, Belgium, on July 19, 1997.
Ethiopia's multiple record holder Kenenisa Bekele and Haile Gebrselassie unsuccessfully tried to break the record, but all in vain.
Even before the dust settled, Sally Barsosio –then a Form Four student at Sing'ore Girls in Elgeyo Marakwet –stole the headlines as she rose to become the first Kenyan woman to win gold at the World Athletics Championships in Athens, Greece, in 1997.
She made her debut in the national team in 1995 at the All Africa Games in South Africa.
At just 18, Pamela Jelimo won the 2008 IAAF Golden League Sh67 million ($1 million) jackpot and became the first Kenyan woman to win an Olympic gold medal as well as setting five World Junior records and four African senior records.
In four months Jelimo went from unknown runner to Olympic gold medalist. By the end of the season, with the Golden League jackpot to back up her Olympic title, the 18-year-old Kenyan from a family of modest existence was heading for a life transformed. From having a road in Kapsabet named after her to a private audience with former President Mwai Kibaki, she became a celebrity.