Mneria and Wanjiru race to victory at Prisons meeting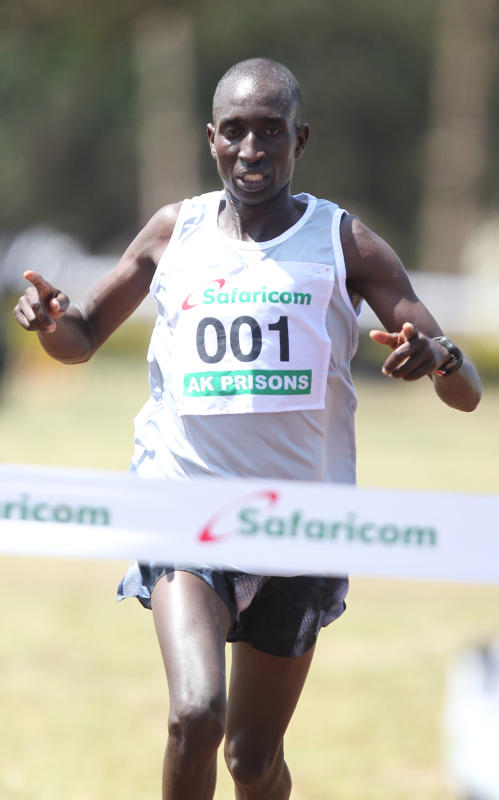 Corrective department names squad for national cross country championships.
Former Africa cross country bronze medallist Charles Yosei Mneria and road-racer Rosemary Wanjiru yesterday won the Kenya Prisons cross country championships held at the Prisons Staff Training College in Ruiru.
World 1,500m champion Timothy Cheruiyot anchored the mixed relay showpiece as Africa cross country champion Alice Aprot and 2011 World 1,500m champion Silas Kiplagat staged splendid comebacks at the windswept cross country course circuit.
Aprot returned from maternity break while Kiplagat is back after battling a career threatening injury for almost three seasons.
Mneria, who failed to impress at the 2019 African Games showpiece in Morocco in 10,000m, wore the composure of an experienced athlete as he led the field that had 800m runner Boaz Kiprugut and Africa 10,000m silver medalist Wilfred Kimitei to win 30:00.15.
Kiprugut (30:42.63), Kimitei (30:44.36), Emmanuel Ng'etuny (30:59.94) came second, third and fourth as road racer Pater Emase (31:21.51) and Peter Wanyoike (31:30.20) sealed the top six places.
Silas Kiplagat (31:47.98), 2015 Paris Marathon winner Mark Korir (31:66.91) and 2007 world marathon champion Luke Kibet finished in 10th, 12th and 13th places.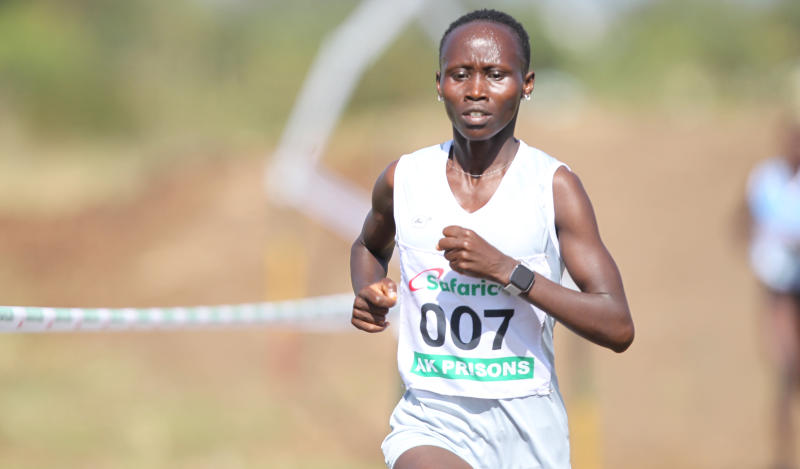 The race started on a high pace before Mneria dictated the proceedings at the two-kilometre mark as the chasing pack kept close tabs.
With warders and wardress –many in uniform while others in track suits and casual dressing –on their feet, Mneria deployed the afterburners with a killer pace that Kiprugut and Kimitei could not respond to.
"I am in good shape this time round. The injury has healed. I decided to pull away early since I felt strong enough. I want to use the cross country season to prepare for Olympic Games trials in 10,000m. I know it will not be easy.
"I think, as a nation, we can win the 10,000m gold at the Olympic Games if we prepare and plan well. We have some of the best 10,000m athletes like Kibiwott Kandie," said Mneria.
Wanjiru, fifth-placed at the 2019 World Championships in 10,000m, was oozing pure class.
The 26-year-old Wanjiru sped away from two-kilometre point with his arms pumping and went through the first lap in a swift five minutes and 57 seconds.
She then controlled the race to victory even as her sole challenger Lilian Kasait, the 2017 world cross country silver medallist, trailed her.
She won in 33:43.53 ahead of Kasait (34:17.01), Gladys Jerono (35:07.24) and Africa cross country champion Alice Aprot (35:55.52).
Loice Chemining (35:58.52), Abigael Chelagat (36:14.16), Tabitha Wangui (36:51.93), Catherine Syokau (36:36:59.85), Jackline Wambui (37:04.35) and Nancy Kimaiyo (37:18.75) completed the top 10 spots.
Wanjiru said: "I am using the cross country competition as part of preparations for RAK Half Marathon next month, where I am longing to improve my personal best.
"After RAK, I will focus on Olympic Games trials in 10,000m. I must prepare well," said Wanjiru.
Kasait said she had only trained for two months. "I spend nine months at the Prisons Staff Training College last year. I started training in November. So, I have not enough training," said Kasait.
Prisons Staff Training College won the mixed relay title in 25:07.28 ahead of Nyanza (25:49.14), Rift Valley (25:57.55) and Nairobi (27:31.82).