Will technology end careers of pacesetters?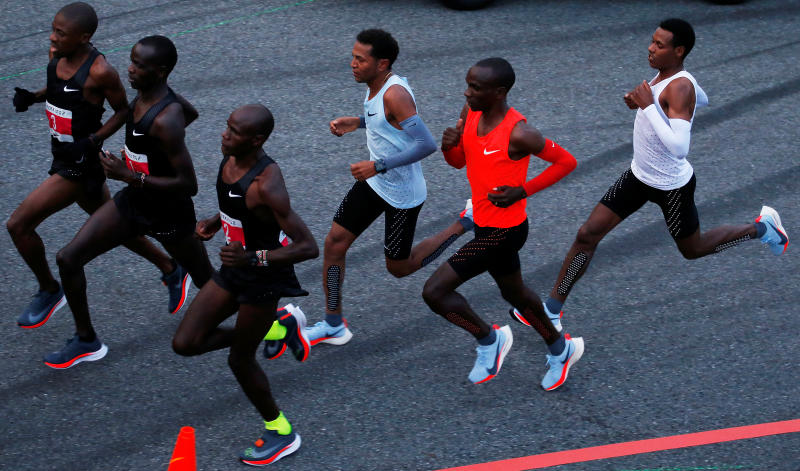 Many meet directors in many meets across the world are opting to use technology.
With technological advances steadily shaping up athletics, pacesetters stand to lose a lot in prize money and other endorsements.
Pacemakers or rabbits, the stars that set the pace in some of the memorable world records in history, now stare at a bleak future thanks to the wavelight technology.
They are certainly the unsung heroes in global athletics circles. Over the years, these big shots in track and road running ruled the roost.
They lead runners in middle or long distance races for the first stretch to ensure fast times and avoid excessive tactical racing.
Pacesetters have always been employed by race organisers for world record attempts with specific instructions for lap times.
They also play a crucial role in avoiding the deception tactics common in competitions as they race away from the start line giving the other runners the impression that they are far behind.
Pacesetting became prominent after Chris Brasher and Chris Chataway successfully paced Roger Bannister to break the four-minute mile for the first time in 1954.
Andrew Rotich, who has paced several Diamond League meetings and the World Challenge, said the earnings have kept decreasing over the years.
"To be a pacemaker, you must be in great shape. You must be well-prepared in the first place. At times, you take through the track some of the best athletes in the world with strict targets.
"The likes of Martin Keino (who paced seven world records), William Tanui who paced Noah Ng'eny and David Kiptoo made good money. They were paid about Sh1.2 million ($12,000). We found the rates at Sh250,000 ($2500). Nowadays, you get a pacesetter taking home Sh150,000 ($1500).
"I used to line up in many Diamond League and World Challenge races. With the wavelight technology, most pacesetters will opt to go for competitions. This business of pacesetting might soon disappear," he said.
Rotich said most race organisers might soon embrace the new technology –which has been given the green light by World Athletics.
"I don't expect to see any career pacesetter in future," he added.
But, as a career pacesetter, Martin Keino paced for seven world records.
He was the pacesetter for Daniel Komen when he set two all-time marks and Ethiopians Haile Gebrselassie and Kenenisa Bekele, who broke world records in 5000m and 10,000m.
He led Komen to set world records in two miles twice posting 8:0354 and slapping the current record of 7:58.61 in Hechtel, Belgium, on July 19, 1997.
Martin said: "Wavelight technology affects the quality of pace making. In essence, not all athletes can follow the lights effectively. This technology cannot help when it is windy or when it is raining.
"That is where a human pacemaker becomes more effective. It is easier to have the pacemaker control the pace rather than competitors monitoring the lights.
"The professional quality pacemakers will lose part of their income. It is easy to manage a human being than a machine. Human pace setting is a bit flexible but technology sticks to a specific time. It is difficult to adjust to a faster time. An athlete can be pushed to run faster.
"There is a lot more that goes to waste. Many races have embraced it but some may choose not to. It is not a requirement in all races. I think some race organisers can still employ human pacesetters since they may not afford the new technology.
"It will affect the prize money for pacemakers. It will no doubt affect their income," Martin said.
Martin broke the two mile world record in 8.03. "Komen liked my rhythm and asked me to pace again," he said.
Martin believes he was a talented pacesetter. "I had a skill that many runners did not possess. I had a unique ability of pace judgment that several athletes later came to appreciate. I was able to run each lap as even as possible. In fact, even great Ethiopian long distance runners Kenenisa Bekele and Haile Gebrselassie requested me to pace for them.
Sammy Tangui, who was the pacemaker for David Rudisha's 1:41.01 then a world record, says a pacesetter should be a mathematician.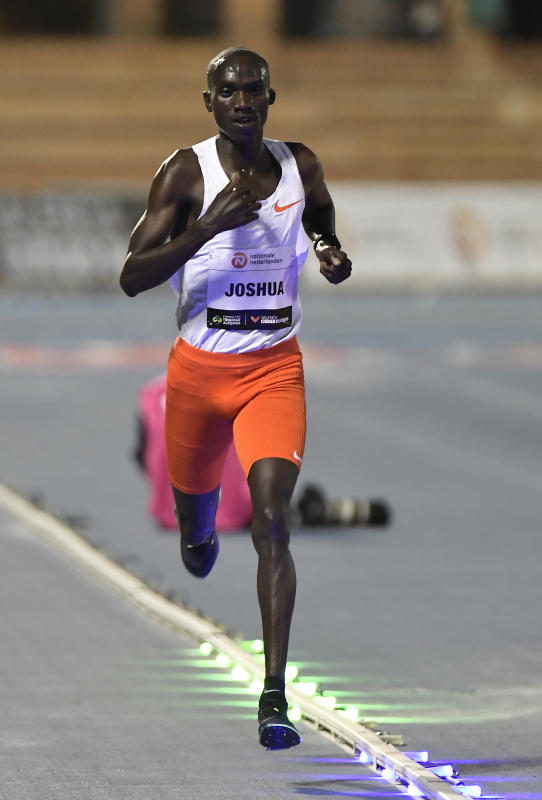 "You should calculate well the splits if you are to control the race well. First do some walk outs early, square the track with the athlete you are pacing for and set attainable targets. You need the mental strength," said Tangui, who started to pace at the Grand Prix meetings in 2007.
Tangui, who hails from Moiben in Eldoret East, says he ran the whole programme with Rudisha to gauge their seasons' form.
Tangui, however, said the use of wavelight technology will see most world records lose value.
"Races are lively with human pacemakers. Without pacesetters at the front, the excitement in races fades away. It affects payment of pacesetters," Tangui said.
Some top athletes have a feeling that the records set under the new technology should be classified separately –so that pacesetters can still have a place in modern day athletics.
"Records that were set by human beings and records that were set by aid of wavelight should not be put together," said Moses Kiptanui, the three-time world 3000m steeplechase champion.
Another pacesetter David Kiptoo who paced for Kenyan-born Dane Wilson Kipketer in 800m and Noah Ng'eny in 1000m says pacesetters are still needed.
Kiptoo, the 1996 Atlanta Olympics 400m bronze medalist, said world records are unattainable — save for 400m, 200m and 100m — in all races from 800m to marathon. That implies all the runners in the sprints can play the role of pacesetting.
"Apart from 100m, 200m and 400m, no one has posted world record times without pacemakers. And this explains that there is no world record without a pacesetter. I doubt if there is any," he said.
Kiptoo, the alumnus of St Patrick's High School, Iten, said some runners managed a world record way back during the days of Kipchoge Keino, who ran a 3:34 in 1,500m and that was quite easier as the record now stands at 3:26.00
And pacesetting had turned out to be a money-minting venture and, at best, a career to some athletes, among them Kiptoo.
"I made a successful career in pace setting…I even earned more on it alone. In most races, I could earn more than the runner-up as I was a good 800m runner," said Kiptoo, who ran a 1:43.39 in 800m.
Peter Kirui, another career marathon pacesetter, adores his world-famed role. "It is not tedious. It is just a matter of planning," said Kirui, who paced top marathons a few years ago.
He started it with Rotterdam in 2010 leading Patrick Makau and Geoffrey Mutai to a 2:04 mark and later pushed the late Samuel Wanjiru to a sizzling 2:06 mark in Chicago Marathon.
In 2011, he led Wilson Chebet to a 2:05.57 victory in Rotterdam and then paced Makau to the then 2:03.38 world record before taking Wilson Kipsang 2:03.42 in Frankfurt in 2011.
In 2017, Mary Keitany took 41 seconds off the women's-only world record at the London Marathon, running 2:17:01 at the IAAF Gold Label Road Race.
Keitany targeted Paula Radcliffe's mark of 2:15:25 and ran minutes inside Radcliffe's schedule in the first half.
Paced by her training partner Caroline Chepkoech Kipkirui, Keitany cut loose from arguably the most accomplished field in race history with an astonishingly fast race.