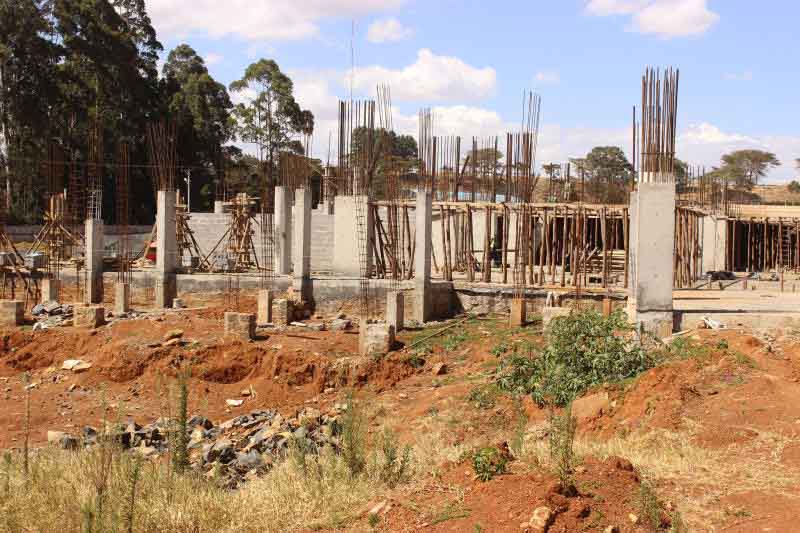 Just a week ahead of the Kip Keino Classic Continental Tour in Nairobi in October last year, President Uhuru Kenyatta was clear in his instructions to the Ministry of Sports.
The head of state, who was officially opening the refurbished Nyayo Stadium in Nairobi, wanted all stalled sports facilities completed before the end of December 2020.
The stalled stadiums were expected to promote sports talents across the country.
In the North Rift region, which is home to some of Kenya's top athletes, the facilities could now be hosting track and road stars eyeing to represent the country in the Olympic Games set for July and August in Tokyo, Japan and World Under-20 championships also set for July this year.
But by yesterday, despite last year's pledges, none of the more than six stadiums was complete.
For example, Kipchoge Keino Stadium in Eldoret, which was expected to be the venue for World Under-20 national trials before the decision was rescinded and Nyayo Stadium in Nairobi was chosen, is still incomplete despite a promise by Sports Cabinet Secretary Amina Mohamed that it would be completed before the end of December.
Sports Kenya, the government agency mandated to spearhead establishment and maintenance of sports training facilities was by yesterday silent on completion dates for Kamariny Stadium (Elgeyo Marakwet), Kinoru (Meru), Wote (Makueni), Marsabit (Marsabit), Ruring'u (Nyeri), Kirubia (Chuka-Tharaka Nithi) and Karatu (Kiambu).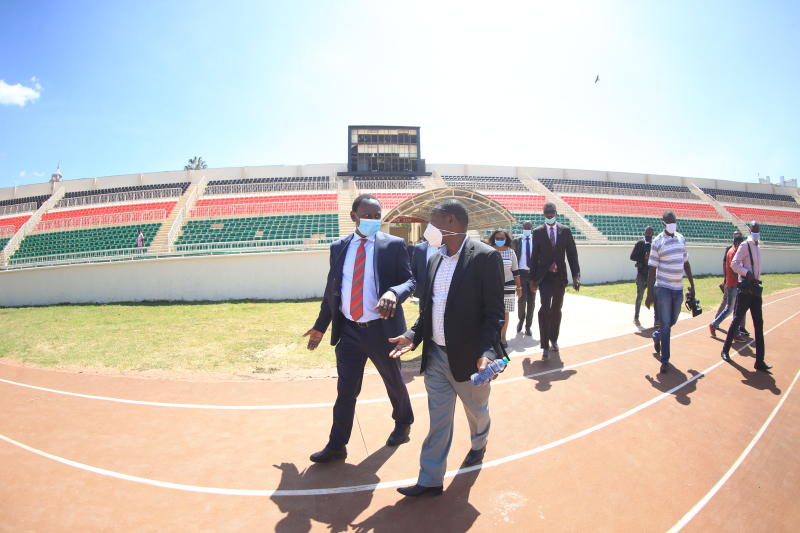 The agency's Director General Pius Metto, who had ordered a contractor constructing Kamariny to complete the works and hand it over to Sports Kenya, could not give reasons for the delays.
"I am in a meeting and I can't address the matter now. I will call you later," he said when reached for comment. He did not respond to our successive calls thereafter nor did he reply to our text messages.
As Sports Kenya remained silent on the issue, athletes and coaches continued to express displeasure with the stalling of the training facilitates, which they described as key in preparation for their races.
Dennis Kipng'eno, an athlete who trains alongside Chicago and Boston marathon champion Lawrence Cherono in Iten and Kaptagat, said the delay in completion of Kamariny Stadium has seen costs of training facilities increase to the detriment of upstarts.
Kipng'eno says athletes seeking to improve on their speed work have been forced to travel from Iten in Elgeyo Marakwet County to the incomplete Kipchoge Keino Stadium in Uasin Gishu County for their workouts.
"We may end up losing talents. We pride in athletics and there is a need to urgently complete Kamariny Stadium. Many young talents are now unable to travel to Eldoret for their training sessions. I am lucky to have the means to travel to Eldoret for my speed sessions, but many young athletes can't afford it," he said.
Kenyan-born Turkish athlete Aras Kaya said it has been difficult for athletes training in Iten to use Tambach Teachers Training College track when the institution was closed during the long break occasioned by the Covid-19 pandemic.
Kaya, a former 3000m steeplechase European silver medallist, said many Kenyan athletes have also been unable to pay for the use of the privately-owned Lornah Kiplagat Sports Academy track in Iten.
Renowned coach Joseph Cheromei said he has been using Kipsoen Secondary School's field since Kamariny was closed in 2016 for an upgrade.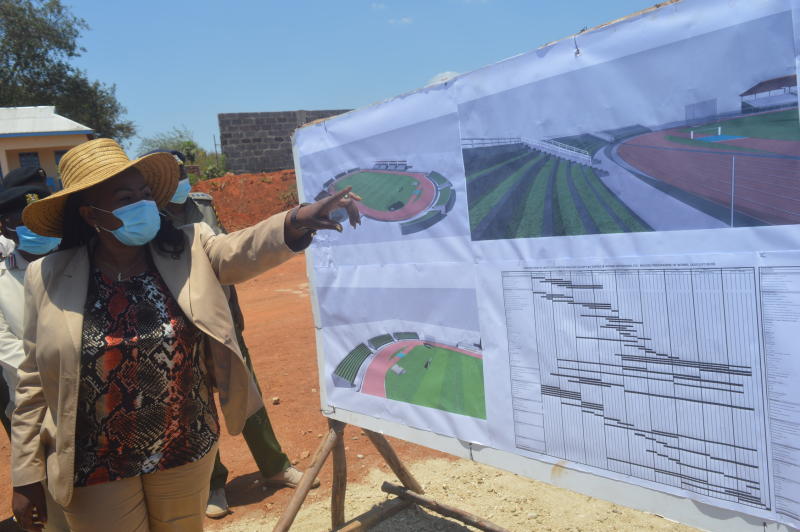 "We expected a standard track in Kamariny as was proposed but we are now trying to be innovative by using Kipsoen Secondary School, but the project is turning out to be a pipe dream," he said.
Early last year while appearing before the National Assembly's Sports Committee, Metto told the MPs that a contractor had been paid Sh88 million to clear bushes for the construction of Marsabit Stadium.
Metto then apportioned blame on the National Treasury, saying Sports Kenya had been deprived of funds to complete the stadiums.
Last May, CS Amina said funds to complete the stalled stadium had been availed by the National Treasury.
At Kipchoge Stadium, minimal construction works at the proposed pavilion section are ongoing.
A construction worker said: "We have just returned this week because construction work had stopped for over two months. The contractor is planning to bring in more building materials."
In mid-September, the government gave notice of termination of the contract to Kamariny Stadium's contractor after he failed to complete the works by August.
The iconic Kamariny stadium, which is about two kilometres from Iten town, was first opened by Queen of the United Kingdom Elizabeth II in 1958.
The project coordination committee led by Elgeyo Marakwet County Commissioner Ahmed Omar said the contractor abandoned the site in July last year, leading to the termination of the contract.
"The contractor has not been on site for a long time now. What he has on-site is a skeleton workforce that is unable to carry out any meaningful work at the stadium," Omar said.
However, the contractor, Funan Construction, denied claims of deserting the site, saying they'd been working based on the released funds.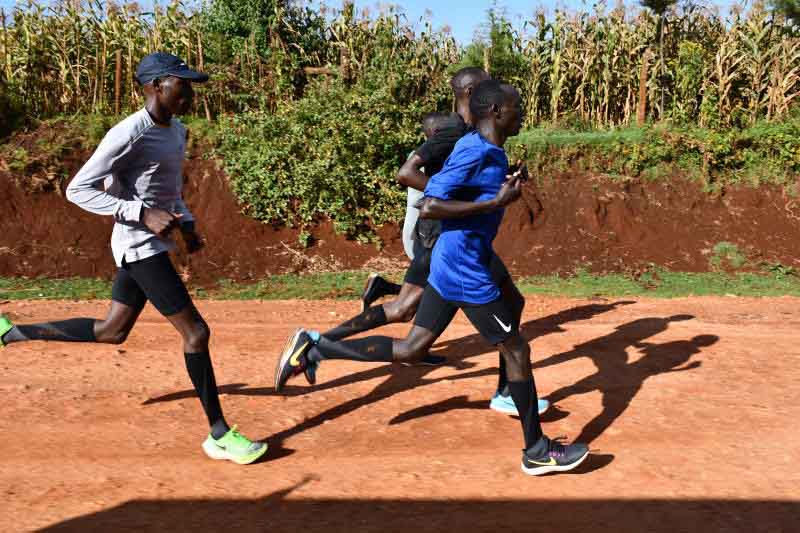 Elgeyo Marakwet Governor Alex Tolgos said discussions were underway to establish an alternative training ground alongside the new stadium as well as a museum that would preserve Kenya's rich athletics history. "Sports Kenya had last year given us (the county government) the mandate, together with the county commissioner to monitor the project on a regular basis to ensure it is completed within the stipulated period," Tolgos said.
Also in September, a director at Sports Kenya, Mwangi Muthee, threatened to push for the cancellation of Funan Construction's tender after the contractor failed to meet deadlines while renovating Ruring'u Stadium in Nyeri County.
Like the national government, counties also have an equal share of unfulfilled promises to the country's sportsmen and women, with several stalled projects dotting numerous areas.
For instance, Uasin Gishu County has been overseeing the construction a high-altitude athletics camp in Chagaiya area, but five years later, the work seems to have stalled. The construction was expected to have taken three years.
"We will soon complete Chagaiya training camp and have already advertised the tender for the upgrading of 64 stadia," Uasin Gishu Governor Jackson Mandago pledged mid-December. Eldoret's 64 Stadium was the venue for football derbies in the 1980s when the town had top-tier clubs teams including Rivatex FC and KCC FC.
Mandago said works at 64 Stadium will be complete by mid-2022.
In Nandi, works at the Sh100 million Eliud Kipchoge training camp are still going on, even after a county official promised that it would be ready for use by February 2020.
Sports Chief Officer Kennedy Tanui said phase one of the project, which entailed the construction of 50 accommodation rooms, has been completed.