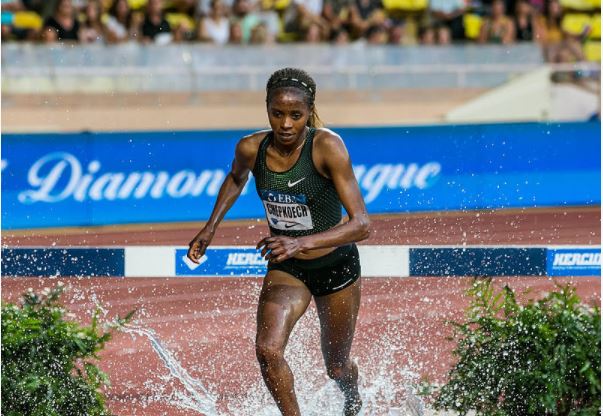 Kenya's world-beating stars have welcomed the reinstatement of 3,000m steeplechase and 5,000m into the Diamond League meetings.
On Friday, World Athletics said the Diamond League would return to full 32 disciplines format next if the Covid-19 pandemic situation allows.
Athletes from across the globe will compete in the 13 meetings spread across Europe, Asia and Africa in the chase for a spot in the final and battle for Diamond League Trophy.
Some of the changes include the introduction of Best Performance Athletes award in the five discipline groups.
World Athletes had scrapped races longer than 3,000m including the 3000m steeplechase, Kenya's number one track speciality, which put most stars in a tricky path of losing a lot of money.
Milcah Chemos, the 2013 world 3,000m steeplechase champion and Athletics Kenya Athlete Representative, praised the World Athletics decision.
"As an athlete representative, I can confirm that most athletes have welcomed the decision. We say thank you to World Athletics and Diamond League organisers for bringing back the races not only the steeplechase.
"At least our athletes will be training now knowing that they have something to target than training without races ahead. It will depend with the race directors if they will put 3,000m or 5,000m. The same athletes will compete in these two races.
"The return will help our preparation for 2020 Tokyo Olympic Games. Most of the athletes find it hard to qualify for the Olympics. They can now focus on qualifications during the Diamond League.
"The only issue is that they have restricted the races to few athletes. We now don't how it will work out.
"Like field events, it will only feature six athletes. The 3,000m steeplechase will have 12 athletes. In the Athletes Commission, they said that it will depend on race directors if they will invite even 15 athletes.
"But during the final, it will feature 12 athletes. Kenyan athletes are very happy now. Some had tried to switch to other races. You know it difficult changing races," said Chemos.
Thomas Longosiwa, the 2012 Olympic 5,000m bronze medalist, also welcomed the move.
"It's a good idea. But still most athletes could change to the shorter races, which is a challenge. The move had seen a reduction in the number of athletes in those races. The two races always attract many athletes.
"In 3,000m steeplechase and 5,000m, Kenya usually send at least five men and women athletes in a race. So more than 60 could miss races and they opted to step up to road races. Because of this, the road races also becoming tough to get a slot.
"Imagine athletes aged around 17 years competing in road races. It is waste of talents," he said.
Brimin Kipruto, the 2008 Olympic 3,000m steeplechase champion, said it was a sigh of relief for steeplechasers.
"It is through Diamond League that I set the 3,000m steeplechase second best time in history. It will help athletes improve on their personal bests," he said.