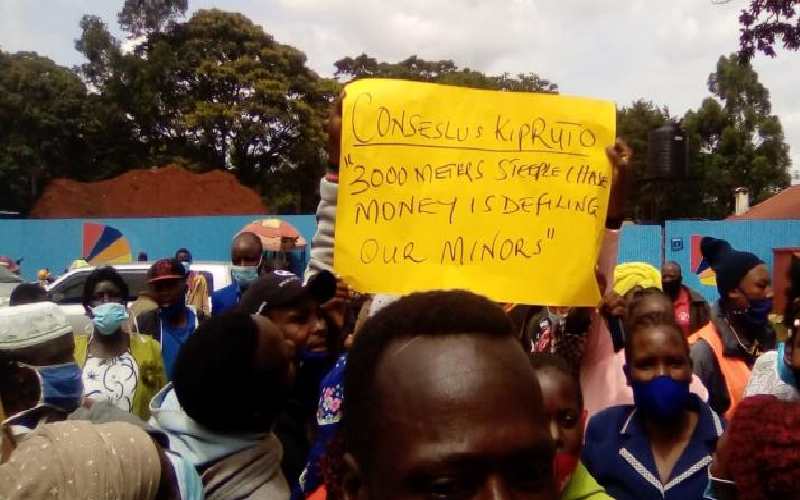 Rocked by a defilement charge, steeplechase star Conseslus Kipruto's world has been turned topsy-turvy months before he is set to appear in the biggest sporting event, the Olympics.
After being sought by the police for three weeks, Kipruto — an Olympic 3000m steeplechase gold medalist — was arrested for allegedly defiling a minor.
Kipruto was arrested last week in Mosoriot, Nandi County. He appeared in a Kapsabet court on Monday.
Now, his young but colourful career faces a major test as he fights to clear his name.
Kipruto, who sat his Kenya Certificate of Secondary Education (KCSE) at Kosirai High School in 2011, won the World Under-18 steeplechase title that year in Lille, France, before running away with the world Under-20 crown in Barcelona, Spain, in 2012.
At the senior level, he finished second behind Ezekiel Kemboi twice — in Moscow (2013) and Beijing (2015) — before winning his maiden senior title at the World Championships in London in 2017.
He also won gold medals in the 2016 Rio Olympics, the 2018 Commonwealth Games in Gold Coast, Australia and in last year's World Championships in Doha, Qatar.
On Monday, the Olympic champion arrived at the Kapsabet Law Courts to a day of drama — a sharp contrast to the traditional heroic welcome at the airport when he and other sportsmen jet back to Kenya after winning races abroad.
It was a tense moment at the court as Kipruto, who is expected to defend his 2016 Olympic title next year in Tokyo, Japan, denied charges of defiling a 15-year-old secondary school girl from his neighbourhood. He was released on a Sh200,000 cash bail.
His arrival at about 10.30am was preceded by demonstrations by Nandi residents in support of the girl and her family.
Police officers who were trying to restore order outside the court attempted to stop journalists from covering the proceedings. The angry residents jammed the main gate to the courts.
Kipruto, who is also world 3000m steeplechase champion, arrived in a dark blue saloon car. He was in a red hoodie, sunglasses and a blue jeans trouser.
He was immediately taken to a waiting room within the court's precincts under tight security as the police locked out a charged crowd that wanted to follow the proceedings. And when the time to answer the charges came, he pleaded not guilty. The session was over in less than 10 minutes.
But the Olympic champion had to wait for about two hours as the crowd camped at the gate. He later left the court's precincts in a different vehicle from the one he arrived in.
Kipruto is not the only sports celebrity to find himself on the wrong side of the law.
In June 2012, Ezekiel Kemboi, another 3000m champion was charged with attacking and injuring Anne Otieno during a scuffle in Eldoret. Otieno accused the former Olympic champion of attacking her when she declined his sexual advances.
Kemboi denied the allegations at the Eldoret law courts, saying his accuser colluded with suspected thugs to rob him and was injured in the ensuing scuffle as he (Kemboi) tried to protect himself. He was granted a Sh50,000 bail and allowed him to travel to London to compete in the Olympics.
Kipruto's case will be mentioned on May 20, 2021.