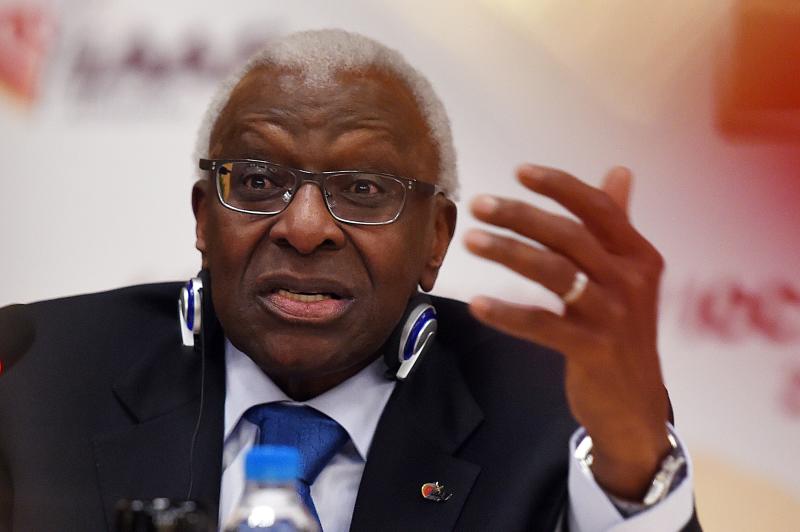 Five years ago, he was one of the most recognised leaders in sport on the planet.
Now, Lamine Diack, 87, the former president of the IAAF- known as World Athletics today- faces a future behind bars after he was jailed for four years, two of them suspended, last Wednesday (September 16) for corruption by a French court.
Diack, who has been incarcerated since he was forced to step down as athletics' chief in November 2015, has now been exposed as one of the biggest sinners in sport.
This is a far cry from the charmed life Diack led since 1999 when he was elevated to the presidency of the IAAF and becoming a distinguished figure in the International Olympics Committee (IOC).
The Senegalese national who towered over athletics like the proverbial colossus could potentially end his life behind bars although time served under house arrest could be considered.
Diack, and his son Papa Massata, were accused alongside others; of running a scheme dubbed 'full protection' and the ex-IAAF boss was found guilty of soliciting over Sh444.5 million (USD4.1m) from athletes suspected of doping to cover up the allegations and allow them to continue competing, including in the 2012 London Olympics.
Additionally, the powerful chief was found guilty of receiving over Sh162.64m (USD1.5m) from Russia to channel to the 2012 election campaign of sitting Senegal President and his friend, Macky Sall, who in turn, is protecting his son from arrest in Dakar.
At the centre of the trial was the case of Russian marathoner, Liliya Shobukhova, who was extorted more than Sh57.85m (€450,000) to cover up her doping violations.
However, as investigations went on, it was discovered 22 other runners from the Russia paid between Sh12.85m (€100,000) and Sh77.13m (€600,000) in exchange for having their doping bans hushed up so they could compete at the London 2012 Olympics and in Moscow World Championships a year later.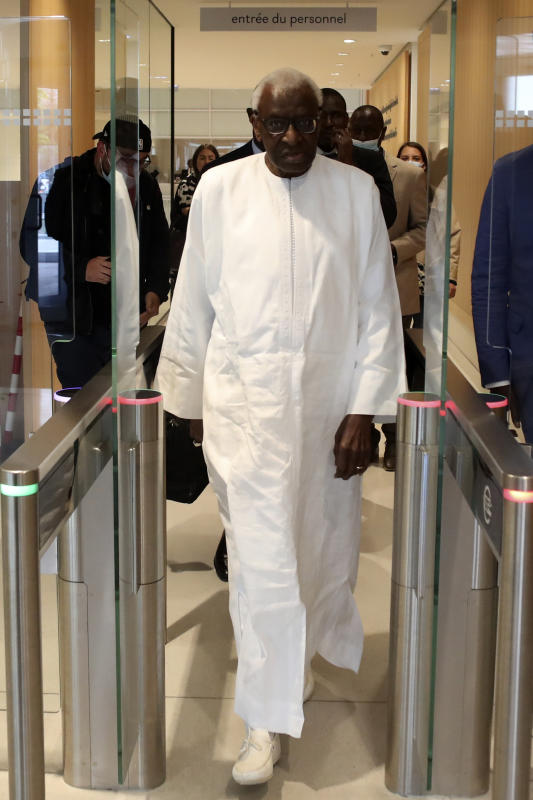 The 'full protection' scheme ran as deep as Kenya.
Before the noose tightened around Diack, his son and five others, four top Athletics Kenya (AK) officials, the late Isaiah Kiplagat (president), David Okeyo (vice-president), Joseph Kinyua (treasurer) and later, Isaac Mwangi (CEO) were removed from office after being charged with doping cover up and bribery.
Kiplagat passed on in August 2016 without ever being cleared while Kinyua and Mwangi were exonerated from extortion and bribery claims by the IAAF Ethics Board.
Kibet Simbolei, a former marathoner now turned trainer, had accused senior AK officials of receiving money from athletes in exchange of less severe doping bans in an interview with German TV ARD.
"I only told the world how AK is rotten from the inside especially officials who take money from suspected doped athletes to give them a letter to go and compete out the country or run local races," Simbolei, who alleged his life was in danger at the time after the damaging expose, told SportsNewsArena in November 2015.
In response, AK labelled Simbolei a 'conman' who was issuing fake clearance letters to athletes to run abroad but at this time, the bubble around the Diacks and other leading figures in the sport had burst.
The 'full protection' scheme masterminded by Diack and rubberstamped by IAAF's former head of anti-doping Gabrielle Dolle, who was paid to look the other way, was hatched investigations uncovered, at the plush Ritz Carlton Hotel in Moscow in 2011.
Those present included the then Russian sports minister, Vitaly Mutko, along with Lamine and Papa Massata Diack, the lawyer of the then IAAF boss Ms Habib Cissé, and the former IAAF treasurer Valentin Balachnikev, a co-accused in the corruption case.
Investigators found evidence Diack Sr had agreed the 'full protection' agreement with senior Russian politicians in exchange for funding to help his friend Sall win the 2012 Senegalese presidential election.
In the same year, doping cases in Kenya had started to spike, occasioning an investigation by the World Anti-Doping Agency (WADA) but Kiplagat led a spirited defence accusing detractors of tarnishing the image of the country's athletics.
"There is no way you can give an erroneous sentence to an athlete who has been found to have dope tested. It is a level, when you call those athletes, it's a court. That court is composed of 10 people. The chairman is always a doctor.
"There is no way anybody can take money to reduce the sentence. How? The president does not sit in that committee," the former AK chief, who led the organisation for 22 years, retorted when asked about the claims.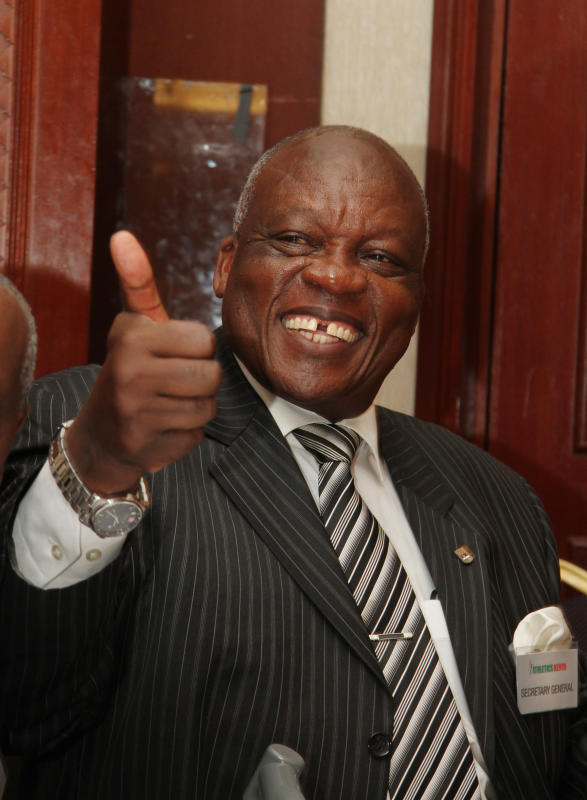 World Athletics, led by retired British middle-distance champion, Seb Coe, welcomed the verdict as the sport tries to move away from the era of decadence and corruption that led to the downfall of Diack and other leading figures.
The Paris criminal court also awarded what is now World Athletics over Sh205.69m (€16m) for embezzled funds and reputational damage suffered as a direct consequence of these crimes and the resulting media coverage.
However, Massata, who was also sentenced to five years in prison and handed a Sh128.55m (USD1.19m) fine for his role in the corruption, has claimed that the Coe administration has simply thrown his father under the bus and the investigation leaked to the media.
"I tabled all the documentation and my bank account details showing that all those accusations of receiving funds from the Russian Athletics Federation are unsubstantiated and totally false.
"I was able to prove when they said that I was in a meeting on the 1st of December in Moscow, meeting Shobukhova, they were totally untrue with my passport that I was there on December 5," Massata told CGTN Africa in an interview before the verdict was read.
Meanwhile, a consulting firm hired by Tokyo's Olympic bid committee paid some $370,000 to the son of an International Olympic Committee member before and after Japan was picked to host the Games, reports said.
The claims come as French authorities probe an alleged vote-buying scandal, centring around $2 million paid by the Tokyo bid committee to Black Tidings, a Singapore-based firm linked to Senegalese national Papa Massata Diack.
Diack is the son of the former head of the International Association of Athletics Federations, (IAAF) -- now renamed World Athletics -- Lamine Diack.
Lamine Diack was also a member of the IOC and said to have influence over African votes at the time of the Tokyo bid in September 2013 to host the 2020 Games, Japan's Kyodo News said.
According to Kyodo, the now-defunct Black Tidings had transferred more than $150,000 to the personal account of Papa Massata Diack and wired $217,000 to a company run by him by January 2014.
The findings, based on financial documents and reporting by the International Consortium of Investigative Journalists, including Kyodo, may shed light on allegations that the Tokyo bid committee engaged in vote-buying, the news agency said.
In an interview with Kyodo, Papa Massata denied the allegations, saying the money he received was related to a "sponsorship deal made in China. There is nothing to do with the Tokyo Olympics."
Tsunekazu Takeda, former head of the Tokyo bid committee, has also denied any wrongdoing. Last year Takeda stepped down from the head of Japan's Olympic Committee following the French investigation.
Last week Lamine Diack -- who led the IAAF for 16 years -- was found guilty by a French court of corruption in covering up Russian doping cases and sentenced to four years in prison, two of which were suspended.
The Tokyo Olympics and Paralympics were postponed for one year due to the coronavirus pandemic.