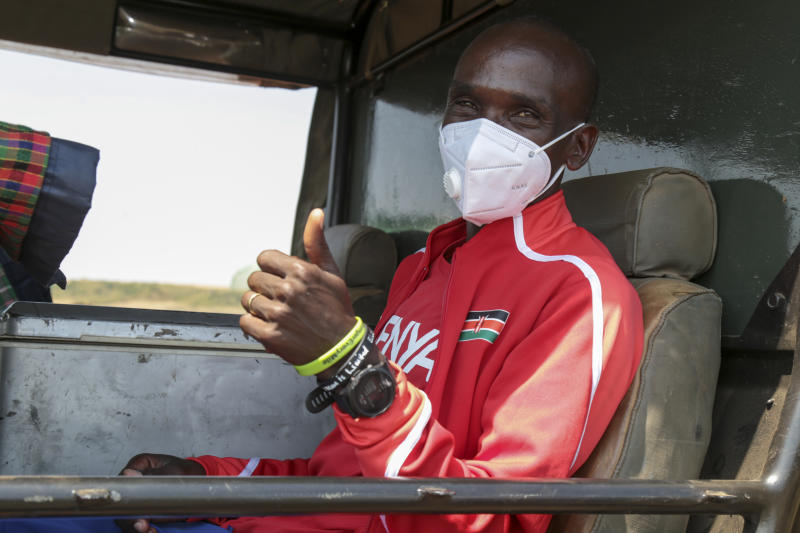 World marathon record holder Eliud Kipchoge is wary of the threat posed by his Ethiopian rival Kenenisa Bekele when they clash in a new super-fast elite only London Marathon on October 4.
In a unique race that will see it being held in October instead of regular third Sunday of April for the first time in 40 years due to the coronavirus pandemic, the duo will battle out in an enclosed loped course in St James's Park with no mass participation and fans.
But even as Kipchoge, who would be defending his Olympic Games marathon title in the 2020 Tokyo under normal circumstances today, is plotting to clinch his fifth London title (2015, 2016, 2018 and 2019), he is prepared for a quite a different race in October.
The legendary marathon, who has been training in Kaptagat, will be running today in a 10 kilometre race with Masaai Mara Game Reserve rangers and members of the Masaai community as part of his Kenya Tourism Board's (KTB) ambassadorial role.
"You know, everybody is a threat especially when you are on a running course and I don't take anyone as higher or lesser. I take everyone as a threat especially at this time of Covid-19 because you don't know what have been doing in their training. So, it will be really a different race," said Kipchoge.
"But I am feeling good to be going back to London streets and to know that sports is slowly bringing hope again. Sports is the only thing that can raise the spirits of all citizens throughout the world.
He added: "I'm preparing well in Kaptagat and I trust by next week, the Ministry of sports will allow the non-contact sports like running to go on.
"Covid-19 had destabilized all programmes from endorsements to businesses and competitions. But I'm happy London is back and it's now scheduled for October."
However, the three times Berlin Marathon winner admitted that the uniqueness of this year's London Marathon has made it unpredictable.
"I think it (London Marathon) will be really different but we need to accept change because change is what makes life to go on smoothly. It will also be different because it will only be for elite athletes; no mass participation and fans," said Kipchoge.
"So, it will really be different and it will take a lot of time for me to win in London. But I trust by next week I will be back with whole team in the camp and train in a high profile situation."
Kipchoge, who is planning to follow the footsteps of former Jamaican sprinter Usain Bolt by adapting a lion, revealed how zoom calling is keeping him busy during the pandemic.
"As far as hobbies are concerned, I'm a good reader. But for the last four months I have been having zoom calls nearly every day. I have done about 100 zoom calls around the world," he said.
"I'm looking forward to adopting a lion. I'm passionate about animals and environment. I'm actually adopting an indigenous tree in Kaptagat to show the community and people that we need to make this beautiful country."