Kenenisa Vs Kipchoge: London Marathon mass race cancelled, elite race on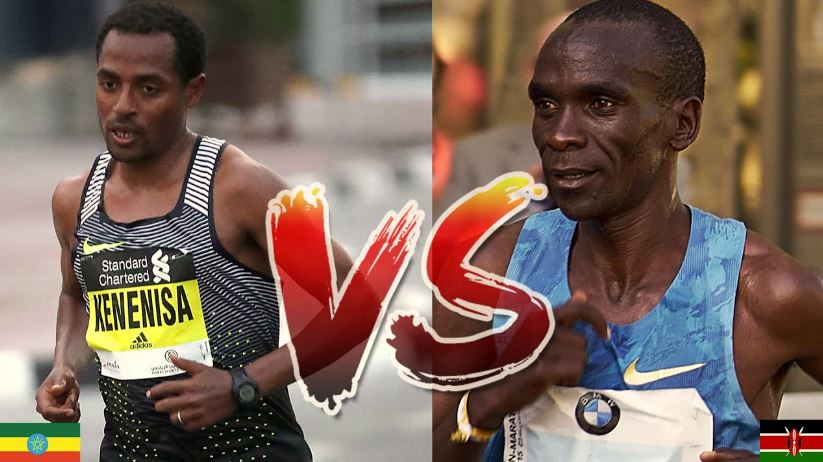 An elite-only race, on a multi-lap, fan-free circuit featuring the world marathon record holder Eliud Kipchoge and Kenenisa Bekele will be held on October 4.
The mass participation London Marathon, however, has been cancelled due to coronavirus pandemic, organisers confirmed on Thursday.
The race will take place on an enclosed looped course in St James's Park in a "secure biosphere", a contained safe environment like that of Formula 1 and England cricket, with performances eligible for Olympic qualification.
"We have been working for months on a number of different scenarios with the health and safety of our runners, our charities, our sponsors, our volunteers, our medics, our communities and our city always our priority," Hugh Brasher, the marathon's Event Director told World Athletics.
"We had detailed plans to deliver a socially distanced mass participation event – either a run or a walk – and we were planning to utilise new technology to do this.
"Despite all our efforts, the fantastic support from all of our partners and the progress that has been made on planning for the return of smaller mass participation events that are not on the roads, it has not been possible to go ahead with a mass socially distanced walk or run."
Covid-19 pandemic
Kipchoge admitted two months ago that the postponement of the London Marathon caught him off guard and disrupted his training routine.
Take a quick survey and help us improve our website
Take a survey
"It did wreck the plans I had and now I am not training as freely as I wanted. I train alone and it is hard. But my top priority, which is the same for all humans at the moment, is to be safe," he said.
While Kipchoge and Bekele share a common statistic – being the only two marathoners to have completed the full 42-kilometre marathon course in under two hours two minutes, they also share a common goal, to beat the other.
Kipchoge stole world headlines following his historic feat in Vienna, Austria, in October last year where he became the only known marathoner to break the sub-two-hour barrier in the INEOS 1:59 Challenge.
Bekele, about a month earlier, was shy of the world marathon record after winning the Berlin Marathon in 2:01:41 seconds, falling TWO seconds short of Kipchoge's 2:01:39 record, set in the same race in 2018.
Who stands a better chance?
While most would argue Kipchoge is a better runner on paper, Bekele poses a threat considering his feats in the short distance races.
According to Running Magazine, Kipchoge and Bekele have met 20 times over all distances and surfaces, with the Ethiopian emerging victorious in 11 of their 14 meetings on the track.
However, Kipchoge's greatness manifests in the long-distance races (marathons). The Kenyan has impressively beat Bekele in all four meetings.