Dooping: Yet another bombshell!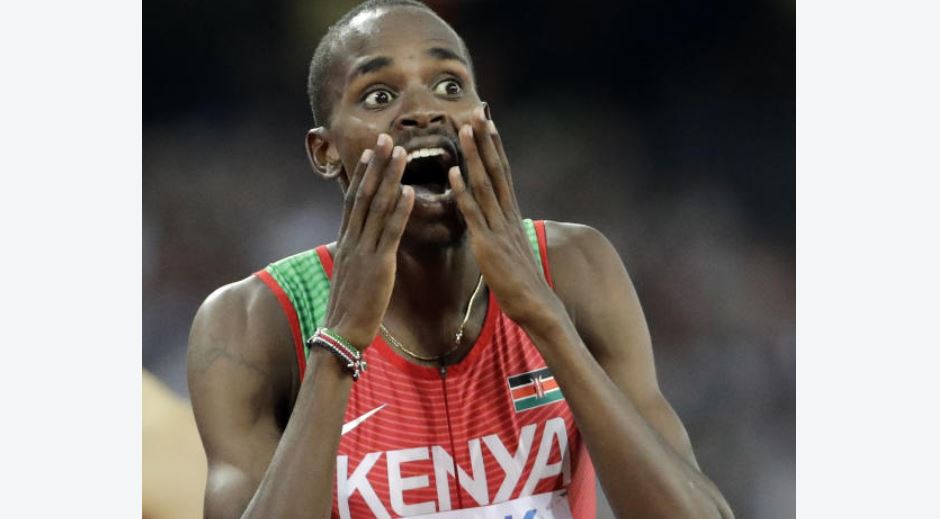 Former World 1,500m champion Elijah Manangoi and three other Kenyans have been suspended by Athletics Integrity Unit (AIU) for doping-related issues.
A total of 60 Kenyan athletes are currently serving suspensions, according to the AIU database.
"The AIU confirms a provisional suspension against middle-distance runner Manangoi of Kenya for whereabouts failures, which is a violation of the World Athletics Anti-Doping Rules," a statement from AIU read.
According to World Athletics Anti-Doping Rules, whereabouts failure is charged against athletes when they miss tests three times within a year, for which the applicable sanction of two years' ineligibility to compete in any race is enacted.
Reacting to the news on his Facebook page, Manangoi said: "News of my suspension by the AIU for 3 missed tests is really devastating for me and I'm trying to get my head round it. What I can say is each of the missed tests happened during 2019, my case has nothing to do with prohibited substances and I've always competed as a clean athlete."
He added: "Last year was the worst period of my career when I was upset through injury which impacted everything on and off the track. I know I've let people down in particular my coach and fellow athletes and I also know that no matter what I say here I'll be criticised.
"The facts of the cases are clear in my mind and I'm sure there will be a time when it is appropriate to go into more detail. But right now I'm focused on compiling a formal response to the AIU so won't be commenting further."
Manangoi has struggled with hamstring and knee injuries, which forced him to miss the 2019 World Championships in Doha, forfeiting his title to training mate Timothy Cheruiyot. Manangoi now has a charge issued against him and will have to appear before the Athletics Tribunal to defend his case.
"A reduction to a minimum of 1-year ban can be effected depending on the degree of fault," said AIU.
AIU has also suspended Kenneth Kipkemoi, a former Africa 10,000m champion, for two years after his sample test turned positive with presence of terbutaline, which is a prohibited substance.
"The disciplinary tribunal has banned Kipkemoi for two years with effect from Feb 25 for the presence of a prohibited substance in his sample," said AIU.
Mercy Kibarus, fourth at the Changzhou Half Marathon in China has been banned for repeat offence and will now serve eight years out. Kibarus is a former champion from Sydney and Macao marathons.
"Since there is no indication that the athlete did not comply with this provisional suspension, the period of the ban shall be credited against the total period of ineligibility. Accordingly, the eight-year period of ineligibility shall effectively run from December 5 and ends at on December 2027," said AIU.
The fourth athlete to be banned is Patrick Siele.
"Siele refused or failed to submit sample collection, which is a violation of the World Athletics Anti-Doping Rules," said AIU.
Siele was sixth in his debut marathon in Shanghai, China, which was his last race in November last year. He previously focused on road races and half marathon.
The four joins former world record holder Wilson Kipsang alongside Olympic marathon champion Jemima Sumgong, three-time world 1,500m winner Asbel Kiprop and Rita Jeptoo, a former Boston and Chicago marathon champion.