Eliud Kipchoge targets fast time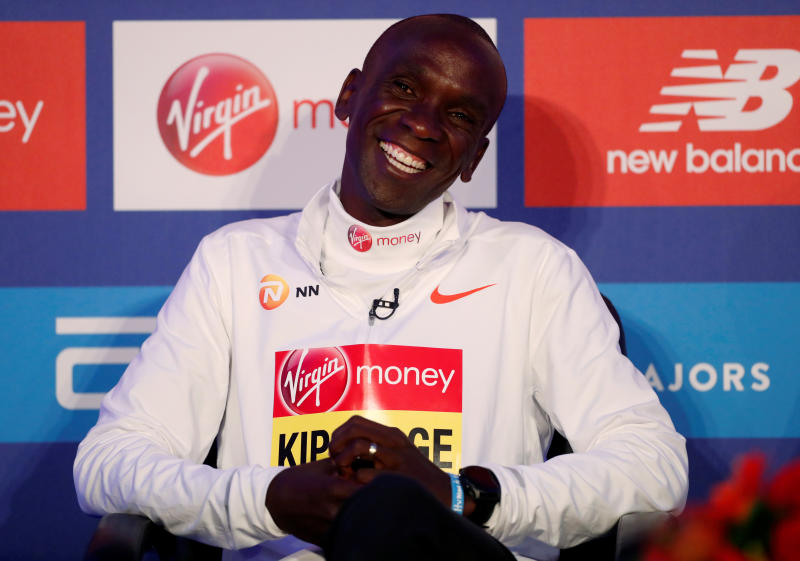 World marathon record holder Eliud Kipchoge says training on the track is crucial as he targets fast time at the London Marathon on October 4 if the race will be staged.
Kipchoge, in a webinar interview with local media outlets, said he is immersed in training and eagerly awaiting the government to confirm when training camps will be open and athletes allowed to train normally.
"I hope for something special in London. It will be fast," Kipchoge said in a interview on Friday from Eldoret.
The Olympic marathon champion said that he will do everything possible to be ready for the London Marathon on October 4 with organisers aiming to stage an elite-only race due to Covid-19 challenges.
"Save for Geoffrey Kamworor, who was injured in an accident, my entire team is ready to return to training camp for the preparations ahead of the season reopening.
But I am waiting for the government and hope the Cabinet Secretary for Sports (Amina Mohamed) will allow us all back in camp," Kipchoge said.
He is currently working on his speed and alternates from road training to track sessions.
"Track sessions are for me and my team really crucial. It helps us to make our body maintain a high pace and it actually opens the body to feel how hard training is. To other marathoners, it's not important and they see it as not beneficial," he said.
Yesterday, Kipchoge said he was preparing well for the race. "I can assure you that all is well. We are training well and everything is okay," he said.
His coach Patrick Sang, said it is important for athletes to focus on endurance training. "In running, there are three things that you need as an athlete. You need strength, endurance and of course, you need speed," Sang said.
It's billed a tough race between Kipchoge and Ethiopia's Kenenisa Bekele – the two fastest marathoners in history.
They share a cocktail of similarities. They are accustomed to hilly terrains as they were born and bred within the Great Rift Valley.
Kipchoge comes from Kapsisywo village in Nandi County while Bekele was born in Bekoji village in Ethiopia's Great Rift Valley, some 300km south of Addis Ababa, where there are plenty of goats and cows on the roads.
Just like Nandi County, Bekoji is in a high altitude region. It stands at 10,500 feet above sea level and is an arable area where crops like tea, cereals, coffee and oil seeds grow. Bekele is the elder brother of Tariku Bekele, former world indoor 3,000m champion.
Olympic 10,000 metres champion Kenenisa Bekele's father was reportedly opposed to his son's athletics career but relented when he saw it was driven by religious faith.
His father said he named him Kenenisa which means 'you brought me delight' in the Oromo language while Kipchoge means 'one born by the granary' in Kalenjin language.
The two stars are God-fearing and are managed by Jos Hermens of Global Sports Communications in Nijmegen, The Netherlands. Kipchoge turns 35 this year while Bekele is 37 years old.
Kipchoge, a devout Catholic, saw people from far and wide pray for him as he prepared for Ineos 1:59 Challenge.