Athletes urged to focus on competing in virtual races
ATHLETICS By Xinhua | June 5th 2020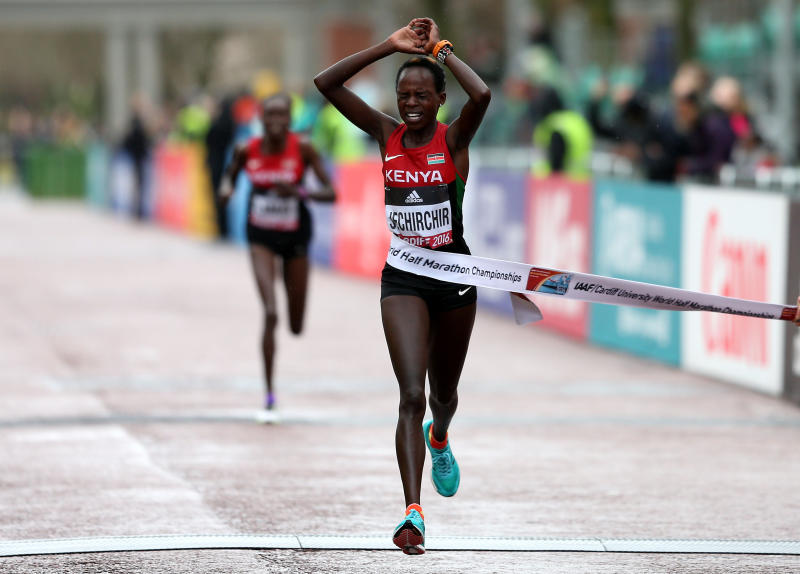 Former world half-marathon record holder Peres Jepchirchir has challenged the athletes' fraternity to think outside the box and focus on virtual races in the wake of restrictions imposed by governments.
Jepchirchir said athletes can still enter and run in virtual races at their convenience and have their times matched to determine the winner.
This is after Kenya's Winnie Kosgey pioneered to run and successfully finished a competitive virtual race, the Ottawa 10km road race in Eldoret on Tuesday.
Kosgei was to compete in Ottawa, Canada in the actual race but was disappointed to learn that it had been cancelled with organisers banning on-location competition due to the Covid-19 pandemic.
"That is the way to go, in difficult situation we have to be innovative," Jepchirchir said on Wednesday. "Congratulations to Kosgei on your accomplishment. A new idea well executed."
Rules to be observed in the virtual race include keeping the required social distance while following the normal regulations used in road racing. The race, which had athletes register online and compete from their own locations saw Kosgei run in Eldoret Tuesday taking 36:09 minutes.
Canada's male runner Brandon Toal was top overall after running 33:40. Canadian Stephan Struve (39:32) is third in the overall classification. This comes a week before another high profile virtual race is staged in Nairobi and Oslo simultaneously.
The race dubbed 'Impossible Games', will see Team Cheruiyot, made up of World 1,500m champion Timothy Cheruiyot, Commonwealth Games winner Elijah Manang'oi, Edwin Meli, Timothy Sein (both 800m runners) and Vincent Keter take on Team Ingebrigtsen made up of Norwegians Ingebrigtsen brothers Jakob, Henrik and Filip, and two other athletes over 2,000m.
Team Cheruiyot said they intend to run the race in less than four minutes and 50 seconds. "It will be great to finish in fast time and clock about four minutes and 50 seconds," Cheruiyot said in Nairobi. "It is possible to finish in say 4:44."
However, one disadvantage of virtual race is all athletes don't have a level ground under the same conditions to compete.
Cheruiyot said the Norwegian opponents will have an advantage over the difference in altitude. Nairobi has a higher altitude making it harder to run faster compared to Oslo. Another planned virtual race will see marathon icons Eliud Kipchoge and Ethiopia's Kenenisa Bekele run in a virtual team relay marathon between June 6 and 7.
They will team up with Uganda's world 10,000m champion Joshua Cheptegei and New York marathon champion Geoffrey Kamworor to make the quartet.
The virtual relay marathon is open to all athletes across the world between June 6-7. Each individual runner will be required to run for 10.5km alone so the team completes a full marathon together.
This allows participants to safely run solo in their own locations while running in a team via the virtual standings.