Beatrice Chepkoech intensifies training amid COVID-19 pandemic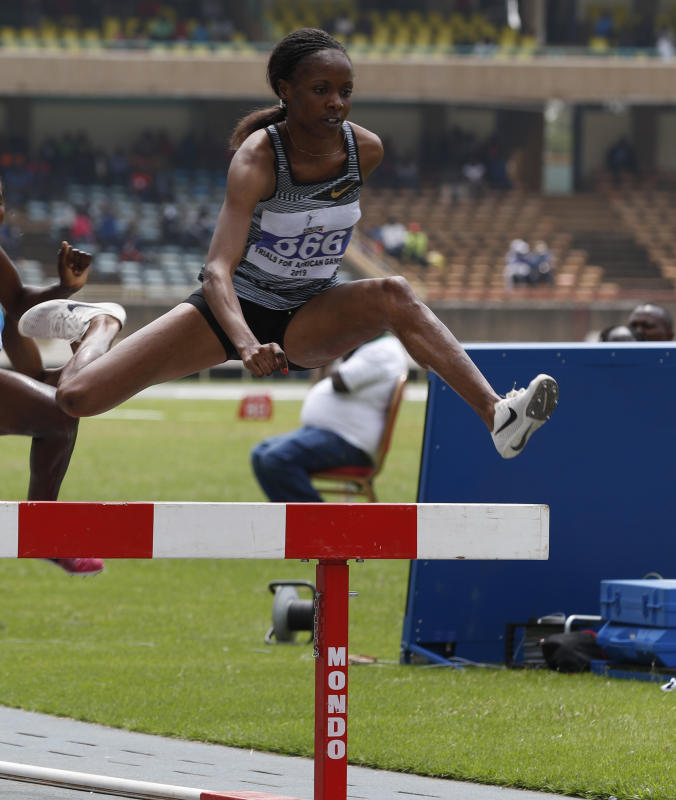 Steeplechase World record holder Beatrice Chepkoech is taking it easy, biding her time while helping out with home chores after the coronavirus pandemic forced the postponement of the Tokyo Olympics.
The beautiful water and barrier speedster shared online some of her photos helping her parents after her usually punishing training routine.
In some of the photos, Chepkoech, who set the 3000mSC world record in Monaco at 8:44.32 in 2018 is seen carrying a heap of firewood on her back and in another plucking tea leaves at their home at Besiobei village in Konoin Sub-county. She later posted them on her social media pages with hashtags; "#Stay at home, #Be safe, #Wash your hands regularly, #We shall overcome and #quarantine adding that she is trusting in God everything shall be okay."
"We must be extremely careful. I urge my fellow athletes to observe social distancing and practice good hygiene standards and adhere to the Government directives."
On her stunning photo carrying firewood, the gorgeous steeple queen said: "I really enjoy assisting my parents.
"This is the only opportunity to be with them and share good moments unlike other days spending most the time in the training camp," the 28-year-old world record holder said.
Long before she gained fame running in world capitals, Chepkoech's daily routine entailed plucking tea, fetching water and firewood among other home chores.
So taking time off her training regime to help her parents reminds her roots.
"Tea is what paid our school fees. We used to help our parents during weekends and free time plucking tea leaves. Doing this now reminds me a lot. I really enjoy helping my parents," said Chepkoech.
Is she worried about regaining the form she needs to bring home Olympic gold come next year?
"Well, I'm planning to start two training schedules in a day; once in the morning and another in the evening just to keep myself in shape," she said.
Before the coronavirus disrupted the athletics calendar, her training would normally begin with long morning runs on Mondays and stretches in the evening.
On Tuesday, she would do speed work before going for gym sessions in the evening. Wednesdays would see her go for long runs while Thursdays and Saturdays are for speed work on the track.
The coronavirus pandemic, however, has restricted Chepkoech to only long morning runs before settling for home chores.
"To adhere to the social distancing procedures I train alone and then join my parents on the farm," she said.
After smashing the World 3000mSC record on July 20, 2018, at the Stade Louis II Stadium in Monaco, Chepkoech believes she was poised to bring another gold medal at the 2020 Tokyo Olympics.
With the event moved to next year, Chepkoech says she will bide her time hoping to pick up from where she left before the pandemic.
She was in a rich vein of form last year when she completed a hat-trick of wins in the Diamond League series in Doha Qatar.