Coronavirus: Record-breaker Eliud Kipchoge urges athletes to remain positive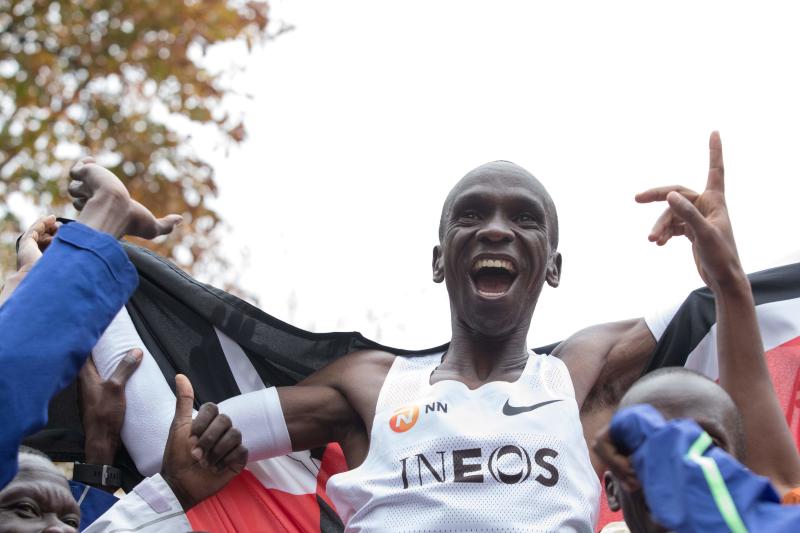 Kipchoge urges athletes to remain positive after the London Marathon is postponed to October
The world's fastest marathoner Eliud Kipchoge has shared a message of positivity to all the runners who are disappointed by the news that this year's London Marathon has been postponed to October.
The race was scheduled for April 26 and the Kenyan world record holder was set to take on Ethiopia's Kenenisa Bekele, who ran 2:01:41 at the Berlin marathon last year.
Kipchoge posted the message on Instagram: "It is unfortunate news that the London Marathon has been postponed but I fully respect the decision made by the organization as safeguarding the health of the world always takes our top priority."
He continued: "To the thousands of runners who with me, have devoted the last months of our lives towards this goal I would like to say: Be proud of the work you have put into this journey, keep smiling and seek your next goal on the horizon to continue running in a smooth and positive way. I hope to share the starting line with you again soon."
World marathon champion Ruth Chepngetich who was to compete at the event alongside her fellow countrywomen Brigid Kosgei, the world women's marathon record holder termed the postponement as "sad".
"It's unfortunate, that all the preparations we injected in the training towards the event is all gone to waste.
"It's sad. I hope all will be well soon," Chepngetich said.
It is the first time the race has been postponed since its launch in 1981.
"The world is in an unprecedented situation, grappling with a global pandemic of Covid-19, and public health is everyone's priority," Hugh Brashers, event director said.
Every runner with a place in the 2020 Virgin Money London Marathon will use their place in the rescheduled event on Sunday 4 October without any further payment.
According to the organisers, all runners who have a place for the 2020 event and who choose not to take part in the rescheduled event will receive a refund of their entry fee or, if they wish, they may donate entry fee to The London Marathon Charitable Trust.