Kenya's Margaret Muriuki wins 2020 LA Marathon women's race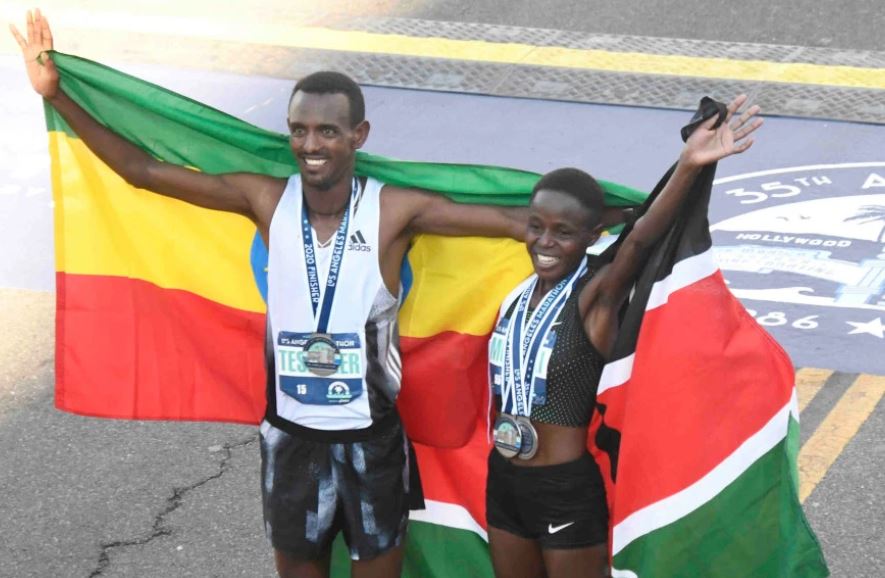 Kenya's Margaret Muriuki on Sunday won the 2020 Los Angeles Marathon women's race in 2 hours, 29 minutes and 27 seconds.
Muriuki, 33, led from start to finish of the race ahead of Ethiopia's Almaz Negede and Kenyan Jane Kibii, who finished second and third respectively.
Muriuki and Negede dropped the rest of the field by the time race turned onto Santa Monica Boulevard in Beverly Hills and Century City with Muriuki appearing to have an advantage with a 1,500-meter personal best of 4 minutes, 6.50 seconds, a world-class time.
But the race was decided in the 19th mile when Muriuki, who won the 2019 Honolulu Marathon in December, took the lead to win the Marathon.
Almaz Negede crossed the finish line in 2 hours, 32minutes and 28seconds, while Jane Kibii clocked 2 hours, 36 minutes and 04 seconds.
Kenyan distance runner Margaret Muriuki wins the the #LAMarathon2020 with a time of 2:29:28, a personal best. She also finished first in the Honolulu Marathon in December. pic.twitter.com/A331k58PSm — Jintak Han (???) (@jintakhan) March 8, 2020
In the men's category, Elisha Barno of Kenya was the favourite in the race after winning the same event in 2017 and 2019, while another Kenyan Weldon Kirui won in 2016 and 2018.
However, Bayelign Teshager, a 19-year-old from Ethiopia shocked the Kenyans by taking the victory in a 2 hour, 8 minutes, 25 seconds
Kenya's John Langat, who Teshager pulled away from in the final mile, finished second in a time of 2:08:43 while his compatriot Wilson Chebet was third in 2:09:17.
Kenyans Michael Chege and Lani Rutto also finished the race fourth and fifth respectively with Elisha Barno taking the ninth position.
The top five male and female finishers will receive prize money.
The winners will each receive $23,000 (Sh2,362,100), the runners-up $12,000 (Sh1,232,400) and third-place finishers $7,000.
The top American man and woman will each receive a $2,000 bonus for their performances.
A separate prize purse of $9,000 is offered for the wheelchair competitors, with the men's and women's wheelchair winners each receiving $2,500.
The race went off as planned Sunday, starting at 6:30 a.m. amid coronavirus fears.
The U.S. State Department had issued a "do not travel to" advisory to participants from China, Hong Kong, Taiwan, Italy, South Korea and Iran.
The runners from those nations were deferred to the 2021 race.
Men's Results
1. Bayelign Teshager (2:08:26)
2. John Lagat (2:08:43)
3. Wilson Kwambai Chebet (2:09:16)
4. Michael Chege (2:09:29)
5. Lani Rutto (2:10:06)
Women's Results
1. Margaret Muriuki (2:29:27)
2. Almaz Negede (2:32:28)
3. Jane Kibii (2:36:04)
4. Emily Gallin (2:36:04)
5. Grace Gonzales (2:50:08)
Full results available at the event's official site.