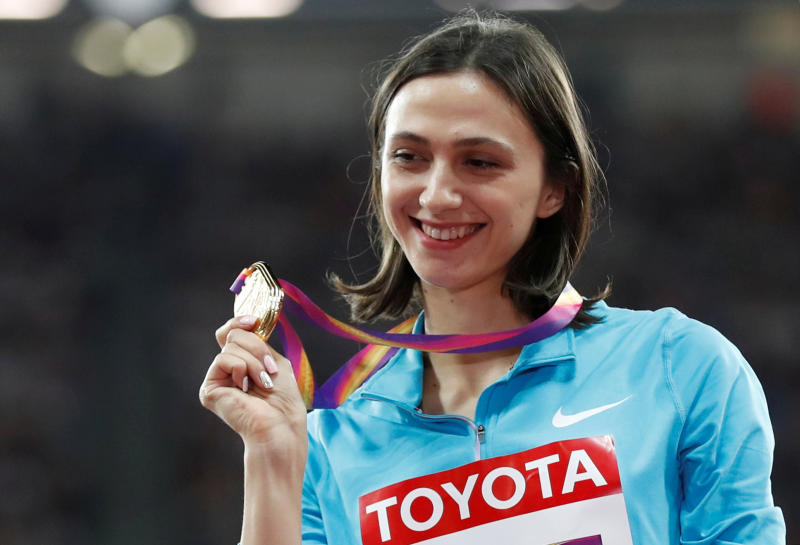 Russian high jump world champion Maria Lasitskene yesterday accused her country's own sports authorities of failing to protect athletes from the deepening doping crisis, in a rare public broadside at top officials.
On Monday, the World Anti-Doping Agency (WADA) handed Russia a new, this time four-year, ban from top global sporting events, including the next summer and winter Olympics and the 2022 soccer World Cup, for tampering with laboratory data.
The ruling means Russian athletes cleared to compete at the 2020 Tokyo Olympics will do so under a neutral flag. But Lasitskene and some other Russian track and field athletes face additional obstacles to being cleared for competition.
"I've already missed one Olympics and one and a half years of international competition," Lasitskene wrote in an open letter addressed to Russia's sports authorities.
"And it seems that's not the end of it. So who ultimately is to blame? Who's going to give me back what I've lost?" she wrote in the letter published on Russian sports media outlet Championat.Com.
Lasitskene, a three-time world champion, has in the past been critical of Russia's athletics federation, which has been suspended for doping since 2015 and has been one of the few Russian athletes to voice her anger publicly.
Russia's ban prompted an angry response from President Vladimir Putin. WADA's executive committee, meeting in Lausanne, handed Russia the "robust" four-year suspension after accusing Moscow of falsifying data from a doping testing laboratory that was handed over to investigators earlier this year.
The toughest ever sanctions imposed on Russian state authorities will see government officials barred from attending any major events, while the country will lose the right to host or bid for tournaments. "For too long, Russian doping has detracted from clean sport," WADA president Craig Reedie said.
"Russia was afforded every opportunity to get its house in order and rejoin the global anti-doping community for the good of its athletes and of the integrity of sport, but it chose instead to continue in its stance of deception and denial."
Under the sanctions, Russian sportsmen and women will still be allowed to compete at the Olympics next year and the 2022 Beijing Winter Olympics, but only as neutrals and if they can demonstrate that they were not part of what WADA believes was a state-sponsored system of doping.