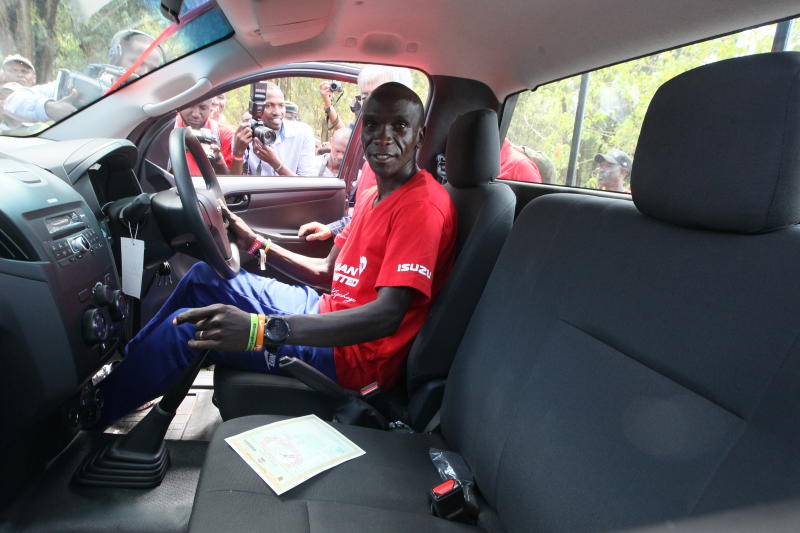 World marathon record holder Eliud Kipchoge believes he can run a marathon under two hours in normal conditions, saying there was no big difference between the Ineos 1:59 Challenge and any other big city marathon.
"I don't believe in limits, I trust that it's possible to run a normal marathon under two hours. What was the difference between Vienna and normal race?
SEE ALSO: Fans weigh in on Eliud Kipchoge vs Kenenisa Bekele October face off
"The little difference is people who help you to push until the end, but it should be understood that the distance is the same, the person who runs is the same person. It's humanly possible to run full marathon under two hours unaided," he said.
The world marathon record holder was speaking on Saturday at Karura Forest when he received a new Isuzu single-cab D-Max pickup valued at Sh4.1 million from his sponsors Isuzu East Africa.
SEE ALSO: Star Kipchoge remains wary of rival Bekele
Kipchoge, 35, has now stamped his status as the greatest marathoner in history after becoming the first man to run the marathon under two hours in Vienna, Austria last month.
"In 1954, Roger Bannister hit the tape to become the first person to break the 4-minute mile and two weeks down the line, 14 athletes ran under the mile under the four minutes, I'm the one who ran the marathon under two hours, I have opened the door for them to run under two hours and I believe they will even run faster than me," Kipchoge said.
SEE ALSO: Which marathon star will race to victory in London?
Kipchoge who is also the Olympic marathon champion could not disclose whether he will defend his London Marathon title or defend his Olympics title in Tokyo next year.
"For the past one month I have been concentrating purely on my recovery. Now I have started slowly on built up method and when the training has picked the right level that's when I will announce my next move. But I will make an announcement in the next month," Kipchoge said.
Kipchoge also encouraged Kenyan co-oporates to venture into sports while praising Isuzu for their continued partnership.
Las year Kipchoge was also awarded double cab pickup by Isuzu East Africa after breaking the world record at the Berlin Marathon after clocking 2:01:39.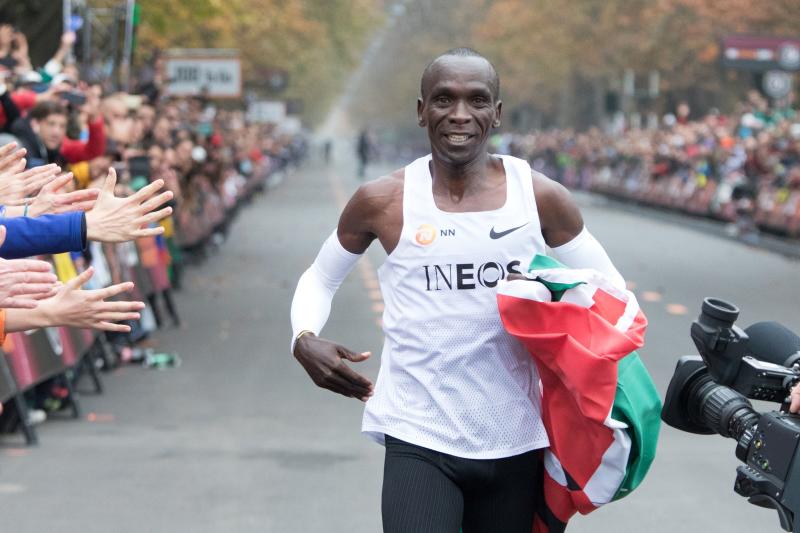 "I'm not only the winner; I'm the winner with Isuzu. I always say Isuzu is my third leg, we are winners together. Long time ago we were saying soldiers can go to the war but the credit goes to the generals but in sports we are all winners," said Kipchoge who is trained by Patrick Sang in Kaptagat.
"My message to co-oporates is to venture into sports as it is the only way we can sent a positive message to the whole generation and make the country happy and healthy," Kipchoge said.
Rita Kavashe, Isuzu EA managing Director promised more engagement with Kipchoge: "We decided to have this event in public so that people can get inspired by taking up sports."