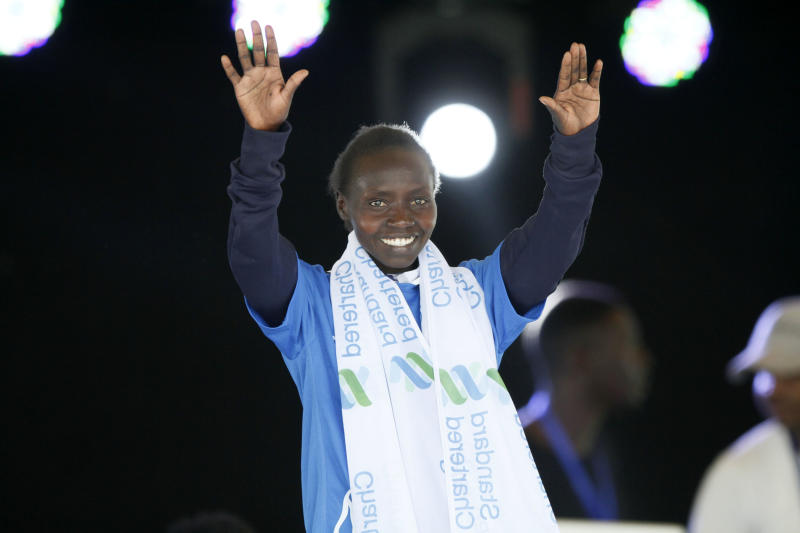 Frankfurt Marathon champion Valary Aiyabei is targeting the women's only world record held by Mary Keitany of 2:17:01 during the 2020 season.
Aiyabei, who is a former Beijing Marathon champion, has thrown her hat in the ring and is seeking to conquer any of the six World Marathon Majors (WMM) course next year alongside making it to the Kenya team for the Tokyo Olympic Games.
The 28-year-old ran the fifth-fastest women's marathon time in Frankfurt last Sunday after recording 2:19:10 to break the previous course record of 2:20:36 set by Ethiopia's Meskerem Assefa in 2018.
"I know I can run faster. I now target the women's record of Keitany, which was set two years ago in London.
"Then maybe I can start dreaming of challenging Brigid Kosgei's women's marathon record," Aiyabei said on Thursday in Nairobi after arriving from Frankfurt.
It has taken over a decade for Kosgei to break the women's all-time world record of 2:15:25 set by Paula Radcliffe in London back in 2003.
Kosgei clocked 2:14:01 to break the 16-year-old mark. "My plan is to break the record in any of the World Marathon Majors. I will plan with my coaches to see which race is convenient for me and my mission," Aiyabei added.
New York, Berlin, Tokyo, Chicago, Boston, and London races form the WRR series with the Olympics and World Championships being part of the circuit.
But Aiyabei hopes her performance in Frankfurt will open doors for her to secure a call to run in either Tokyo, Boston or London in April.
"That record can be broken. But it's rather safe to start with the women's only record and then push for Kosgei's mark later. It all depends on one's mental strength, psyche and how you train.
"I have a dream to lower Kosgei's record and I believe with God's blessings, it will come to pass," added Aiyabei.