Geoffrey Kamworor ready to out sprint rivals in New York Marathon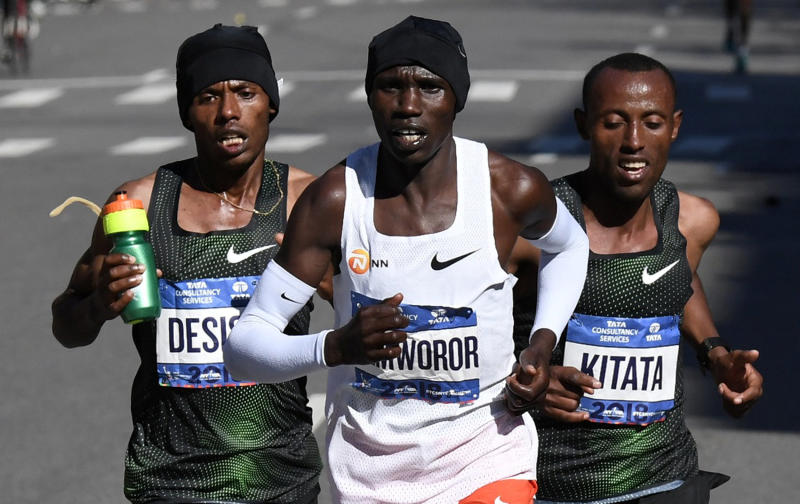 World Half Marathon record holder Geoffrey Kamworor says he trained well ahead of the New York City Marathon on Sunday.
Kamworor, the 2017 New York City marathon champion said training with world record holder Eliud Kipchoge has motivated him before he faces a strong field that is expected to line up on the streets on New York.
"I won the New York City Marathon in 2017 and I also train with Olympic champion Eliud Kipchoge, who just broke the two-hour barrier in the marathon, so I had the fastest training partner in the world in training," Kamworor said.
Kamworor, 26, slashed 17 seconds off the World Half marathon record in Copenhagen last month after clocking 58:01 to erase the previous mark of 58:18 set by Abraham Kiptum in Valencia last year.
He said his training in Kiptagat revolves around speed sessions and long runs with training mates.
Kamworor who is going to New York for the fourth time after finishing third last year and second in 2015 before clinching the title two years ago said the 40K long runs, which often take place at around 2,500m altitude were demanding and requires mental toughness.
"I prepare myself with tough training sessions so that by the time I line up for the marathon I will have accomplished what it takes to win. It is tough but I can only hope for the best," he said.
Kamworor will be lining up in New York City race as the fourth fastest runner.
A contingent of three Ethiopians led by former Dubai Marathon winner Tamirat Tola, New York marathon defending champion Lelisa Desisa and 2018 New York runner-up Shura Kitata will also be aiming to bag the trophy.
Tola goes into Sunday's race with impressive times ranging from the 2:04:10 which was a course record when he won the Dubai Marathon in 2017.
Desisa who clocked 2:05:59 last year ahead of his compatriot Shura Kitata and Kamworor will be hoping to retain the title.
However, Kitata who has some memorable performances which include the 2017 Rome Marathon and 2017 Frankfurt Marathon titles with times of 2:07:30 and 2:05:50 will also be a threat.
Kenyan Albert Korir with a PB of 2:08:03 which he recorded in May at the Ottawa Marathon will also be hoping to make a name in New York.
At the Ottawa race, the Iten-based Korir outclassed Ethiopians Abera Kuma who timed 2:08:14 and Tsedat Ayana who finished in 2:08:53.
Korir, the 2017 Vienna City marathon champion opened the 2019 season with a win in the Houston Marathon in 2:10:02 in January.
In 2016 he finished second in the Barcelona Marathon in 2:10:08 and third in the Toronto Waterfront Marathon in 2:10:21.