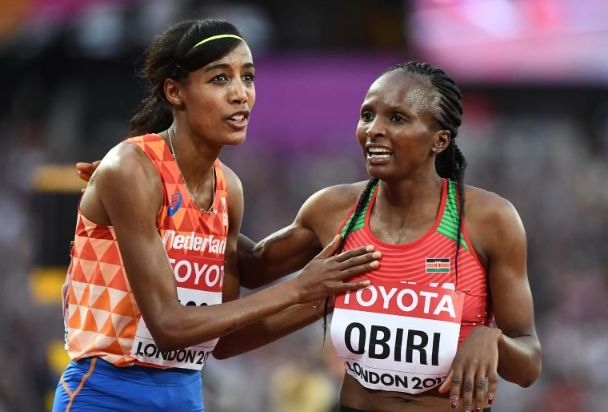 World 5,000m champion Hellen Obiri will lead Kenya's chase for gold in the women's 10,000m final tonight as the IAAF World championships enter Day Two.
Though there is uncertainty which is set to greet Obiri who is running her first 10,000m event at the major championships, the World Cross Country champion is determined to emulate fellow countrywoman and friend Vivian Cheruiyot, who struck double gold in the 10,000m and 5,000m events at the 2011 World Championships in Daegu.
SEE ALSO: Carole is not only a player, but a doctor who attends to teammates and rivals
Kenya Defence Forces' Obiri will team up with the 2017 world bronze medalist Agnes Tirop of National Police alongside who won the Kenyan trials earlier this month and Rosemary Wanjiru of Kenya Prisons Service, a newcomer in the national team.
Since winning the World Cross Country title in March, Obiri, 29, has posted mixed results but she has assured Kenyans that she will do well in today's race that starts at 9:10pm.
SEE ALSO: 10 transfers that could happen this summer
"You know you can't be on form throughout the season, but going to Doha, I'm confident of doing well. Psychologically I'm well prepared for the titles ahead. I just urge Kenyan give us the support and pray for us," Obiri said.
Tirop won 10,000m bronze at the 2017 World Championships and should also be in the mix for the title. Her form is good, as evidenced by her 5000m performance in London in July, where she climbed to sixth on the world all-time list with 14:20.68 and winning the Kenyan trials earlier this month.
SEE ALSO: Arsenal captain Aubameyang drops fresh contract hint
"Two years ago when I won the bronze in London, I was still inexperienced in track distance, but now I'm going to Doha matured and knows what I am aiming at. We will make sure we run as a team and win medals for Kenya," said Tirop who also won gold medal at the 2015 World Cross Country in Guiyang, China.
Japan-based Wanjiru will make her debut at the international stage, though she won silver at the 2015 African Games in Congo Brazzaville in 5,000m and has a PB of 31:11.79.
Away from the Kenyan trio, the main challenge will likely come from Netherlands' Sifan Hassan who just like Obiri is running multiple events.
Hassan is entered in the 1,500m, 5,000m and 10,000m. She is a threat for gold having made her 10,000m track debut in May.
To illustrate her extraordinary range, the Dutch athlete posted a world record for the mile in July and boasts a European record of 1:05:15 for the half marathon.
After defending champion Almaz Ayana's late withdrawal from championships Ethiopia will rely on Letesenbet Gidey. Gidey will partner with Netsanet Gudeta and Senbere Teferi.
The best of the rest could be the vastly experienced US champion Molly Huddle. The 35-year-old, who claimed fourth spot over 10,000m at the 2015 World Championships, made her marathon debut in April, recording 2:26:33 in London, and will have benefited from the experience.
Emily Sisson, runner-up to Huddle at the US Championships, registered a slick 30:49.57 in Stanford and will be hoping to upgrade on her ninth-place finish at the previous World Championships.
Meanwhile, as the World Athletics Championships got underway in Qatar yesterday, the environmental cost of holding a top-tier sporting event in a sweltering desert has been thrust into the global spotlight.
Organisers insist they have taken steps to mitigate the impact of the athletics showcase and that the far larger 2022 football World Cup, also due to be held in the Gulf monarchy, will be carbon-neutral.
But climate activists are sceptical, warning that events which rely heavily on energy-hungry air conditioning, desalination, single-use plastics and inbound air travel can never be truly green.
"Air conditioning around stadiums is not environmentally sound, it will only add to the emissions," warned Greenpeace executive director Zeina el-Hajj.
Doha's Khalifa stadium, the venue for the World Championships, will be maintained at a pleasant 23-25 degrees Celsius while the outside daytime air temperature exceeds 40 degrees and humidity hovers above 50 per cent.
The sophisticated system is being held up by Qatari authorities as proof they will be able to keep venues for the World Cup at comfortable temperatures, despite concerns over the impact of the Gulf climate.
Greenpeace says the cooling systems, which is replicated at the seven other World Cup stadiums, could "become more sustainable" if they were powered by solar energy, which Qatari authorities say they want to use.
The man behind the stadium cooling systems, engineering professor Saud Abdul Ghani, acknowledged that they used "a good amount of energy" and would rely on polluting backup diesel generators in the event of a power cut.
But he insisted that reducing stadium temperatures resulted in just one-fifth of the emissions produced to cool similarly-sized airport atriums.
Ghani said that even though all of the eight stadia, including Khalifa, will have open roofs during the World Cup, the cooled air would not be squandered.
"Pumping out cold air is a bit crude... God will just make that disappear," he said. "We pump the exact amount of cold air into the exact place -- then recycle it all."